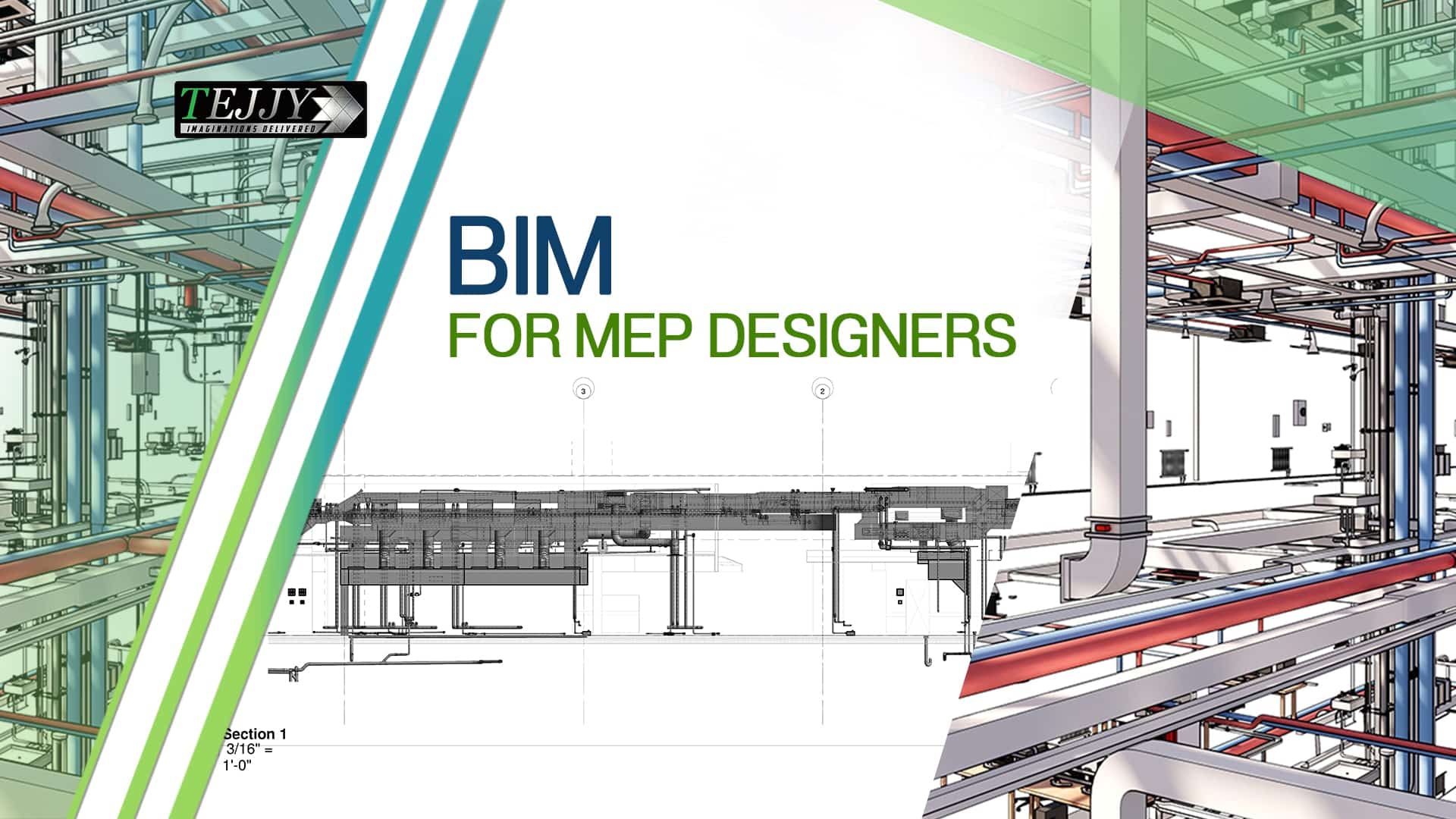 BIM for MEP Designers : An Ultimate Guide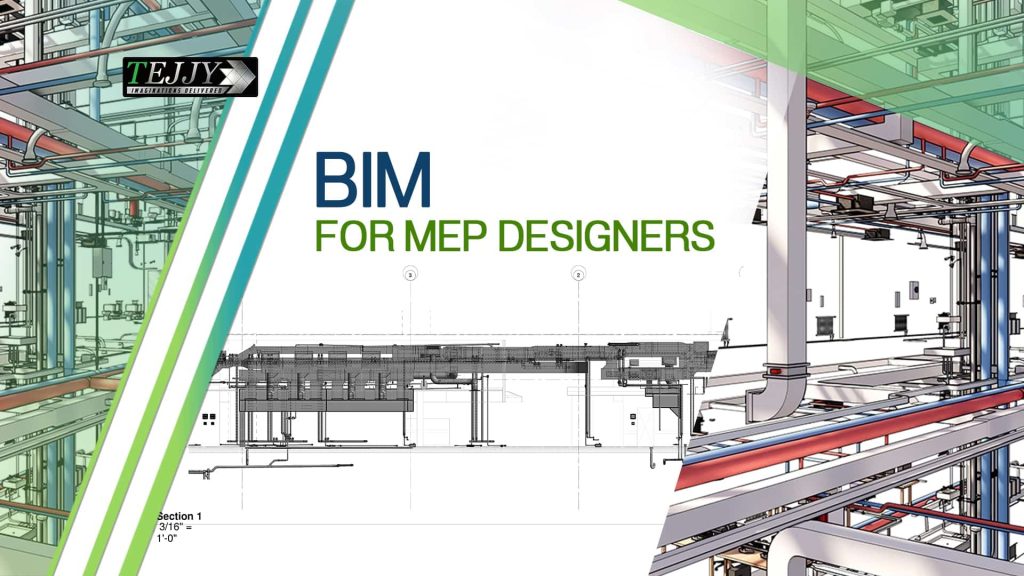 🌟

MEP Design with BIM
Owning a building is a bit expensive in USA, encompassing a substantial investment, followed by enduring costs of operation and maintenance. Nevertheless, making smart decisions during the design process will help in reducing expenses. Implementing mechanical, electrical and plumbing BIM MEP services assists in getting a really smart building design in the BIM market in USA.  
BIM services constitute to be a modern engineering design tactic that goes beyond the usage of conventional construction plans. Several BIM MEP 3D modeling companies use 3D model based process with comprehensive information about the system components. Top BIM consulting companies in USA effectively create a Virtual Design and Construction (VDC) model before the onset of the actual construction. Revit BIM MEP services apply to all technical disciplines, embracing MEP services, as well as architectural and structural engineering facets.  
Given the intricacy of BIM and significant quantities of data, BIM engineering companies need a specific software application. Revit happens to be one of the best known BIM design software packages from Autodesk. Revit BIM MEP services from Tejjy Inc., one of the best BIM service providers in USA, provide great support for mechanical, electrical, and plumbing engineering services.  
🌟

Types of MEP Designs

 
 

Mechanical/HVAC Engineering Design

 

 
Ductwork layout and size, as well as mechanical equipment placements, and damper locations of mechanical or HVAC systems, are all included in mechanical drawing specifications.  
  Electrical Engineering Design

 

 
Electrical engineering design drawings represent an electrical system or circuit, which reflect concerns for energy conservation, maintenance efficiency, and environmental responsibility.  
  Plumbing Engineering Design

 

 
The plumbing engineering design represents the water distribution system, including pressure potable water, heated water, sewerage, storm water, and rainwater harvesting. When it comes to buildings that have a sprinkler system, the plumbing system is also quite helpful.  
  Fire Protection Engineering Design

 

 
BIM fire protection modeling services specialize in creating a three-dimensional fire protection model from a thorough fire sprinkler design. Fire Protection systems are frequently installed in buildings to reduce the risk of human life and/or property destruction.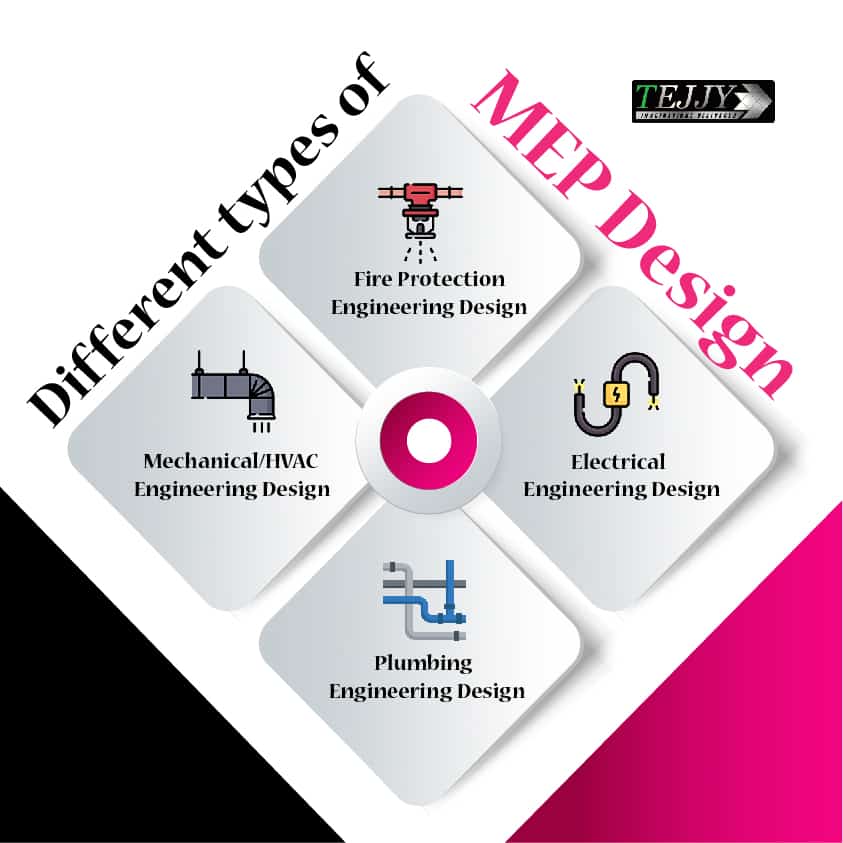 Can I use Revit for MEP?,  What are the benefits of using Revit MEP?,  How is a BIM model created?, What is 3D model in BIM?, What is BIM coordination?,  What is BIM Clash Detection?
🌟

How do MEP Designers use Revit BIM services for MEP Engineering Design?

 




 
  3D BIM Model Creation        

 

 
BIM designers convert a detailed MEP design into an MEP 3D model, according to the specified LOD. Accurate analysis is performed based on specific systems, together with constructability review, clash detection, and coordination, as well as design optimization. The 3D BIM MEP Model is leveraged for producing MEP shop drawings/MEP drawings and 5D QTO or BOQ.  
  Constructability Review

 

 
Virtual Construction of the MEP design in the 3D BIM model allows independent review of construction plans along with the specifications. The technique of constructability review helps to identify discrepancies in construction drawings/ MEP drawings, and other constructability issues during the preconstruction stage. During the constructability review, the Revit BIM MEP services team creates a series of Request for Information (RFI) to identify the operational and constructability problems such as:  
Missing documents/ information 

 

Input inconsistencies 

 

Conflicting data 

 

Problems related to clearance and ease of access 

 

Support system feasibility 

 

No Fly-zones  

 
The 3D BIM MEP model gets updated based on the RFI response. The status of all Request for Information (RFI) is systematically upheld in a log and frequent follow-up is made for resolving them. The process of constructability analysis confirms the delivery of quality construction documents producing just the right BIM MEP drawings/mechanical shop drawings for construction.  
  BIM MEP Clash Coordination

 

 
Coordinated BIM MEP models empower construction clients to check possible interference amongst all building systems. The 3D BIM MEP model allows design firms to visualize the whole building system before construction, resulting in improved construction project planning. The technique of 3D BIM MEP clash coordination reduces rework during the construction phasing, saving precious time and money. Clashes get resolved among mechanical, electrical, plumbing, and fire protection services, as well as between MEPFP, architectural, and structural services. Navisworks software platforms help in this regard by sharing images of clashes through WebEx meetings. BIM MEP 3D modeling companies re-route utilities, modify elevations and re-size MEP components for accurately resolving clashes. BIM engineers use the coordinated MEP BIM models for producing quantity takeoffs, 5D cost estimation, and 4D construction scheduling.  
Construction documents/CD sets or MEP drawings are developed from the comprehensive BIM MEP coordinated models. The 3D BIM MEP Models help to deliver the most comprehensive drawings, showing each MEP component with technical information. Building Information Modeling facilitates all construction documents to be cohesive and consistent. Any sort of modifications made in the design document drawings are automatically updated in the 3D model.   
🌟 

Benefits of BIM for MEP Engineers

and Designers

 

 
MEP designers have various benefits in using BIM for MEP services. It helps in cost estimation, facility management and operations, and energy analysis. With the use of the BIM integrated 3D MEP model, all parties involved in the building process may analyze and communicate more effectively. Cost estimation, and energy load calculations are all made easier by the accurate information embedded in a 3D BIM MEP model.  
The benefits of implementing BIM services in MEPFP design include:  
Clash coordinated 3D modeling of MEPFP services. 

 

Helps in data sharing and collaboration between various stakeholders. 

 

Greater accuracy in drawings, 3D BIM models, BOQ, etc. 

 

Helps in improved maintenance and lifecycle management. 

 

Early stage clash detection. 

 

Workflow integration. 

 

Easy facility management and operations. 

 

Greater accuracy in evaluations, and less chance of error and issues on site 

 

Automatic generation of 2D/3D details, plant layouts, BOQs, calculation reports, and other documents, all of which are always connected to the model and updated in real time. 

 
Facilities operations and management for MEP services cover a broad range of services, capabilities, procedures, and technologies necessary to ensure that the MEP  built environment performs the purposes for which it was designed and developed. Operations and maintenance often refer to the daily operations required to ensure that the facility, its systems and equipment, and its occupants perform as planned.  
Making use of BIM asset management services MEP BIM modelers and facility managers monitor, assess, and analyze MEP services to ensure they are used optimally. 6D BIM modeling is utilized to assist facilities management and operations in achieving greater business efficiency. 7D BIM modeling enables stakeholders to keep track of critical asset data, such as asset status, technical specifications, warranty information, operations, and maintenance.  
🌟 

Conclusion

 

 
BIM is a boon for mechanical, electrical, and plumbing (MEP) designers and engineers since it provides a data exchange and collaboration environment for them to construct clash coordinated 3D BIM models. BIM designs aid in the proper construction of MEP services in accordance with the design, as well as the improvement of facility operations and management.  
There are numerous advantages to BIM, including the ability to save time, money, and labor on construction projects through the use of precise clash coordinated BIM MEP 3D models. These BIM MEP models are updated in real time as modifications are made, and they also include plan layouts, bill of quantities, calculation reports, and other useful information.  
🌟 

Why Tejjy Inc. for MEP Design Services?

 

 
Get BIM MEP design services from the top BIM service provider in USA. Tejjy Inc. is one of the top BIM service providers in USA that provides accurate construction design, detailing, and shop drawings for MEP services, while catering to strive for excellence with innovation in Maryland, Virginia, Washington DC, Baltimore, and all across USA.   
Consult Tejjy Inc. at 202-465-4830 or info@tejjy.com to design your MEP systems most efficiently, reducing risks and enhancing construction project outcomes.  
Tell us your requirements: