Digital Twin Services
Digital twinning in construction, engineering, and architectural industry is a dynamic representation of a physical asset. The technology assembles design and real-time data for informed decision making. In a digital twin technology, the data-based process ensures detailed insight into an actual process for planning and forecasts. Digital twin BIM technique provides fundamental development, through automation, data exchange, and manufacturing process, giving endless opportunity to the AEC stakeholders.
We Provide Digital Twin Services for:
CAD to BIM Conversion Process :-
Data Assembly & Creating Computational Models

 – We work with the building design by assembling data and making computational models. This encompasses an interface between a simulated model and a physical object for obtaining feedback and real-time data.

 

Integrate Building

 System – Through 

digital twin technology

, we integrate building systems, sensors, and multidimensional models. It helps to retain operational and behavioral awareness for simulation, prediction and informed decision making as per practical situations.

 
3 Stages of Working with Data, Modeling & Linking:
Data :- Through digital twin, we entail data about a building process for a virtual model to represent a practical procedure. 
Modeling :- After data collection, we create analytical models to show operational effects and determine behavior.   
Linking:-  We link digital twins to find equipment and put them into production.  
Benefits of Digital Twin Technology
📝 Reduced on-site cost of operation – We examine the virtual construction sequence and logistic scenarios to minimize on-site operating costs through enhanced risk assessment. 
📝 Real-time remote monitoring – We collect and monitor real-time data for optimizing the operational performance and sustainability of the building. This updates data security protocols, managing the quality of data. 
📝 Improved team collaboration – We enable the distribution of information across the lifecycle of a physical asset for maximizing outcomes, investing through data processing, simulation & advanced analytics. 
ABOUT THEBUILT
Construction differs from manufacturing in that manufacturing typically involves mass production of similar items without a purchaser.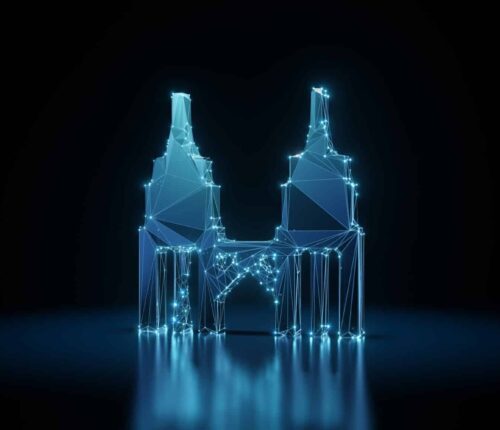 Digital Twin Services for Construction
We facilitate several areas in the construction industry from the digital twins. Our services include: 
Model Slicing

 – We break linear design models of a project into construction components for preparing a construction schedule for people who will be working. 

 

Quantity take-off/BOQ

 – We implement this methodology for estimating what is required in terms of labor & materials for construction projects.

 
4D Scheduling/Simulation

 – Our BIM engineers use Bentley's SYNCHRO 4D to enable users to plan, schedule, and control construction projects in a virtual environment.

 
Why Adopt Digital Twinning from Tejjy Inc.?
Real-time Data – 

Allow project stakeholders to know about real-time building performance, enabling tracking and optimizing building efficiency.

 

Safety & Security – 

Predicts potential failures in building systems like HVAC, electrical, etc. to prevent accidents and damages, leading to time & cost savings.

 

Simulation – 

High-fidelity simulation is feasible with this technique. The data extracted is sensor-based and accurate for clash detection and cost estimation.

 
Do you have any
queries?
You can reach us at 202-465-4830 or via email at info@tejjy.com or send us a business query here.
FAQ
Forming Dynamic Buildings from Conception to Utilization:  
Using Building Information Modeling technique, we make smart buildings, whereas through digital twins, we manage complex spaces, enabling buildings to become dynamic, from inception to final construction. 
Taking modular construction to a new level with Digital Twinning Architecture:  
Through 'digital twin' we support construction projects by automating design, production, and operation. This serves as the pillar to prefabrication for obtaining industrial efficiency. 
BIM Models, 

Drawings, Schedules, 

Contracts 

 

Construction Documentation (including RFIs, change orders, submittals, etc.)

 

Operational data  

 

Artificial Intelligence