What are as-built Services?
Tejjy Inc., a women minority business enterprise on GSA schedule, delivers quality 100% assured as-built services for existing built environment, forthcoming models, and development projects. As an experienced design build firm in USA, we assist you in maximizing the use of the existing space of the built asset by avoiding costly revisions. This might occur as a result of erroneous sets of drawings. As-built drawings and models are used for future maintenance and planning purposes, as they provide an accurate overview of the existing design of the structure.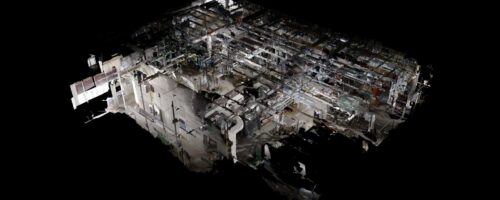 Whether you are considering a renovation or purchasing a commercial or real estate property, our extensive as-built modeling services and surveys will provide valuable insight into the property, highlighting design opportunities or constraints associated with architectural, structural, electrical, mechanical, and site conditions. Tejjy's expert team of BIM engineers facilitates you with accurate design and drawings for your projects. As-built drawings are submitted by contractors after the completion of a construction project. They include all modifications a structure has undergone during design-build phases. Its evident from design drawings to final erection structure varies. Tejjy as-built design drawing services can be projected both in 2d drafting and 3d model. For better visualization, as-built drafting is converted into a BIM model through point cloud modeling. As-built engineering services are divided into two main categories: –    
🟢 As-Built Drawings Services
An as-built drawing is a construction drawing generated and submitted by a general contractor after the project has been successfully completed. In order to accommodate some specific and unavoidable challenges that arise during the construction process, the GC makes essential revisions to the original plans and specifications of the project. 
As-built plans show all of the alterations, whether minor or major, made by the contractor to the original documents in order to provide an exact representation of the project. They represent the exact depiction of the project as it was completed. After the initial phase of the project is completed, the preparation and use of construction drawings become necessary. 
🟢

As-Built Modeling  Services

An as-built model depict a structure or a place in the state in which it was actually completed. As-built documentation is created after the construction of a structure is finished. The building models are created by physically measuring the built asset in order to provide Computer-Aided Design (CAD) or Building Information Modeling (BIM) documentation. High-precision 3D laser scanners are employed to measure the physical space, as well as a variety of as-built software asto sketch and model the built environment. 
As-

B

uilt 

BIM Building Information 

M

odeling

 

Procedure
We believe in empowering state-of-the-art technology and equipment for quality-assured results, supported by an experienced team of certified BIM engineers with years of industry experience. Our approach has been refined to give the highest quality services even when operating under the most stringent time limitations. Below given is our process of developing realistic as-built documentation: –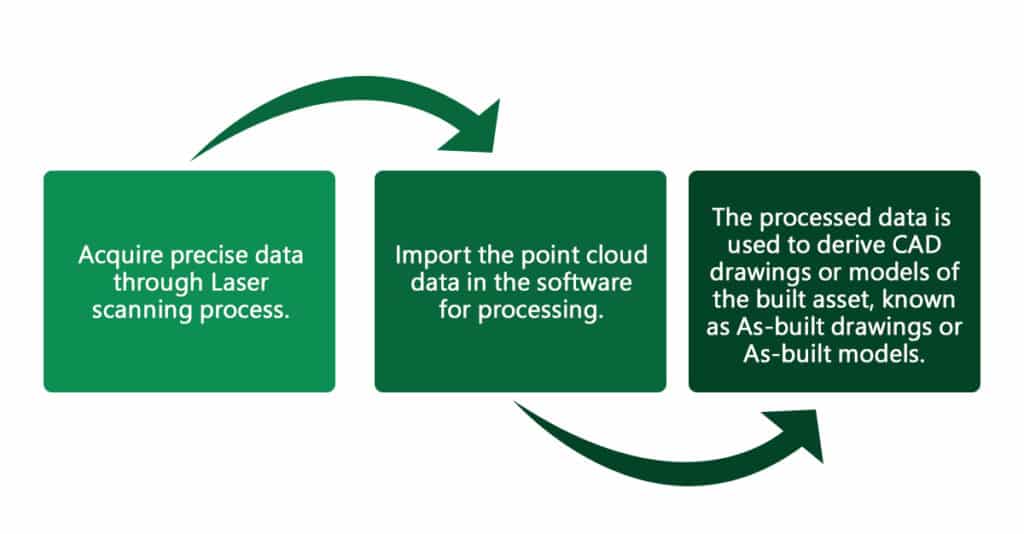 There are a number of companies that provides you as-built engineering services. The cost of as-built engineering and industrial solutions may vary from a few hundred dollars for a small structure to thousands of dollars for a gigantic apartment. The cost usually depends on the following factors: – 
✔️ Size of the construction project. 
✔️ Location and type of project. 
✔️ Quality and experience of as-built service providers. 
✔️ Complexity of the structure. 
We ensure accuracy following the guidelines:
Cross out words like'equal to'& replace with specific information during construction
While adding details to drawings, we ensure the same scale as used in original drawings
Keep old details, instead draw score lines or "X" through them to make the changes clear
Provide details of changes in fabrication, installation, location, sizing, material, etc.
Give necessary information on contractor's designed systems
Include elevations & grade modifications on pipe utility, earthwork, etc.
Record surprising obstructions on-site
Create complete as-built drawings, not merely a collection of pages containing changes
Ensure supplemental pages containing plan modification are sealed & signed by registrant author
Include changes arising out of the final inspection process.
Record Drawings uses red for deleted items, green for added items & blue for special information
Refer to specific actions instead of referencing change-order numbers or associated documents
Use a written explanation to describe changes, avoiding abbreviations & clear lettering
Add revision notes to affected section view, general notes, profiles & schedules
Maintain consistency while adding notes & using the same figure to denote changes
Add associated shop drawings necessary as an appendix to As-Built Drawings
Update the index sheet to show the latest drawing addition
Make specific notes on underground utilities, showing exact location, depth & materials
Stamp title sheet once finished with "Record Drawing As-Built," including contractor's details
Prepare a PDF of As-Built Drawings for emailing, posting to cloud storage, or copying to CD
Using the blueprint drawing, we let out redline drawings in the field along with other mark-ups. Our mark-up tools used by BIM engineers and architects include highlighters, arrows, clouds & text comments, in a wide array of colors.
We also use a construction software's help clients attach files & photos on construction drawings. This helps team members to see every information. Managing as-built documentation lies at the core of our construction management technique. Other applications used by us include PlanGrid and FieldWire.
Benefit of As-Built Drawing and Drafting Services
As-built documentation is a key tool in the construction industry. It captures the changes and modifications made during construction that were not captured during the design phase. These deviations can occur for a variety of reasons, but they must be documented nonetheless. Capturing these changes allows you to:
✔️Ensures the renovation process is efficient and well-coordinated.
✔️Capturing deviations from construction documents & snapshots of existing designs
✔️Upholding modifications in vendor design data during the construction phase
✔️Supporting property insurance needs
Connect with our Allied Services