MEP/HVAC Shop Drawings | MEP Coordination Drawing | Mechanical, Plumbing, Piping - USA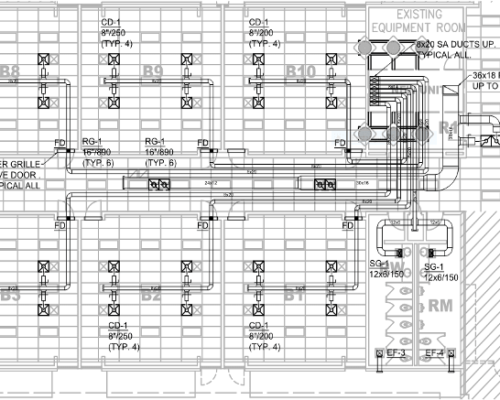 Adoption of MEP shop drawings services eases the creation, manufacturing, installation, assembly, and maintenance process of a building's MEPF components.  When compared to civil construction plans, shop drawings for building construction contains information and specifications, for fabrication and installation, in detail. All of the services – Mechanical, Electrical, Plumbing and Fire protection layout drawings are integrated into the MEP coordinated shop drawings. 
A coordinated shop drawing allows MEP contractors and engineers to have a clear plan of action. With efficient production, installation, and project planning, it allows contractors to avoid difficulties during construction. 
MEP shop drawings assists construction document sets to be more cohesive. Contractors and engineers use these design sets to obtain accurate specifications and uncover flaws before to the commencement of construction, saving time, money, and labour costs. 
Our team of experienced MEP engineers provide detailed shop drawing services. It includes duct detailing, water supply detailing, and panel distribution drawings. We have an extensive experience in handling your MEP engineering project, from details to drafting. Our MEP shop drawings and designs are created and assessed through rigorous evaluation in accordance with strict quality requirements, which are followed by professional drafters.
Shop drawings also benefits your construction business and can be used as a marketing tool. They speak for themselves, and when they do, the value of your brand skyrockets. Good drawings result in fantastic construction, and great construction results in brand building.
| | | |
| --- | --- | --- |
| MEP/HVAC Shop Drawing Services | Assembly Drawings | Coordination Drawings |
| Isometric Drawings | Mechanical Drawings | Ductwork Layout Drawing |
| Electrical Drawings | MEP 3D Modeling | Plumbing Drawings |
| Fabrication Drawing | HVAC Duct Shop Drawings | Patent Drawings |
| Parametric Modeling Services | As-built Drawings | FACADE Drawings |
| Structural Steel Shop Drawing | Rcc Rebar Detailing Service | Structural Erection Drawing |

Components of MEP Shop Drawings
As the name says, MEP comprises of Mechanical, Electrical and Plumbing systems. There are three main components of MEP shop drawings. They are as follows: – 
Mechanical shop drawings – Mechanical shop drawings locate heating vents and air conditioning systems. They represent improved requirements for duct installation and fabrication, specialized piping connections, and air-handling devices.  
 The mechanical shop drawings depict transportation systems such as lifts and escalators, as well as infrastructure and, on occasion, industrial machine components. 
 Electrical shop drawings – Power supply and distribution, control systems, access and security systems, information and communication systems, and interior and outdoor lighting are all examples of electrical systems found inside a building.  
 The majority of shop designs include an overlap of electrical and mechanical components. Contractors examine the exact arrangement of electrical units with the use of accurate electrical shop drawings in order to install mechanical units efficiently. 
 Plumbing shop drawings – Plumbing shop drawings, as the name implies, depict the plumbing elements inside a structure, such as piping systems, drainage, garbage disposals, and waste carriers. They also show fluid and air transportation for heating and cooling, potable and non-potable water supply, fuel gas piping, and waste removal.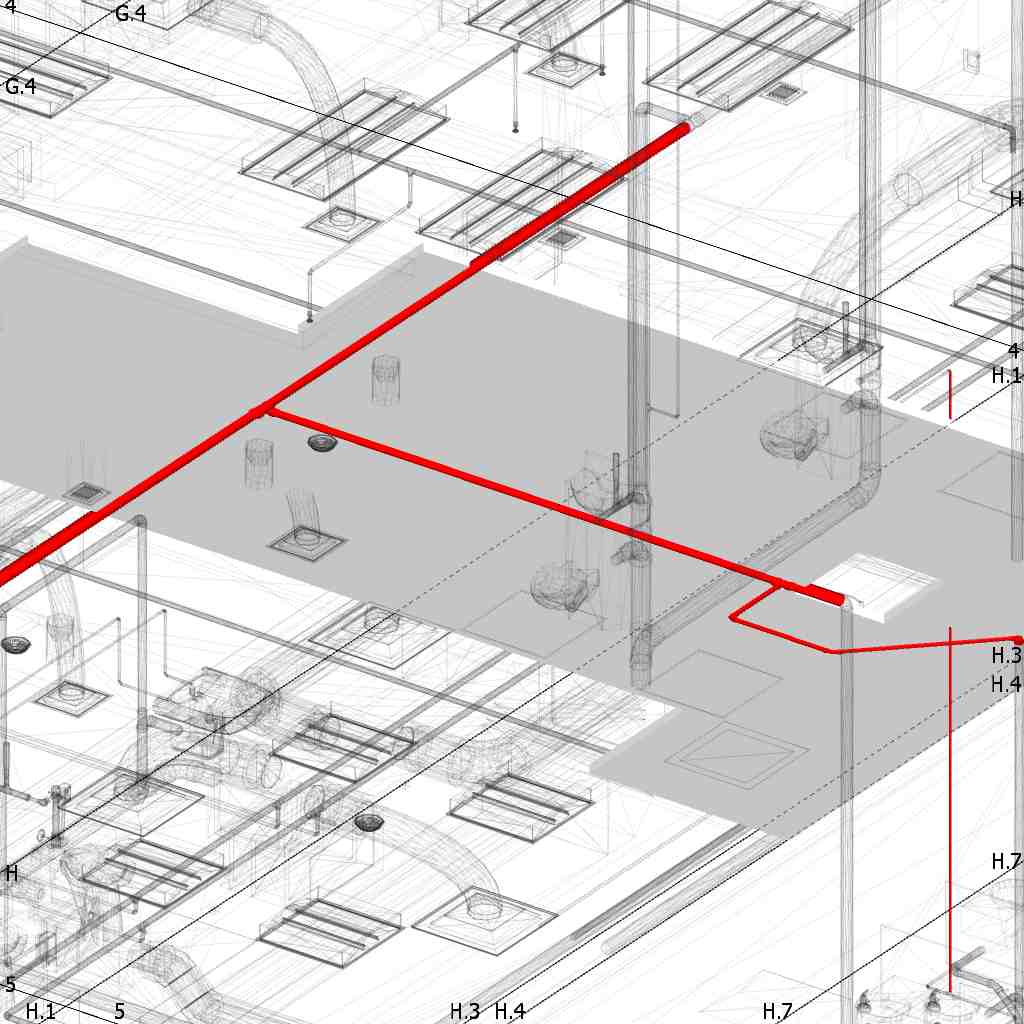 Our Expertise In
Benefits of MEP shop drawings
Clear Design Information – Fabrication Drawings holds the detailed information of how the product will be assembled along with details such as dimensions, weight, joints and connections. The clarity of documents with 3D details gives fabricator a vision to produce exact output at the construction site. 
Documentation – The actual drawings act as a referral document in-case of any flaw. With any discrepancies while building , contractor can refer MEP drawings to detect the error. Actual drawing dimension acts as a supportive document while seeking an approval to build. 
Accurate Cost Estimation – Scheduling and Costing are the important factors in construction. Through detailed design drawings accurate material estimation could be assessed. This ensure the precise scheduling of required resources leading to accurate costing. 
Clash Detection At Preconstruction Stage – Shop Drawings use software like Revit to view the building information in 3D. Revit shop drawings enable early clashes and irregularities in construction. Visualization walkthrough can be performed from any angle corner envisioning clear interiors, exteriors. Early clash detection delivers accurate construction site with accurate building cost. 


Connect with our Allied Services
Shop Drawings vs As-Built Drawings:
As-built is revised design drawings created after the completion of the construction process. As-built drawings are referred to for the renovation, remodeling, or refurbishment process. construction documents are original before the creation and as-built drawings are generated after the completion of the process from the red-lined draft known as record drawings. For knowledge on detailed fabrication drawings Read Pipe Spool Drawings
Benefits of Hiring Us:
Quality Assured Services with client centric solution.
In-house team of Qualified MEP engineers, BIM consultants, architects, contractors.
MEP Fabrication Drawings adhering to international standards and hold all detailed assembly information eliminating clashes.
Quality Assured Services with client centric solution.
In-house team of Qualified MEP engineers, BIM consultants, architects, contractors.
MEP Fabrication Drawings adhering to international standards and hold all detailed assembly information eliminating clashes.
When do I need MEP Drawings?
Mechanical Drawings:
Mechanical drawing services are used for air conditioning and heating, venting, and air conditioning. HVAC drawings include the entire specifications and locations.
Electrical Drawings: 
Through detailed drawings, contractors can analyze electrical and mechanical drawing services. These include power supply and distribution, access and security system, interior and exterior lighting. Electrical drawings represent the locations of placing electrical switches, wiring path, load shedding information.
Plumbing Drawings:
MEP drawings of plumbing includes a piping system for sanitary, water supply system, fixtures. Pipe spool drawings or Fabrication drawings from BIM are created to manage the proper on-site installation. The spool is a section of the piping system. These assembly drawings of pipes and components are delivered in prefabrication to on-site. Spool drawings guide in assembling the fixture demonstrating the physical sequence of equipment and connections.
What are Construction Drawings?
Construction drawings are a graphical representation of the construction process. It includes architectural drawings, mechanical, electrical drawings, HVAC drawings, steel shop drawings, and other design drawing.
Construction Drawings VS Shop Drawings
Construction design drawing services are used in reference to buildings or structures whereas shop drawings refer to particular components of buildings.