MEP SHOP DRAWINGS SERVICES | MEP FABRICATION DRAWINGS
Clash coordinated MEP shop drawings (Also known as Fabrication Drawings) with specified BIM LOD (Level of Detail) eases the creation, fabrication, installation, assembly, and facility management process of the design-build process. Tejjy Inc.'s clash coordinated shop drawing services include Mechanical/HVAC, Electrical, Plumbing, Fire protection, Architectural, Structural, and Façade shop drawings. Our MEP BIM Modelers use Autodesk Revit for clash coordinated MEP shop drawings/MEP drawings. 
Experienced MEP engineers provide detailed MEP fabrication drawings and mechanical shop drawings including duct detailing, water supply detailing, and panel distribution drawings. We have extensive experience in handling MEP engineering projects, from detail to drafting. Our coordination drawings are created and assessed through BIM, adhering in accordance with strict quality requirements, which are followed by professional drafters.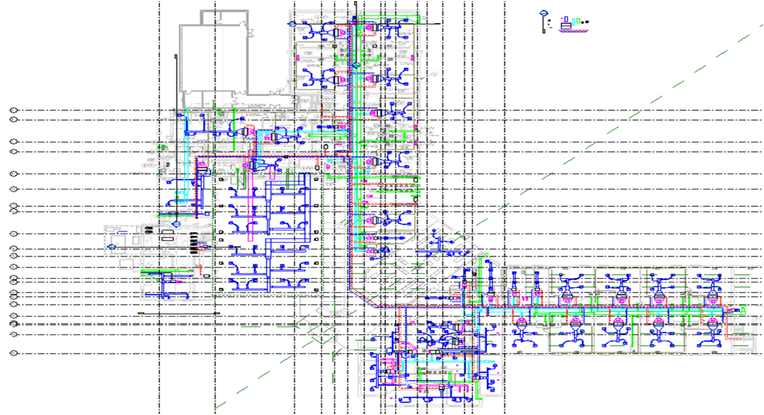 Shop Drawing Services For Accurate Building Design Process
Contact our experienced MEP engineers for MEP shop drawings services
Mechanical Shop Drawing
Mechanical shop drawings/HVAC shop drawings facilitate the detailed layouts and technical specifications of the mechanical/HVAC components & systems of a building. Mechanical shop drawings include plans and layouts of components like heating vents, air conditioning systems, HVAC ducts, elevator layouts, detailed layouts for escalators, ventilation systems of a building, and components of the heating and cooling systems. These comprehensive engineering shop drawings for mechanical/HVAC components depict detailed layouts of vertical transportation systems and their components, such as passenger & goods lifts, escalators, and travellators, as well. HVAC duct shop drawings, also known as ducting drawings in construction, offer a detailed layout of the arrangement of HVAC components in a building. Mechanical shop drawings in construction do not only represent a detailed layout of the system but also communicate a precise intent of the design of the components with technical details to the MEP engineers. Tejjy's team of experts ensure accuracy while providing shop drawing services to their clients. 
Electrical Shop Drawing
An electrical shop drawing is a technical representation of the electrical system or the components of the electrical system installed in a built facility. Electrical shop drawings/fabrication drawings are an integral part of the construction process. It assists site engineers, architects, electrical contractors, and project managers to extract the required data for the installation of electrical components on the building premises. Electrical drawings in construction facilitate professionals with precise technical data which can be used to customize the building's electrical system according to the required specifications. Power supply and distribution, control systems, access and security systems, information and communication systems, and interior and outdoor lighting are all examples of electrical systems found inside a building.
Plumbing Shop Drawing
Plumbing shop drawings or plumbing drawings represent a detailed layout of the plumbing system in a building. Plumbing drawings represent the arrangement of the system to provide a clear idea and precise communication of the design intent to the plumbing contractor and engineers. The plumbing system in a building includes components such as piping systems, building drainage, garbage disposals, sewerage, and wastewater carriers. They also show fluid and air transportation for heating and cooling, potable and non-potable water supply, fuel gas piping, and waste removal from a building. MEP drawings for plumbing or plumbing shop drawings can be used as a reference by manufacturers to manufacture parts of the systems as per the client's requirements and building specifications. Our shop drawing services for plumbing drawings ensure the accurate arrangement of plumbing components and detailed technical details in the MEP drawings. 
Fire Protection Shop Drawings
Fire protection shop drawings are visual and technical representations of the fire protection elements. The fire protection industry relies heavily on fire protection shop drawings which are also known as installation drawings, fabrication drawings, or working plans for fire protection design. This design package, prepared by or on behalf of the installation contractor, comprises the most critical details of fire sprinkler system design. Pipes, sprinklers, hangers, pressure gauge control valves, check valves, and other fire prevention elements are depicted in fire protection shop drawings. The fire protection shop drawings facilitate a streamlined workflow for the installation of fire protection components in a building. It also saves overall cost and a considerable amount of time in the construction project.
Benefits of MEP Shop Drawings
Clear Design Information – Fabrication Drawings or

MEP drawings

hold detailed information about how the product will be assembled along with details such as dimensions, weight, joints, and connections. The clarity of documents with

3D BIM model

details gives the fabricator a vision to produce exact output at the construction site.

Documentation – The actual MEP shop drawings act as a referral document in case of any flaw. With any discrepancies, while building, the contractor can refer to MEP shop drawings to detect the error. The actual drawing dimension acts as a supportive document while seeking approval to build.
Accurate Cost Estimation – Scheduling and costing are the important factors in construction. Through detailed design drawings, accurate material estimation could be assessed. This ensures the precise scheduling of required resources, leading to accurate costing.
Clash Coordinated Drawings – Shop Drawings created from Building Information Modeling (BIM) in Revit detect clashes at the design stage. Clash coordinated MEP shop drawings are an asset in building construction planning, leading to a smooth installation.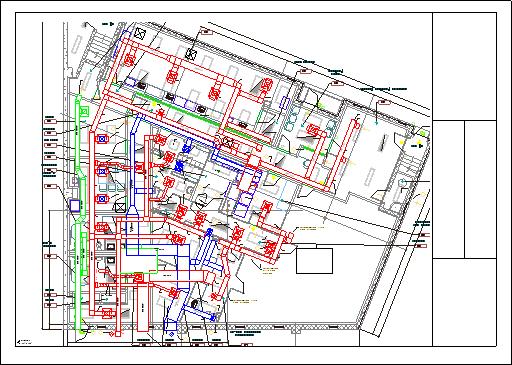 Why Hire Tejjy Inc. for MEP Shop Drawing Services?
Tejjy Inc. is one of the best MEP shop drawing service providers in USA. We have 16+ years of experience in providing BIM, 3D Laser Scanning, and Architecture Design Services.
MEP shop drawings provided by our experienced and talented in-house team of qualified MEP engineers, BIM consultants, architects, and contractors provide quality assured services with client centric solutions. Tejjy Inc. provides MEP Fabrication Drawings adhering to international standards and holds all detailed assembly information, eliminating clashes.
For your best experience in MEP shop drawing services in Maryland, Washington DC, Virginia, Baltimore, and all across USA, get in touch with us at 202-465-4830 or info@tejjy.com.
Connect with our Allied Services