Façade Shop Drawing | Shop Front Drawings
Tejjy Inc. is one of the best façade shop drawing service providers in USA. The façade is the envelope of the building that enhances the appearance of the building, along with providing privacy and saving the occupants from exterior environmental factors. Façade shop drawings or façade fabrication drawings help the fabricators and installers with the fabrication and installing a façade in a residential or commercial building. A façade shop drawing shows the material details, dimensions, fabrication details, and installation details.
We use the 3D BIM modeling procedure to make shop front drawings. Our team of BIM architects, BIM engineers, and BIM modelers can create shop front drawings for fabricators, which are accurate and cost effective. We are specialized in providing curtain wall detail drawings, glass façade detail drawings, and shop front detail drawings.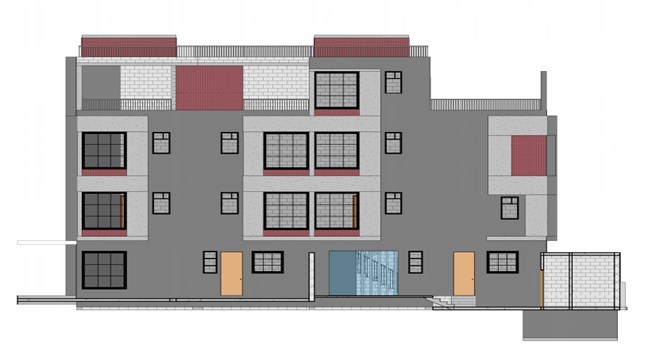 We Provide Façade Shop Drawings and Design for:

Curtain Wall Shop Drawings





Glass Entrances Shop Drawings
Façade Shop Drawings Include:
Detailed Floor Plan
Elevations, Sections & Details
Material specifications
Curtail wall detailing
ACP detailing
Spider glazing detailing
QTO, and BOM
3D Layouts
Manufacturing & Installation Drawing
Advantages of BIM for Façade Shop Drawings
The benefits of incorporating BIM for façade shop drawings include:
Parametric Façade Design: Designing the facade as a set of functional variables or algorithms is made possible by parametric BIM. BIM's facade algorithms can be modified to create a variety of various building designs.
Façade models: 2D drawings converted to 3D models prevent data loss. It connects facade design data to CNC machine equipment for manufacturing. BIM facade models increase building quality and save material waste.
Virtual Assembly: BIM creates facade panel manufacture, transportation, installation, and sequence information. The data assists with virtual facade panel assembly, which improves construction planning, installation sequencing, and quality.
Connect with our Allied Services
FAQ
A complete Kitchen Remodeling will typically cost around $25,000, which comes to approximately $150 per square foot in Washington DC, Maryland, Virginia, Baltimore, and other states across USA. This cost, on the other hand, is determined by the size and style of your kitchen.
Steps to plan a bathroom renovation:
Site analysis to understand your unique space.
One of our kitchen designers will create your design and select products.
A site verification to confirm the design, quote, and specs.
Creating the 3D BIM model of the design.
Adopt 3D visualization services for clients' visualization.
Gathering permits.
Installation from start to finish.
Tejjy Inc. is a leading provider of Kitchen Remodeling Services in Washington DC, Maryland, Virginia, Baltimore, and other states across USA. We have been making homeowners happy with Kitchen Remodeling for over 15 years.
You can contact us for an estimate to get an idea of how much your kitchen remodeling will cost.
Call us at 202-465-4830 or email us at info@tejjy.com to schedule an appointment.