Floor Plan Creator : 2D Floor Plan and 3D Floor Plan Design Services in USA
Tejjy Inc, one of the best architectural and engineering company in USA, provides high-quality 2D and 3D floor plans for commercial, real estate, and residential projects. Tejjy's comprehensive building design services have enhanced architectural visualization with firmer foundations. Our thorough 2D and 3D floor plan drawings offer realistic depictions of anything from a single room to a complete building. A 2D floor plan assists architects, engineers, and contractors in construction, however a good 3D floor plan helps buyers in understanding the design of a building, which includes the room and floor layout, room size, and several other factors.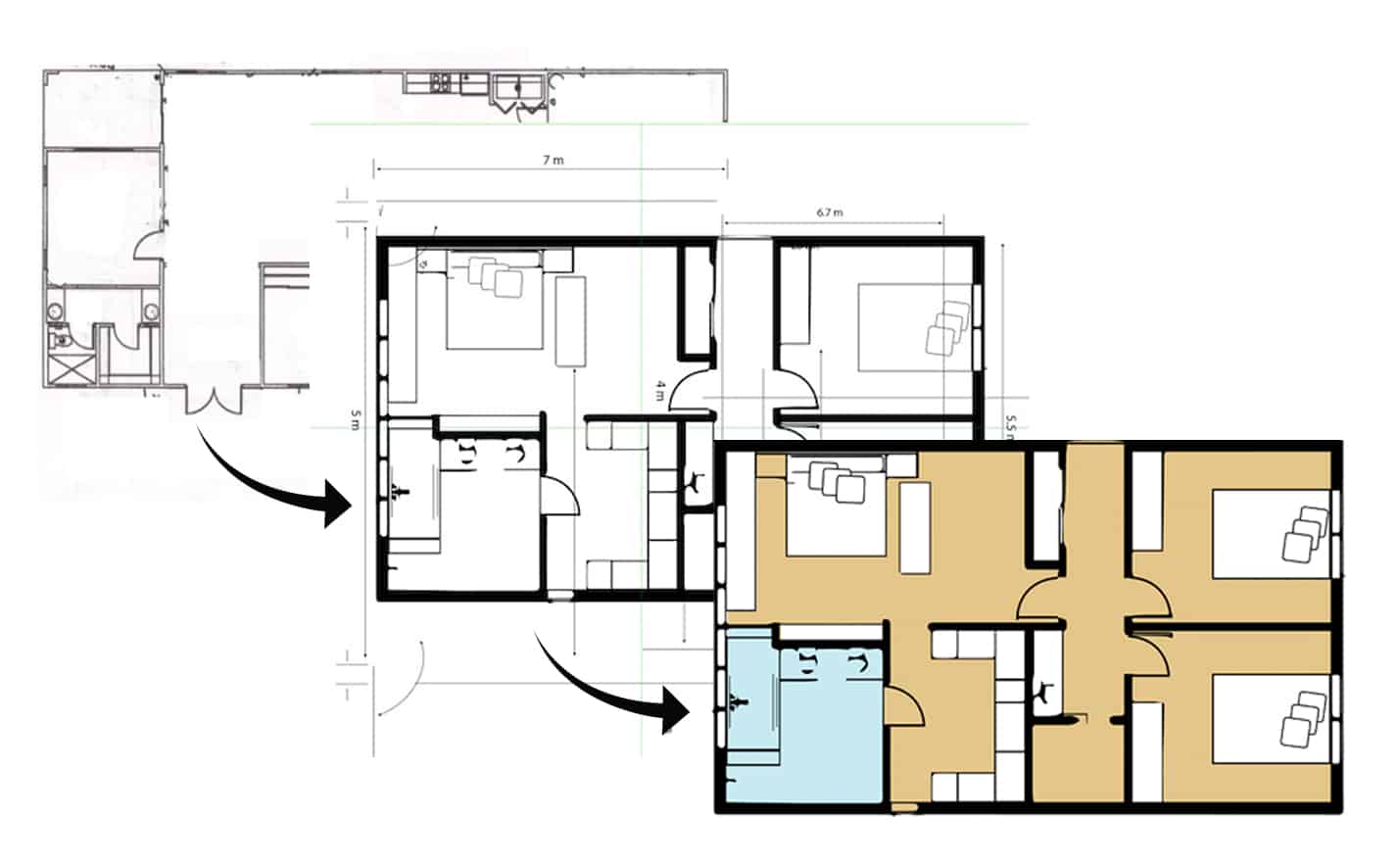 What are you waiting for? Order your floor plan today.
2D Floor Plan Services
2D floor plans offer a clear visual picture of the property for real estate or home design projects. Professional home builders, remodelers, and interior designers will benefit from 2D floor plans. We assist you in producing high-quality 2D floor plans that are simple for clients to understand. The 2D floor plan with dimensions that we design for you is extremely accurate and can be used for on-site construction.
3D Floor Plan Services
To get a greater sense of the space's possibilities, 3D Floor Plan visualizations can help you visualize properties and homes in a whole new way. Real estate assets and home design projects can benefit from the 3D floor plan. Before the construction begins, we provide you with a 3D floor plan that will allow your clients to have a better sense of the space, and also can be used for marketing and presenting real estate properties and home design projects.
Convert a 2D Floor Plan to 3D Model
The 3D floor plans can provide you with a better notion of how to use the interior space in order to have an excellent overall design for your space. Floor designs that are rendered in 3D appear more realistic than those shown in 2D. 3D floor plans are created using SketchUp, Revit 3D, 3DMax, and Vray software's. We can remodel the existing 2D floor plan into a 3D floor plan according to your design and interior specifications.
 We determine the area to be drawn. In case a building already exists in DC, our engineers at Tejjy Inc. decide how much of a room, floor, or an entire building is required to draw. On the other hand, if a building does not exist, we brainstorm designs based on the size and shape of the location to be built.
If a building exists in DC, we measure the walls, doors, and relevant furniture to make an accurate floor plan. If the layout gets created for a completely new area, we ensure that the total area gets fitted in where it is to be constructed. We inspect the buildings built in similar areas in DC for using it as an estimate for the floor plan.
We add walls for every room of the building, drawing them to scale.
Adding Architectural Facets:
We add architectural features to space by including the unvarying stuff, such as the doors and windows, refrigerator, dryer and other significant appliances placed in a specific location.
We add furniture if it is required in the floor plan.
Why Choose Tejjy Inc. for 2D Floor Plan and 3D Floor Plan Services?
To increase the resale value of your building.
For versatility, and flexibility in designing spaces.
To match your priority and lifestyle with the perfect spatial design.
For finding the perfect poise between architectural details and practical considerations.
Connect with our Allied Services
Our Floor Plan Layout Design Drawing Services:
2D and 3D floor plan creation with interior design.
Assessing property needs, visualizing colors, textures, materials, and design.
Comprehending spatial relations with 3D BIM, and eliminating design errors.
2D CAD to 3D floor plan drawing conversions for Architectural, Structural, Mechanical, and Electrical services of residential and commercial projects.
Creating site plan layout with building structure and location details.
Animation walkthrough and 3D rendering as per user requirement.
Marketing and presentation drawings for real estate agencies.
FAQ
The cost of a 2D floor design is determined by the project's floor area and complexity. 2D floor plans for a three-bedroom house take at least 10 hours to complete and cost between $500 and $2,000 on average.
The cost of a 3D floor design is determined by the project's floor space and complexity. Rendered 3D floor plans for a three-bedroom house typically cost anywhere from $700 and above depending upon the design.
You can get a 2D floor plan or 3D floor plan of your house by consulting an architect and informing the architect about your exact demands and budget. With consideration of the site, sun direction, and climatic conditions, the architect will produce a design tailored to your needs based on the area, spaces, and budget.