Bathroom Remodeling in Washington DC, Maryland, Virginia, and Baltimore
Tejjy Inc delivers Architectural BIM services for bathroom remodeling. Our design-build solutions cater to Bathroom Renovation from project initiation to completion. Starting from project estimation, bidding, construction documentation, detailed design, and conceptual design, we facilitate innovative bathroom remodeling design services. Being one of the 5-star bathroom remodeling services provider in Maryland, Baltimore & Virginia, we renovate and remodel your bathroom with upgraded fixtures, creating luxurious space that one can enjoy for years to come. Indulge in the best comfy bathroom decors with the latest tile designs, fixtures, sinks, and bathtubs.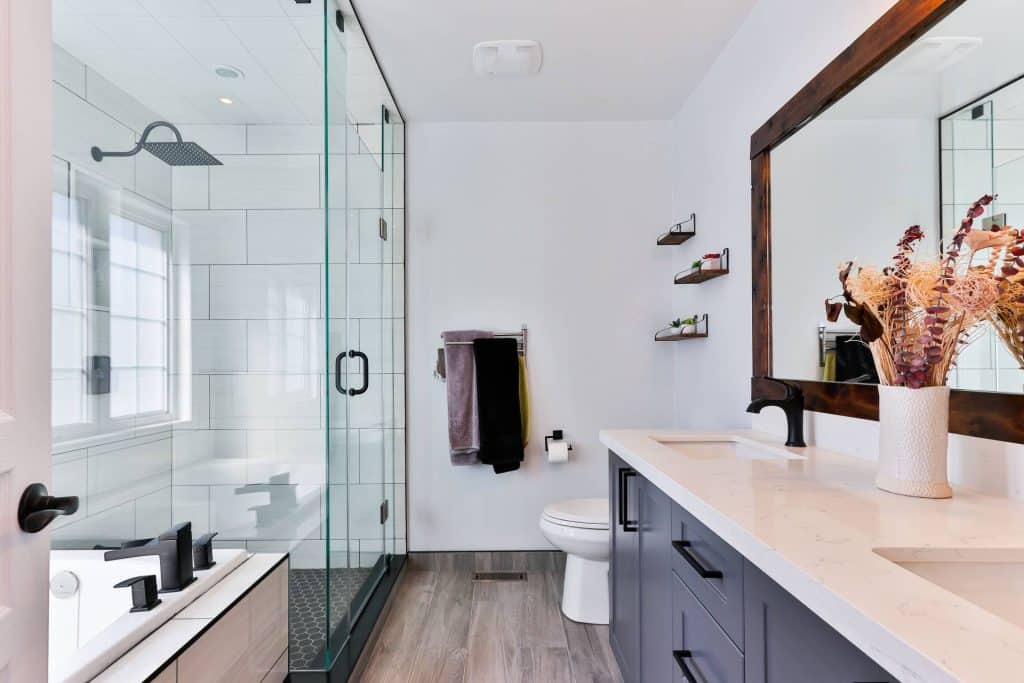 Bathroom Architectural Design and Plan
Being Architectural BIM service provider in USA, our team of architects, designers, general contractors, bathroom remodelers use 3D visualization and rendering for better customized results. This ensures delivery of accurate architectural drawings and floor plans that are compliant with DCRA building codes and specifications

Plan and visualize bathroom remodeling ideas.
Use latest interior design layouts and design ideas.
Adopt 3D visualization services for client's visualization. In 3D BIM visualization, 3D exterior and interior with animation walkthrough give the client the real-world idea of the project.
BIM and VR are also adopted by experienced BIM companies to give an advanced visualization effect to clients. VR virtual reality and AR realistic approach leave no house of discrepancies before construction.
Why Tejjy for Bathroom Renovation and Remodeling?
Bathroom Design Facelift
Using innovative design ideas and careful planning, we provide bathrooms a facelift so that our clients can enjoy the bathrooms they have always dreamed of with everything from shower heads to vanities to bathtubs to sinks to cabinets to mirrors.
Budget Bathroom Design
As one of the leading architectural BIM services provider in USA, we analyze the layout of your existing bathroom and create an architectural design for your bathroom that is within your budget while taking into consideration fixture replacement, structural changes, plumbing installation, and other requirements.

Adherence to Bathroom Renovation Permits
Our permit expeditors check with your local building departments for determining whether you need any permits, codes, or building specifications to meet requirements. In some instances, we will create a completed set of plans for approval. If you live in a condo or apartment building, you may also need permission from the association of homeowners, condo board, or building manager, which our professionals investigate with their expertise.
Existing Layout Analysis for Bathroom Design Planning
For our clients' initial architectural planning, we take into account the minute details of their existing bathroom layouts. This includes everything from the location of cabinets and drains to electrical switches and fixtures to lighting and doors and windows to exhaust fans and the wall containing water supply lines, drains and vent pipes as well as wet walls. Afterward, we evaluate the new plans for their functionality, taking into consideration difficulties such as sufficient clearance to open doors and access to electrical sockets. Upon our clients' approval of the layout, we create the final design, which includes submitting construction plans to the appropriate local building departments and arranging your renovation project.

Connect with our Allied Services
Our Projects