MEP/HVAC BIM Services | Revit MEP Modeling Services
Tejjy Inc MEP/HVAC BIM Modeling services focuses on developing data-rich well coordinated 3D model for Mechanical, HVAC, Electrical, Plumbing, Fire protection systems. For accurate 3D model, MEP consultant adopt Autodesk software Revit and Naviswork. Tejjy MEP BIM services deliver comprehensive quality assured modeling services from shop drawings , clash identification and resolution to construction documentation.
The well coordinated MEP BIM Modeling services ensure precise building design process for MEP components. Adhering to construction codes customized revit mechanical/ electrical/plumbing families are delivered with specified LOD (Level of Detailing 100-500).
Tejjy MEP Engineers adopt Revit MEP family parameters for better coordination and precise strategic decision making. Being one of the leading MEP BIM service provider in USA, our 3D MEP model for contractors, construction companies, MEP engineers, design build firms, educational, institutional, residential, healthcare sector.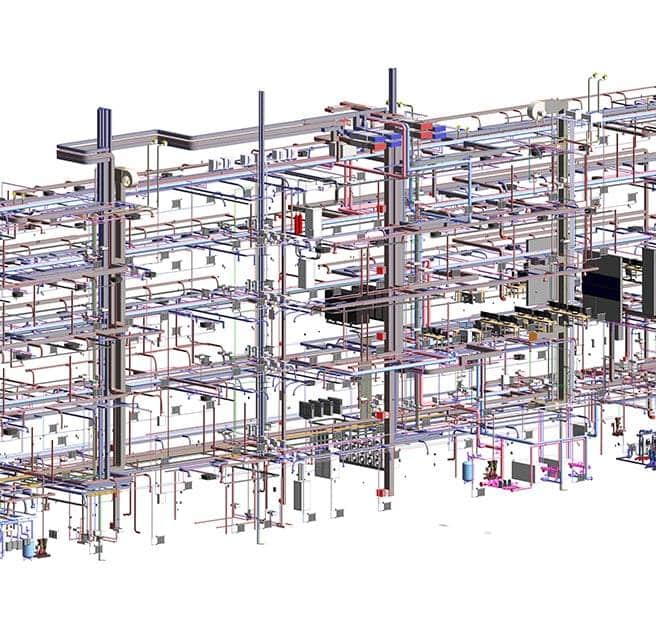 What We Do
We provide various Mechanical/HVAC, Electrical, Plumbing, Fire Protection BIM Services across USA
Know about our Array of Services, Contact our MEP Consultants Today.
Benefits of Outsourcing MEPF Designs for Construction Projects
MEP Designs are critical for the construction industry because they help with design decisions, proper documentation, cost estimation, construction planning, and facility management. Outsourcing MEP services to experienced Revit MEP Consultants will bring an added value to BIM Modeling project.

Quality controlled component creation for building designs in BIM Implementation.
Established BIM strategy plans adhering to standards & guidelines with required Level of Detailing (LOD).
Outsourcing BIM to expert modelers reduces operational cost with risk mitigated environment.
Experienced modelers have better insight on Revit model development and creating Revit Families.
Accelerates technology implementation with in-house team for improved ROI and efficiency in construction lifecycle
The Benefits of BIM for MEP Engineering Services
While delivering MEP BIM services to clients, Tejjy ensures easy accessibility of design-related information in the MEPF Revit BIM model. The digitized coordination allows consultants and engineers to make strategic project-related decisions with precision. As top rated MEP Service Provider in USA, our BIM Engineers work on Autodesk Revit and Autodesk Navisworks with BIM LOD 400 for delivering projects in residential, commercial, medical, hotel, educational, and government buildings.
3D Model Creation for MEPFP Trades & Clash Coordination (Clash Detection & Mitigation, Visualization)
Constructability Review (Model Update) to reflect changes from Design Changes, RFI Generation & As-Built Update
Shop Drawings enables complete mep coordination services amongst mechanical, electrical , plumbing. MEP clash detection report & resolve issues among various trades
Detailed Quantity Take off (QTO) incorporating manufacturer's reference with 5D BIM Modeling.