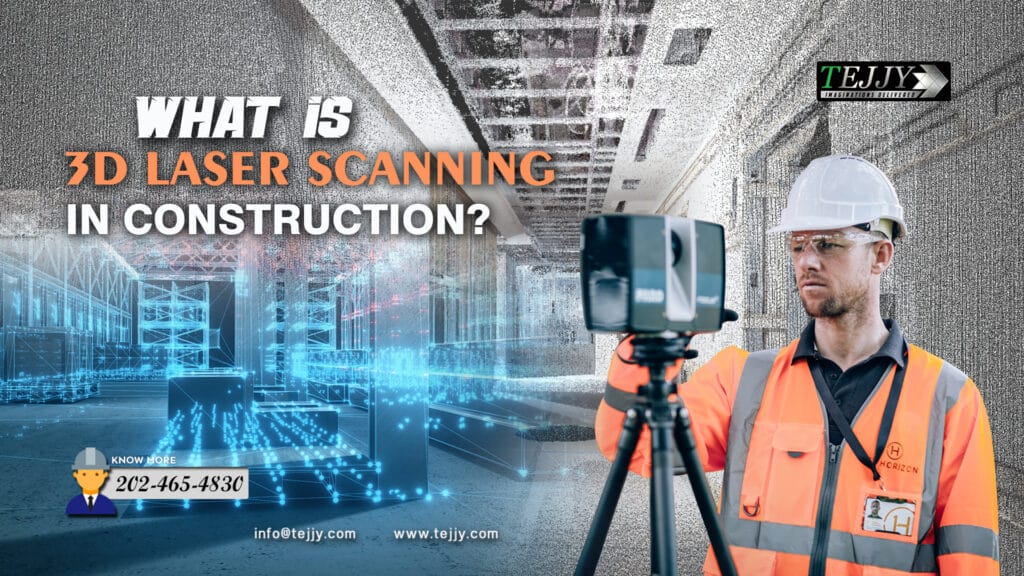 The use of technology is growing rapidly in any industry. According to the research conducted by Markets & Markets, the 3D scanning market after COVID is anticipated to reach USD 1324 million by 2026 from USD 924 million in 2021.
The Compound Annual Growth Rate is expected to rise at 7.5% from the year 2021 to 2026. The continuous growth of the scanning technology would give a boost the construction sector, facilitating the owners, buyers, stakeholders and all other construction professionals. Expected Growth of Global 3D Scanning Market from 2021 to 2026
What Is 3D Laser Scanning?
3D Laser scanning, also known as high-definition surveying or reality capture, is a technique that uses laser rays to collect incredibly fine & accurate data about a construction site. A laser beam measures various dimensions of the structure such as, the length, width, and height of the building components, as well as their connection to one another.
The process of scanning uses a specific technology for scanning the objects on a construction project. The technology is known as LiDAR – Light Detection And Ranging.
3D laser scanning has made its mark not only in the Architecture, Engineering and Construction (AEC) industry, but also in various other sectors such as films & media, gaming & technology, medical, manufacturing, automobiles, and many more.
Despite the fact that the technology has taken a little longer to reach the construction field, it is gradually becoming a standard on construction sites all over the world.
The 3D laser scanner creates a point cloud image that accurately replicates the scanned items. Scanners can be used up to a distance of several meters away, depending on the make & model of the 3D scanner. Building Information Modeling (BIM) and Computer Aided Drawing (CAD) systems can then be used to create either 2D CAD drawings or 3D Revit BIM models from the data acquired.
The models and drawings created using the point cloud data assists the professionals of the Architecture, Engineering and Construction (AEC) industry to carry out the construction process effectively, accurately and in a more precise manner.
How do 3D Laser Scanners Work?
3D laser scanning is a technique that uses laser light for scanning the surrounding objects.
But the question is how does 3d scanning work? What is the procedure? Let's learn about the step-wise procedure of 3D Laser Scanning.
✍️ Place the equipment at a certain point that is to be scanned.
✍️ Calibrate the camera with respect to the surface.
✍️ Start the scanning process.
✍️ Collection of data in the form of point cloud.
✍️ Transfer the raw data in the software.
✍️ Create a 3D BIM model / as-built model using the point cloud data.
BIM Engineers created an as-built model using a point cloud for the '1155 23rd Street Northwest' project based in Washington, DC.
Read more about our Case Study of a BIM As-Built Model from Point Cloud for DC Project.
Application of 3D Laser Scanning in Construction Projects
Construction Designing – reality capture is used to prepare complex designs of large-scale construction projects. These designs are in the form either Computer Aided Drawings or Revit BIM models.
Creating as-built Models and Drawings – as-built models and drawings are prepared using the scanned point cloud data. As-builts are generally used for repairs and maintenance purposes of a structure. They represent the actual condition of the structure.
Surveying – High-definition surveying is carried out using laser scanning technology. Various types of laser scanners such as ground scanner, mobile scanner and aerial scanners are used to capture the topography and other such features of the construction site area. High definition surveying is gradually taking over the traditional surveying techniques.
Volumetric Calculation of Construction Materials – Volumetric calculation of construction materials can be calculated using surveying through laser scanning technology.
Renovation and Retrofitting of Structures – Reality capture produces as-builts through the point cloud data. It represents the exact model of the built asset in its present condition. The as-built model of the structure is examined the structure is renovated accordingly.
Different Types of 3D Scanners
There are quite a few types of laser scanners available in the market that are ideal for construction projects. Depending on their operational platforms, they are divided into three major categories. Let us have a look at each one them below in brief.
Terrestrial Laser Scanner – commonly abbreviated as TLS, the terrestrial laser scanner is also known as ground LiDAR. It is usually mounted on a tripod while the scanning operation is commenced.
Terrestrial Laser Scanners have the highest accuracy among all the types of scanners available in the market. It is because the device remains stationary at a position while the scanning operation is going on.
Aerial Laser Scanner – Aerial Laser Scanner (ALS), also known as aerial LiDAR refers to a laser scanning device that is installed on an aircraft and used while the aircraft is flying. It is also known as mobile LiDAR as it can be easily transported from one location to another by means of a mobile ground-based platform such as a vehicle.
The accuracy of aerial scanners is relatively low due to its mobility. They are used for acquiring the point cloud data of the geographical features or topography.
Mobile Laser Scanner – As for Mobile Laser Scanner or MLS, because of the ease with which the movement path can be controlled, the laser scanning device is widely used in 3D city mapping applications as well as in autonomous vehicle sensing systems.
They are relatively smaller in size and lighter in weight so that it can be carried easily from one place to another.
Advantages and Disadvantages of 3D Laser Scanning Technology
There are numerous advantages to utilizing laser scanning on your next project, as listed below. Here's a look at some of the most important reasons why laser scanning could be beneficial for your projects.
Advantages of 3D Laser Scanning
Construction teams can take planning and detail to a whole new level using laser scanning. This enables scans to be performed and accessed immediately, which improves productivity and reduces rework.
Cost Effectiveness – the process requires lesser duration then the conventional surveying process eliminating the expense incurred by utilization of resources for longer duration.
Saves Time – quicker than the traditional surveying, laser scanning can perform building scans within a couple of minutes.
Accuracy and Precision – the modern day technique is way more accurate & precise as compared to traditional surveying. It is because laser scanning eliminates human errors.
Detailed Documentation – The point cloud data obtained during the 3D scanning process is so detailed that it captures practically every feature of the object being scanned. The likelihood of any omission during the scan is much minimized, and the likelihood of any error is relatively low.
Reduces Manual Labor – utilization of unwanted resources and labor is eliminated by 3D laser scanners which results in cost and time efficacy.
On-site Safety – Construction sites are concerned about the safety of workers and other employees. Portable 3D laser scanners for surveying can take precise measurements from up to several hundred meters away. It helps the workers to keep away from hazardous surroundings and topography, ensuring their safety.
3D Laser Scanning Disadvantages
High Initial Cost – the initial cost of the camera is very high. According to some sources laser scanners can cost anywhere ranging from $20,000 to $150,000.
Lack of Knowledge of the Technology – the technology is still not known to some of the areas and the people there lack the knowledge of laser scanners and laser scanning.
Lack of Trained Professionals in the Industry – due to lack of trained professionals, there is a lack of adoption of laser scanning technology. The professionals of construction industry must be trained through certified laser scanning courses.
It benefits the professionals personally and the Architectural, Engineering and Construction (AEC) industry as well.
How Much Do 3D Laser Scanning Services Cost?
Laser scanning and Revit BIM modeling have become significantly more affordable as a result of recent advancements in scanning technology and scanning software development. Pricing is determined by a variety of factors. It's understandable that an builder would be concerned about the expense of 3D scanning services if he is planning a big hospital renovation or if he wants to scan the facility for historic preservation purposes.
A variety of factors influence the cost of 3D laser scanning services, with professional laser scanning and modeling services ranging from $2,000 to more than $100,000. ​
The project cost varies depending on the size of the project. As an illustration: Small projects, such as a food restaurant or a gas station, may cost between $2,000 and $3,000 to complete. Medium-sized projects, such as an industrial complex, may cost between $3,000 and $10,000. Huge projects, such as a large manufacturing unit, an entire retail mall, or a hospital campus, may cost in excess of $10,000 to complete successfully.
What Does the Future Hold for 3D Laser Scanning?
The use of static 3D laser scanners and the expertise of skilled surveyors and scanning experts will always be a top priority requirement for construction projects in order to attain precise and high accuracy survey data. Nonetheless, the demand for quick 2D drawings and 3D models that are independent of the environment — whether outside, inside, or under artificial light — is driving the use of mobile scanning technology.
It will be necessary in the future for new hardware scanning devices to integrate with the digital world of BIM and cloud-based processing. A larger range of workflows, including scanners and other reality capture equipment, must be incorporated into order to improve the value of scan data to all parties involved in the process.
Construction professionals and surveyors must be aware of new technologies and cloud-based advancements since they will have a significant impact on cultural and operational changes in the field.
Would you like to have a discussion related to your construction project 3D modeling? We would be glad to discuss it with you! Our skilled BIM experts facilitate project coordination, risk mitigation, logistics planning, and cost optimization through 3D BIM Visualization, Animation Walkthrough, and 3D Modeling techniques.
Also Read –
3D Laser Scanning Vs Photogrammetry