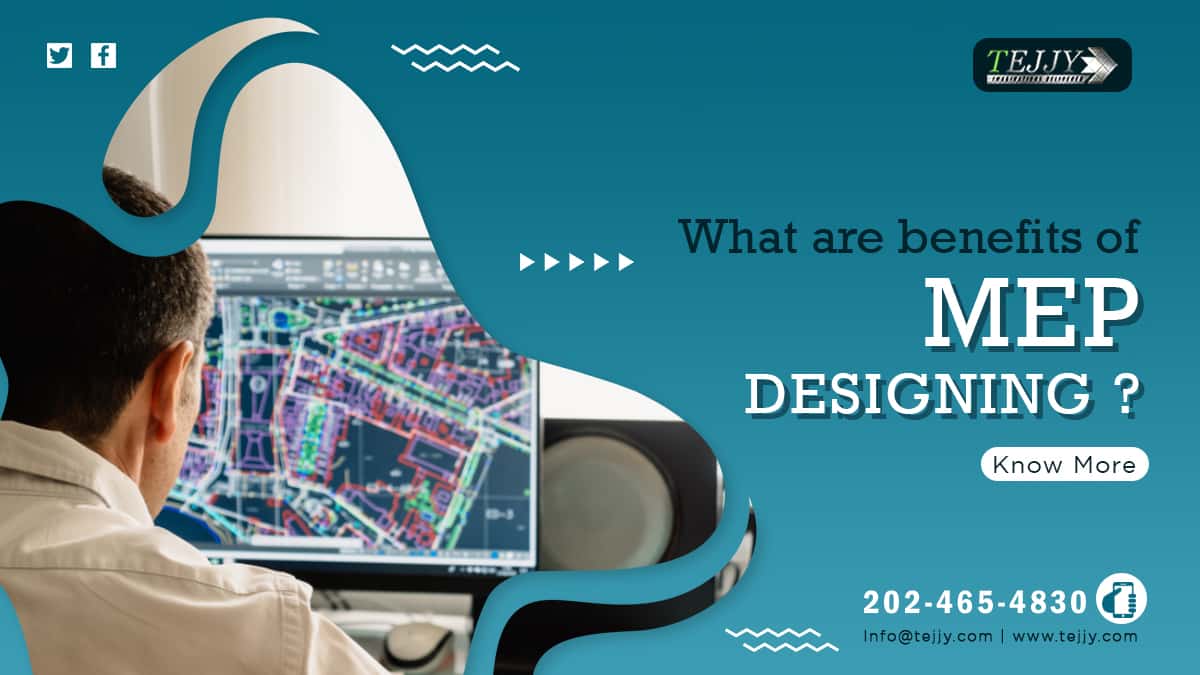 What are the Benefits of Using Revit MEP?

🌟 Journey of Revit for MEP Engineering

 
Digitization has been an integral part of construction and MEP engineering since the 1970s. However, the journey of CAD and BIM modeling software has been a bit tough during its early days. Computer-Aided Designing, popularly known as CAD, was introduced as a successor to conventional ink and paper drafting. The Computer-Aided Design technology brought considerable changes over the traditional pen & paper designs. It gained popularity among MEP engineers, architects, structural engineers, and design professionals due to its features. CAD facilitated nearly accurate designs with fewer errors, in relatively lesser time. The features of digitized design software included 2D plans, 3D drawings, various design tools, smart components and change management tools, to name a few. 
Although the industry had computer-based software for architectural, structural and MEP designs, it required an upgrade. Yes, you got it right. Revit, as a successor to CAD, was introduced in 1997. It was renamed Revit Technology Corporation later in 2000 and was acquired by the software company Autodesk in the year 2002. Autodesk Revit for MEPF extended the horizons and opened up new possibilities for the AEC business, especially for Building Information Modeling experts. It facilitated smart mechanical, electrical, plumbing and fire-protection models for MEPFP with detailed data integration. The significant upgrade over computer-aided design software features smart modeling, a common data environment for a collaborative approach, data integration, precise cost estimation & quantity take-off, optimized schedules, resource allocation and energy analysis, as well. MEP engineers leverage the benefits of Autodesk Revit for quality-assured deliverables. 
Do you want to learn how to process mechanical, electrical, and plumbing projects with Revit MEP? Continue reading to learn everything about Revit MEP's secrets!
Autodesk Revit MEP is a Building Information Modeling (BIM) programmer for MEP engineers developed by Autodesk. MEP stands for Mechanical, Electrical, and Plumbing, which are the three engineering disciplines addressed and managed by Revit.
Difference between AutoCAD MEP and Revit MEP
AutoCAD MEP and Revit MEP are both successful and the most popular products from Autodesk for MEP services. But the question is what makes them unique from each other? Let us explore some major differences between both platforms. 
Sr. No

 

AutoCAD MEP

 

Revit MEP

 

1.

 

It is basically drafting software.

 

It is a Building Information Modeling software.

 

2.

 

It facilitates 2D and 3D MEP plans and drawings.

 

It allows you to create comprehensive MEPFP BIM models.

 

3.

 

It is an upgrade over the hand-drafted designs.

 

It is an upgrade over the CAD technology, offering advanced features.

 

4.

 

CAD for MEP has relatively less features.

 

As an advanced technology, Revit MEP has all the advanced features, required for smart MEPF modeling

 

5.

 

It does not support collaborative workflow.

 

Revit MEP is a common data environment. It enables collaboration MEP engineers to work in a single coherent building information model.

 
Revit MEP offers a wide range of benefits to the MEP professionals. Eager to know how? Explore the top 12 reasons why Revit should be adopted for MEP: –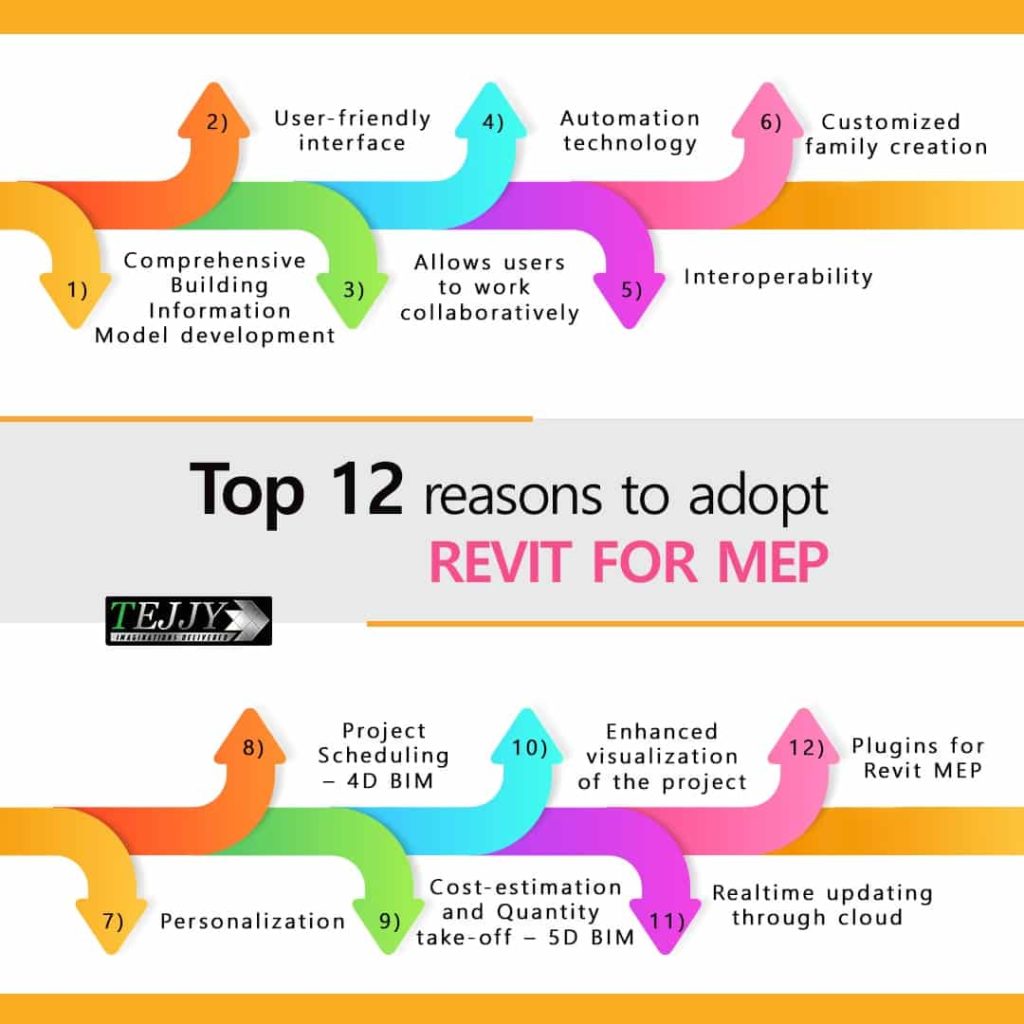 Comprehensive Building Information Model development
Revit BIM allows MEP engineers to draft the most complex designs for MEPFP accurately through its platform in a short time. The parametric modeling in Revit allows the detailed model created from a set of commands. The data-rich digital representation of the structure facilitates engineers with precise information such as measurements, cost estimates & quantity of materials and arrangement of various MEP components.
2. User-friendly interface
Revit is an easy-to-understand platform. It has a user-friendly interface, allowing the user to get a thorough idea of its features easily. However, technical knowledge regarding the software and mechanical, electrical & plumbing systems is necessary for developing a Building Information Model is its prerequisite.
3. Allows users to work Collaboratively
Being a Common Data Environment, Autodesk Revit allows professionals from different disciplines to work and coordinate on a single coherent model. It facilitates a secured environment hence it also reduces the chances of data loss.
📌Read More About :-  👇🏻👇🏻
4. Automation Technology
Automation makes the system more efficient. For example, if a change is made to a particular type of component, the change is reflected in the whole database. It saves a lot of time and effort and also increases working productivity.
5. Interoperability
Revit MEP is a standard platform for Building Information Modeling (BIM). The model created in it can be exported, imported and even linked with some of the common BIM and CAD formats such as IFC, 3DM, SKP and more.
6. Customized family creation
Revit allows the creation of customized families. Families are basically the block-type components that can be placed directly into the model. It makes the modeling process easier. Customized MEP families enable a user to design the model according to their design criteria and requirements.
7. Personalization
A user can customize the toolbar, ribbons and shortcut keys according to his/her requirements. It makes it easy for a user to access the features as per his requirements.
8. Project Scheduling – 4D BIM
Autodesk Revit MEP facilitates the integration of the time element in the BIM model. The time element, often known as 4D Scheduling & Simulation, represents the required time to complete a particular activity. For example, installing an HVAC system work duct would take 5 hours. Similarly, an MEP 4D BIM model shows an optimized schedule, for the elimination of delays.
9. Cost-estimation and Quantity take-off – 5D BIM
Integration of the cost element in the BIM MEP model is known as 5D BIM. Its offers precise cost estimates and quantity take-off for an MEP project. It gives a clear idea to the project manager about the cost and nearly accurate quantity of materials and would eliminate cost overruns and wastage of resources.
10. Enhanced visualization of the project
Revit software allows a user to visualize the project from different angles. It also offers alternatives for the arrangement of MEP components for better feasibility and aesthetics.
11. Realtime updating through cloud
Revit Building Information Modeling software allows project updating in real-time through the cloud. Any changes in the primary plans, designs, cost or quantity of materials, can be updated in the MEP model through cloud access. The changes done are reflected immediately to all the people having the access to the project.
12. Plugins for Revit MEP
There exist more than 140 different types of plugins for Autodesk Revit. A BIM modeler can utilize different plugins to enhance its MEP BIM model.
🌟How does MEP BIM help Constructors in Construction Process?

 
The MEP BIM process highlights interferences and resolves them before construction. An accurately developed BIM Model helps to reduce MEP service clashes considerably. During MEP BIM coordination AEC project stakeholders eliminate clashes and conduct collaboration meetings with architects and engineers. 
Let's have a look at how efficiently BIM can be implemented within the MEP industry? 
Phases of MEP BIM Services include: 
3D MEP BIM Modeling:

This is the first stage of the BIM process. An MEP Model needs to be created with all components of MEP services, including ducts, chillers, pipes, and plant rooms. The models get created with various details as per the requirement of models at a later stage. Advanced detailing is required in case the model is created for the sake of BIM coordination.

 
MEP BIM Coordination Services:

Using MEP BIM coordination, BIM Engineers integrate the MEP model with architectural and structural services. BIM highlights conflicts and resolves them before construction. An accurately designed and developed

Revit BIM Model

helps to reduce clashes considerably. During MEP BIM coordination, clashes are eliminated through collaboration meetings amongst architects and engineers.

 
MEP Shop Drawing Services:

After creating a 3D Model, MEP drawings can be extracted from the model, coordinating with Architectural and Structural disciplines. The MEP drawings are used for construction purposes. As a result, any error in the shop drawings could delay the construction workflow, making it a costly endeavor.

 
BIM 4D scheduling:

This is a significant facet of

virtual construction modeling

, where construction schedules are extracted with the help of BIM 4D scheduling. 4D BIM focuses on the details of the project execution timeline with MEP equipment.

 
5D BIM cost Estimation:

This provides comprehensive cost breakups of the project. MEP engineers extract quantities take off, labor requirements, and the cost for purchasing key components of MEP BIM Services. 5D BIM helps in project planning and presentation from inception to completion matching your project budget.

 
Asset Management:

MEP system could be developed in a way to provide an analysis of the whole building. Costing of the building along with environmental safety is also considered through 6D BIM facilities management services.

 
BIM 360 Document Management:

Using BIM 360 Document Management, project stakeholders are able to manage blueprints, Revit 3D models, and other construction documentation. This helps to streamline the entire process of your document management.
BIM 360 VR: Teams

using BIM 360 are able to extend their workflow into collaborative VR through accessing the latest models, analyzing them, and adding BIM 360 issues within VR headsets.

 
Read More:- 👇🏻👇🏻

MEP in Construction – Role and Strategies for Better Building and Industrial Projects
Future scope of Revit MEP
What would be the future of Revit MEP? Would it be of any use in the future? Would there be any major upgrades in the MEP BIM software? Many questions arise when we talk about the future of Autodesk Revit MEP. Let us find the answer to these questions. 
 Revit MEP is dominating the BIM software market and it definitely has a bright future coming up. Since its introduction, the BIM-based software has offered a wide range of features and significant updates from its base version. Revit BIM MEP would definitely serve its purpose for the next 10 years with regular updates until any major changes are witnessed in the technology. According to some sources, there won't be any major or drastic changes in Revit for MEP BIM. So, to conclude, the future as we can see is bright for the BIM software and will continue to serve the MEP industry and its professionals for a minimum of the coming 10 years. 
Get in Touch With Us 👇🏻👇🏻
If you are interested in finding out more about how Tejjy Inc. can help you please get in touch with us by filling in the contact form 202-465-4830, or by emailing info@tejjy.com.