What are the Benefits of Using Revit MEP?
In the current age of virtual construction, BIM Services is the most sought-after in the construction domain. Building Information Modeling technique has grown fast in architectural, structural, and MEPFP segments to save construction cost and undertake building review for sustainability and thermal analysis. Revit MEP BIM Services start from simple 3D modeling to intricate MEP BIM coordination, design validation, shop drawing creation, and 5D cost estimation. Today, BIM engineers work with MEP services for shaping up the construction work process.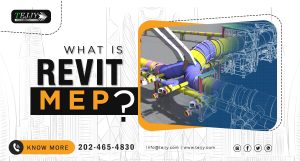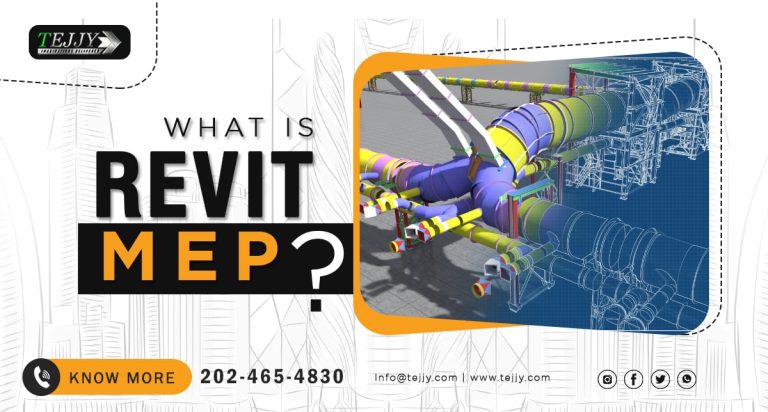 What is Revit MEP?
Autodesk REVIT MEP is a BIM software application, which provides mechanical, engineering, and plumbing professionals the best tools for designing complicated systems. BIM Revit started in 1997 with parametric modeling technologies. The software facilitates all engineers, designers, and contractors across the mechanical, electrical, and plumbing disciplines to create a high-level detailed and coordinated Revit 3D model.
What is the difference between Revit and BIM?
BIM is an intelligent 3D modeling process for planning, designing, construction, and management of buildings and infrastructural projects. Revit is one of the BIM platforms used to create BIM models. BIM involves a process and Revit constitutes a tool for leveraging the process.
In BIM, MEP engineers work with BIM Execution plans, Common Data Environment, LOD strategy, Cobie Sheets, Clash reports, and 4D Construction Sequencing. In BIM, employer requirements are captured and documented, while additional information management roles ensure the coordination of information in the Revit 3d model.
BIM implies much more than Revit, which needs to be continuously communicated. Revit 3d model helps to build a powerful database containing information at different stages of a construction project. A digital building created with intelligent objects of Revit Family with stored information is used for successful time and cost management for the entire project lifecycle. Revit makes use of the building components of the model for analyzing and simulating structures and systems.
It is the Revit collaboration tool that enables all project team members to collaborate in shared parametric modeling. Isometric drawings from Revit 3d model are used to show an item in 3d. Data can be imported and exported with commonly used formats. The shared models are accessed by MEP coordinators and stakeholders at various phases of the project, enabling improved coordination and reduced errors and rework. Revit 3D visualization tool provides effective communication amongst project owners and team members by using BIM models for creating high-impact 3D visuals.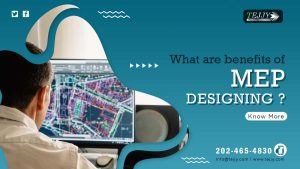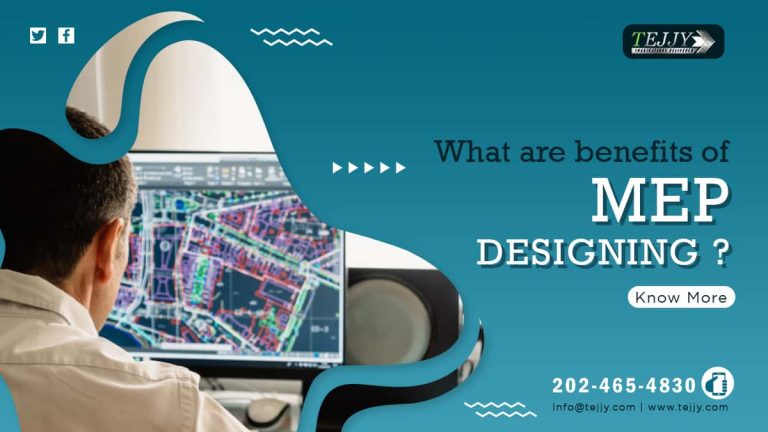 Nowadays AEC project stakeholders are exploring the benefits of Revit MEP BIM Services. Let's have a look at them in brief:
Easy-to-use automated modeling tool: BIM Revit is an easy-to-use modeling tool, where you can automatically place ducts, pipes, and containment fittings. This helps you to be productive and easily navigate the user interface within Revit.
Conversion of analytical schemes into detailed design: It becomes easy to use single-line drawings in Revit by converting them to comprehensive design, instead of beginning from very scratch.
Acts as a standard library of intelligent components: Revit MEP services act as a standard library of generic Revit family equipment. You can pick and choose any MEP components and can access manufacturer-specific content from varied sources, making it quick and easy to build schemes.
Consistent delivery standards across team members: MEP engineers can use the built standards into BIM Revit and check all deliverables.
Accurate quantification of items within a project: Revit consists of a database of all items in the project that can be used at any time for producing automated schedules. This saves considerable time in comparison with manual processes.
Initial clash avoidance working with Navisworks: MEP consultants are able to execute complete clash checking and reporting and thus can avoid costly rework on-site, collaborating the Revit 3d model with Navisworks.
Reduced RFIs working as per project stakeholders' information: While working with project stakeholders using Revit MEP services, the design model can be associated directly with your project. This enables viewing the model from various aspects without the requirement for extensive RFIs, saving time and money.
Embedded design information on project elements: BIM Revit intelligent parametric modeling uses elements for interacting with various elements of the project. To take an instance, one can check duct runs, velocity, size, and pressure drops.
Automatic display of design information using intelligent tags: Design information gets displayed in tags and added to projects automatically. This acts as a visual check for adhering to design standards, enforcing standards of MEP services, avoiding costly rework.
Automatic update of views while making changes to design: If any change is made to design, this is reflected across several other model views on MEP drawings or a schedule. However, it becomes difficult to get, using conventional 2D AutoCAD.
Revit MEP collaboration with design applications: BIM Revit can collaborate with various design applications like Dialux and Relux. Further, one can carry out electrical design and verification through Pro Design within Revit.
Productive design review meets with early identification & resolution of errors: Revit helps to visualize and resolve problem areas of design, with easy to manage 3D views before determining costly mistakes during construction.
Involvement of multiple people coordinating tasks simultaneously: Revit 3D model facilitates team members to work on the same project simultaneously, providing all the sight of project progress from a single model.
Conversion of models into fabrication level information: The design level model can be changed to a fabrication level using industry standards from Autodesk Fabrication CAD MEP, reducing the chances for errors.
How MEP BIM helps the construction process?
The MEP BIM process highlights interferences and resolves them before construction. An accurately developed BIM Model helps to reduce MEP service clashes considerably. During MEP BIM coordination AEC project stakeholders eliminate clashes and conduct collaboration meetings with architects and engineers.
Let's have a look at how efficiently BIM can be implemented within the MEP industry?
Phases of MEP BIM Services include:
3D MEP BIM Modeling: This is the first stage of the BIM process. An MEP Model needs to be created with all components of MEP services, including ducts, chillers, pipes, and plant rooms. The models get created with various details as per the requirement of models at a later stage. Advanced detailing is required in case the model is created for the sake of BIM coordination.
MEP BIM Coordination Services: Using MEP BIM coordination, BIM Engineers integrate the MEP model with architectural and structural services. BIM highlights conflicts and resolves them before construction. An accurately designed and developed Revit BIM Model helps to reduce clashes considerably. During MEP BIM coordination, clashes are eliminated through collaboration meetings amongst architects and engineers.
MEP Shop Drawing Services: After creating a 3D Model, MEP drawings can be extracted from the model, coordinating with Architectural and Structural disciplines. The MEP drawings are used for construction purposes. As a result, any error in the shop drawings could delay the construction workflow, making it a costly endeavor.
BIM 4D scheduling: This is a significant facet of virtual construction modeling, where construction schedules are extracted with the help of BIM 4D scheduling. 4D BIM focuses on the details of the project execution timeline with MEP equipment.
5D BIM cost Estimation: This provides comprehensive cost breakups of the project. MEP engineers extract quantities take off, labor requirements, and the cost for purchasing key components of MEP BIM Services. 5D BIM helps in project planning and presentation from inception to completion matching your project budget.
Asset Management: MEP system could be developed in a way to provide an analysis of the whole building. Costing of the building along with environmental safety is also considered through 6D BIM facilities management services.
BIM 360 Document Management: Using BIM 360 Document Management, project stakeholders are able to manage blueprints, Revit 3D models, and other construction documentation. This helps to streamline the entire process of your document management.
BIM 360 VR: Teams using BIM 360 are able to extend their workflow into collaborative VR through accessing the latest models, analyzing them, and adding BIM 360 issues within VR headsets.
If you want to stay ahead of your competitors, seek MEP BIM services from Tejjy Inc. BIM engineering company at 202-465-4830 or info@tejjy.com. The competent BIM engineers of the BIM service provider in the USA deliver accurate 3D modeling, clash coordination, MEP drawings, and quantity takeoff for educational, infrastructural, hospitality, medical, residential, commercial, and mixed-use projects in the USA.