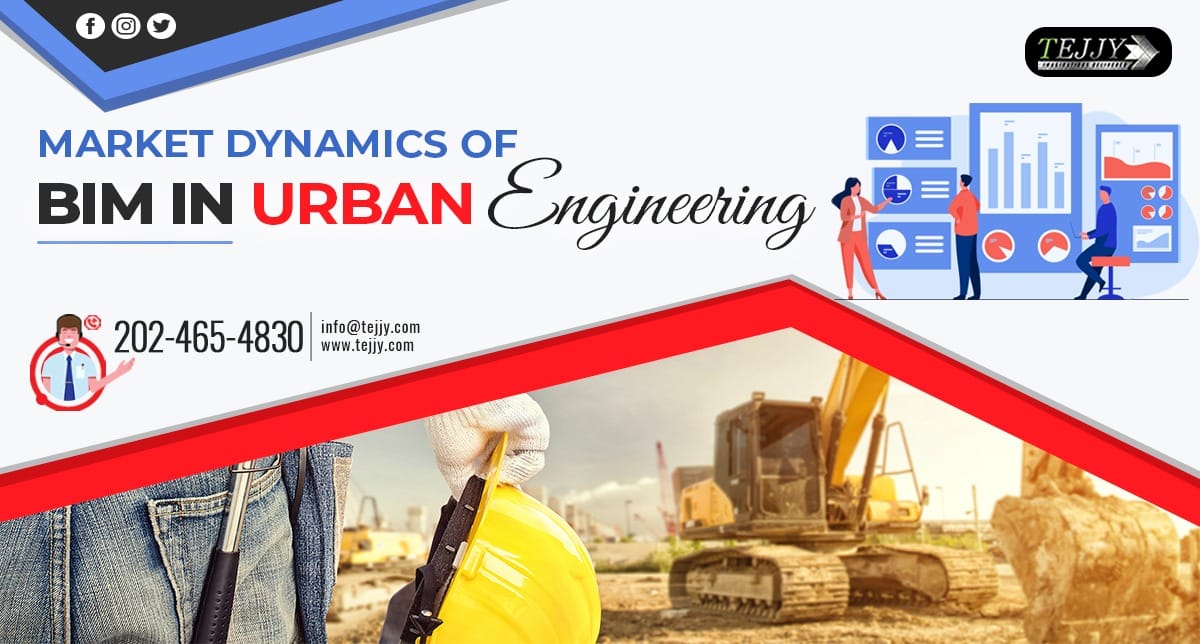 Building Information Modeling(BIM) is a real-world model to facilitate urban engineers and civil engineers in identifying potential problems at the pre-construction stage. The technique of BIM Modeling Service Providers establishes as a collaborative process empowered by the creation and exchange of applicable digital information throughout the built asset. 3D BIM Modeling companies facilitate the civil engineers to enhance outcomes with the ability to investigate multiple scenarios, providing data-driven assurance.
Currently, Building Information Modeling market is anticipated to grow from USD 4.5 billion in 2020 to USD 8.8 billion in 2025 at a Compound Annual Growth Rate of 14.5%.The significant factors driving the growth of the BIM market consist of increased urbanization along with the development of the infrastructure projects, provided by BIM for the AEC sector. Further, an enhanced government mandate for BIM implementation is accelerating the growth of the BIM market.
Pre & Post-COVID 19 BIM in Urban Engineering:
Pre-COVID-19 Situation for the BIM Market:
The BIM market has seen a demand in the pre-COVID-19 set-up. Through the growth of the population and economies, the demand for housing and infrastructure development is expected to fuel the growth of the international construction business. This creates a robust demand for BIM to plan, design, and supervise building projects competently. As a result of which, the 3D model-based BIM methodology is gaining power among architectural, urban engineering & construction professionals in delivering construction projects and making them successful.
Currently, the growing trends of innovative technologies have led to the growing adoption of pioneering methods in the operational standards of the construction industry. Building Information Modeling constitutes to be one such tactic of providing benefits like 3D BIM visualization, collaboration, management of design-build solution and construction planning, clash detection amongst various disciplines, and construction cost reduction. Even if the factors contribute to the growth of the BIM market, it will not reach its earlier projection, i.e. anticipated to reach 9.5 billion in 2025, at a CAGR of 12.7% from 2020 to 2025.
Post-COVID-19 Situation for BIM Market:
COVID-19 pandemic in December 2019 has ensued the quick spread of the disease in virtually 100 countries across the world. The World Health Organization has acknowledged it to be a public health emergency and COVID-19 is anticipated to bring a negative impact on the overall BIM market. According to the report of the Associated General Contractors of America, a minimum of 45% of contractors are undergoing delays and disruptions owing to the outbreak. The holdups are caused by the scarcity of materials, quantities, and building equipment. In addition to this, a dearth of skilled labor and construction safety equipment are among a few of the key aspects upsetting the global construction sector. Moreover, a few building projects are being stopped or delayed due to asymptomatic staff as there would be a temporary shutdown if any employee is tested COVID-19 positive. Since Architectural, Engineering & Construction professionals are the biggest end users of the BIM software applications, used frequently in building projects, a postponement or withdrawal of these projects would have a hostile impact on the whole BIM market. The market is expected to improve progressively in the subsequent 2 years and is estimated to reach 8.8 billion by 2025, at a Compound Annual Growth Rate of 14.5% from 2020 to 2025.
BIM Market Dynamics:
Driver of BIM Growth: Rapid Urbanization & Upsurge in Infrastructure Projects:
As per the United Nations, the world's inhabitants will rise to 8.1 billion in 2025 and reach around 10 billion by 2050. To address a huge population, it is vital for the AEC BIM industry to deliver smart solutions in BIM urban engineering for developing future infrastructure. The growth of the populaces and markets hastened the prerequisite for housing and infrastructure to fuel the advancement of the global construction industry. With an increase in construction, there will be a greater requisite for competent techniques of operation. BIM Modeling Service provides architects, engineers, and construction professionals the expertise to plan, design, and manage building projects professionally. Consequently, 3D model-based methodology of BIM is gaining popularity, producing a global framework for AEC professionals to advance in a proper direction with a rule book to work with BIM.
BIM Restraint:
Elevated Initial Cost of Investment:
Even though there are great advantages and cost savings from BIM, the initial establishment cost is a bit high. To take instance, the price of Autodesk Revit hovers around USD 3,500–4,500. Despite the cost of the software application, the charge for training and services is also quite high. So, the high initial cost related to BIM would detain market growth.
Further, BIM software application gets endorsed by several vendors by providing it for free or at a low rate to students for the sake of learning. Besides the cost, BIM software applications need a longer duration of training. Irrespective of the restraints, BIM software divulges incredible productivity, which, in turn, supports a construction firm to increase the efficacy rate to 30%. BIM too aids in mitigating design catastrophes during construction, consequently saving time and resources.
BIM Opportunity:
Growing Emphasis Introducing Novel Standards like ISO 1965 in BIM Market:
The International Organization for Standardization issued the BIM standards in January 2019. The newfangled standards constitute to be the "Concepts & Principles" and "Delivery Phase of the Assets" of ISO 19650 for the organization and digitization of information regarding buildings and civil engineering appliances, including BIM. The novel standards, as per the ISO is expected to provide the essential context for facilitating structural designers, MEP BIM services firm, urban engineers, architects, and contractors from diverse countries to work together. All AEC project stakeholders can collaborate competently throughout the phases of construction project operations, stimulating extensive BIM practice. ISO 19650 is established as per the British standard BS 1192 as well as the public standard PAS 1192-1, helping users to reduce costs by 22%. ISO also has the plan to develop and release further standards, for handling the operational phase of assets and dealing with BIM safety, digital design-build milieus, and asset management.
After the release of the ISO standards, numerous countries are making the use of BIM mandatory. All such standards are mainly used in commercial as well as infrastructure projects. Nevertheless, the standards are projected to be used extensively for numerous applications, like building, infrastructure, and industrial, throughout the period of prognosis. Many authorities have already authorized the use of BIM to some extent. Starting from 2019, it has turned out to be mandatory for the architects in Abu Dhabi and the UAE to use Building Information Modeling for all key projects. The United Kingdom, in a bid to accomplish improved efficacies in public project maintenance, rolled out a Level 2 BIM mandate in 2016. All the construction project stakeholders, including urban engineers, architects, material vendors, and MEP BIM Modeling Service Providers are required to communicate through common file formats like the Construction Operations Building Information Exchange (COBie) or Industry Foundation Class (IFC).
Building Information Modeling Challenge:
Low Digitization in Construction Industry:
A low digitization in the construction sector compared to the other industries ensues to be a challenge. Through streamlining construction processes with BIM Modeling companies, about 20% efficiency can be attained in a short time with greater quality, and reduced costs. Often, it is witnessed that large construction projects take an extended time to finish and go beyond the budget. This leads to lower commercial returns for the contractors. In addition, lower digitization hinders productivity as the construction industry has been sluggish in adopting the BIM process and technology modernization. To take an example, project scheduling and coordination between the office & on-site are often accomplished on paper. Performance management in the construction management sector is insufficient, and supply-chain practices are still naive. The construction industry has not yet incorporated new digital technologies that need forthright investment, albeit the long-term reimbursements are substantial. Research & Development outlay in the construction industry runs behind the schedule of other industries. The construction business is lagging virtually 15 to 20 years from diverse industries like automotive Information & Communications Technology.
Tejjy Inc. is a Construction Management, Architectural, Urban Engineering, Permit Expedition & BIM Services Company in USA serving various areas like Maryland, Washington DC, Virginia, Baltimore, New York, New Jersey, Delaware, Richmond, Connecticut, and Philadelphia. Consult the competent BIM Modelers of the BIM Modeling Service Providers in the USA for comprehensive MEP BIM services in urban engineering & construction project management requirements at 202-465-4830 or info@tejjy.com.