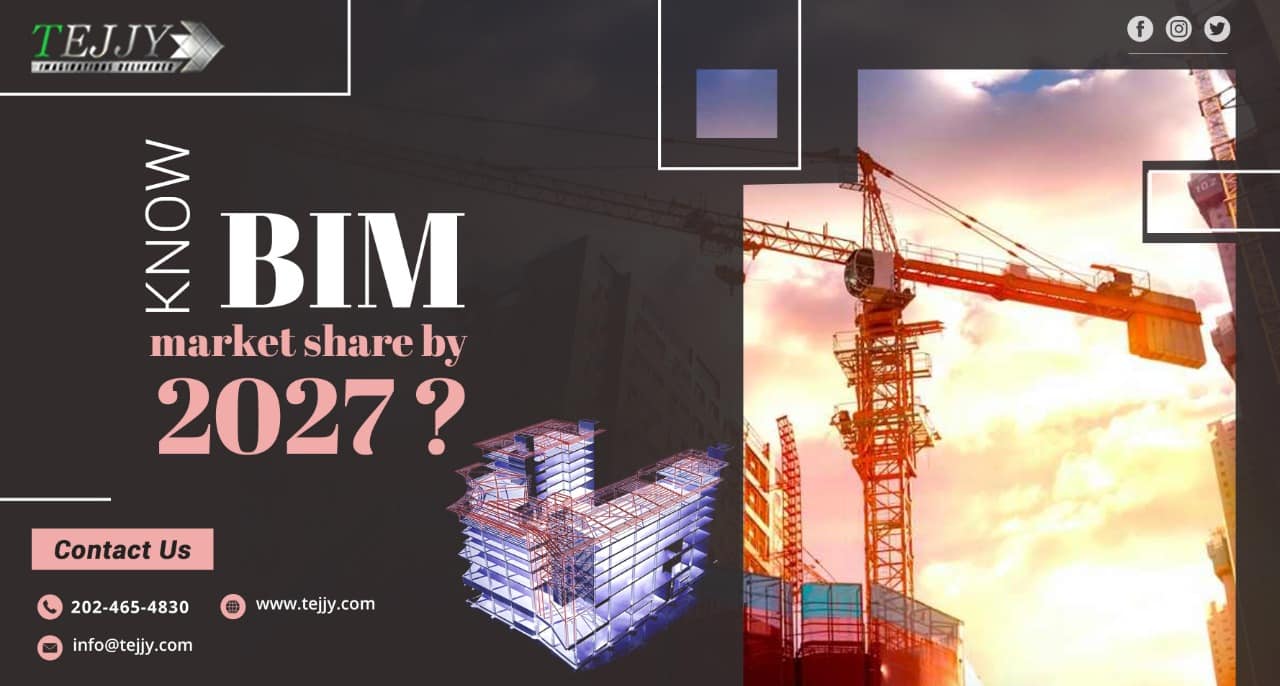 The size of the global BIM market in USA was valued at $5.20 billion in 2019 and is anticipated to reach $15.06 billion by 2027, increasing at a CAGR (Compound Annual Growth Rate) of 14.3% from 2020 to 2027. The BIM services market is anticipated to grow during the forecast period.
Building Information Modeling (BIM) refers to the procedure involving digital design, documentation, and depiction of building & infrastructure plans. BIM is a specific kind of software, used by real estate companies, construction firms, as well as AEC (architecture, engineering, and construction) professionals for project life cycle management throughout pre-construction, construction & operation. The prime objective of the BIM software application is to improve project performance and yield improved outcomes. BIM facilitates construction managers to collect information from relevant disciplines and communicate them effectively.
Improved data communication and coordination among various stakeholders, along with enhanced construction productivity provides an edge to the BIM users. Further, upsurge in government obligations for BIM throughout the world and building sector fuels the market growth. Nevertheless, the augmented cost of the software application and the limitation of skilled professionals hamper the growth if the market. Further, technological advancements for managing data at remote servers and improvised coordination between users, through cloud solutions are projected to offer lucrative opportunities for the advancement of the BIM Market Share.
The segment of the architect/engineer is anticipated to bring in a noteworthy share during the forecast period. BIM allows architects and engineers to build and communicate design intent and comprehend performance, appearance, and essential capital at the initial stages in building the design process, driving the market growth in this segment. Nevertheless, the contractor is projected to grow at the highest rate during the forecast period, due to the fast adoption of this system by numerous contractors for reducing delay and decreasing the cost of the construction project, thus driving the BIM growth in this segment.
BIM services encompass architectural, structural & MEP modeling, including the provision of cloud to BIM services and infrastructure modeling to architects, engineers, general contractors and the developers. The services facilitate in cost estimation along with the material requirement and their quantity, as per project types and requirements for residential, commercial, healthcare & other buildings.
Segment review
The global BIM market is segmented as per the component, deployment model, application, end-user & region. In terms of components, it is divided into solutions and services. Based on the deployment model, it is segmented into on-premise & cloud. Considering the application, Building Information Modeling is segmented into commercial, residential & industrial sectors. As per the users, it is segregated into engineers, contractors, architects and others project stakeholders. Based on the region, it is evaluated across Europe, North America, Asia Pacific, and LAMEA.
The crucial players outlined in the BIM market analysis are:
ABB Ltd – Automation company

Autodesk – American multinational software corporation

Asite Solution – Software Company

Beck Technology – Construction Estimating Software Company

Bentley Systems – American based Software Development Company

Cadsoft Corporation – Premier Software Developer of Building Information Modeling

Dassault Systèmes – French Software Company

Hexagon AB – Global leader in Sensor, Software & Autonomous Solutions

Nemetschek SE – Vendor of Software for Architects, Engineers & Construction Industry

Pentagon Solution – Software Company in Belfast, Northern Ireland

Trimble -Agriculture Company
The players have implemented numerous strategies for enhancing market penetration and reinforcing their industry position.
Factors influencing the growth of BIM Market Share:
Enhanced Production through Interoperability:
Construction projects entail decent coordination & understanding among various project stakeholders, due to the collaborative structure of the architect, engineer and construction sector.

Typically, there are various elements associated with a construction project like engineers, architects,builders, suppliers, and workers. For several years, the exchange of information among the elements was documented through graphs, tables & drawings.

Further, AEC professionals favor automatic devices, conveying results in less time, saving money & reducing manual operations. BIM provides the ability to support the solutions.

Demand for mechanized systems has increased popularity in the construction sector, which is projected to lessen human errors & provide accurateness in a digital representation of models, thus leading to cost savings and enhanced productivity.

Hence, there is a need for an interface that could integrate issues and provide a common platform for successful operation.
Increase in Environmental & Energy Concerns:
The BIM market is projected to see promising growth soon, due to the growth in environmental and energy concerns arising from the number of construction activities worldwide.
The usage of BIM solutions delivers various benefits like reducing the energy consumption of the building & increasing the efficacy by installing assorted equipment used for underfloor air distribution systems.
It improves the energy management process by reducing electricity consumption used during construction as well as during the maintenance phase of a building. Additionally, the construction industry is one of the main contributors to environmental degradation, including climate change, enhancing pollution, along with carbon emissions.
Government agencies across the globe are enthusiastic about implementing regulatory norms for reducing the effect and focusing on the building of green buildings for sustainable development. There are government mandates for an eco-friendly green structure in various countries like the U.S., the U.K., Singapore & the UAE, which are projected to boost BIM adoption in the future.
Key BIM Market Segments:
By Component
By Deployment Model
BIM (Building Information Modeling) Market Being Served
Commercial

Residential

Industrial
By End-User
Architects

Engineers

Contractors

Others
BIM Adopted Regions
North America
European Countries
UK

Germany

France

Italy

Remaining European Countries
Asia Pacific Countries
China

India

Japan

Singapore

Remaining Asia-Pacific Countries
LAMEA (Latin America, Middle East & Africa)
To know more about BIM Market Share, get in touch with Tejjy Inc.– A competent Construction Management, BIM (Building Information Modeling), Permit Expedition Services, Architectural & Engineering Services Company at 202-465-4830 or info@tejjy.com based in Washington DC, USA.