A BIM Manager in experienced BIM companies is responsible for managing and supervising the collation and coordination of COBie data. But what is COBie & its Relation to BIM and how it is associated with BIM (Building Information Modeling)?
COBie, a non-proprietary data format for the publication of a subset of building information models (BIM), focuses on delivery of precise asset data as distinct from geometric information.
What is COBie in BIM?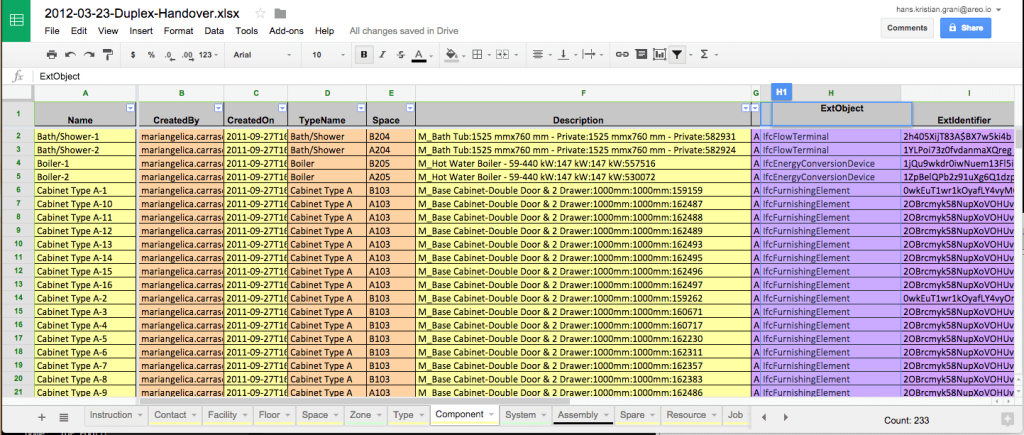 COBie is an international standard governing the exchange of information on managed assets, such as space and equipment. It is commonly abbreviated as Construction Operations Building Information Exchange. COBie is strongly related to approaches to design, development, and management of built assets based on Building Information Modeling. 
 Construction Operations Building Information Exchange is a contemporary data file format. It is meant to simplify the process of delivering information about a building to its operators and stakeholders. COBie BIM is often a data format based on international standards for exchanging critical data about building and structures. Construction documents, equipment lists, warranties, and maintenance plans are all included in this BIM COBie format. 
Journey of COBie
Way back in 2011, the Government of the United Kingdom published BIM Working Party Strategy, proclaiming that all the construction projects should be completed with 3D BIM collaboration by 2016. The software requirements along with the data contained in this report are entitled as COBie. 
Looking further at this strategy paper it reads:
5.5 Improved Information Handover
In order to improve the measurement and management of public assets, it is recommended that public clients request that specific information be delivered by the supply chain. The specified information set, called COBie, delivers consistent and structured asset information useful to the owner-operator for post-occupancy decision-making.
This was because construction delivery has been a bit of struggle as the information generated in the project is partially applicable to the operations team. Further, this entails a lot of new documentation that should be produced and collated for them, in the form of documents and paper drawings in binders. The bulk of the documentation work thus gets delayed until the end of the project which is usually the time when budgets have been spent with an impending deadline. Through the digitized world, the information gets moved from the archive room onto the file server, assisting the project team in easy access of the data. 
Understanding COBie

 
The Construction Operations Building Information Exchange (COBie) is a non-proprietary format of data for publishing a subset of construction & BIM related information, with a focus on supplying asset data in non-geometric form. This may appear to be somewhat complicated, yet the concepts are easy to understand. It is a simplified format for transmitting asset data. It is usually a spreadsheet file with some constraints governing the structure and content of the data provided.  
The COBie spreadsheet has multiple tabs that provide information on assets, facilities, floors, spaces, systems, installed equipment, papers, and so on. Every entry in the worksheet is linked to an entry from another worksheet. It is meant to serve as a handy reference for information or data that would otherwise be lost in the enormous number of drawings and files generated on a project. Using the COBie specification, professionals may quickly update the relevant paperwork in real-time throughout the building construction phase before handing it over to the customer or facility operator. This makes the documentation process easier for the end user to grasp. 
How COBie streamlines data collaboration/information exchange for effective data management?
The COBie spreadsheet comprises data and information on the facilities, spaces, floors, systems, installed equipment, and relevant documents associated with a building project. It also contains a wealth of information regarding the project's activities on a variety of different levels. All of the data entries inside a COBie sheet are hyperlinked to other data entries with the goal of adding value and making information more easily accessible.  
Since entries in a COBie spreadsheet or data are interrelated, the information exchange process is simpler and more productive for all parties involved in the process. End-users, such as facility managers, no longer have to sift through mountains of manual sheets or sift through a jumble of unstructured data in order to obtain information at various stages throughout the facility's maintenance lifecycle. 
Fundamental Values of COBie:
COBie is considered to be a great stepping stone in the process of transferring construction information from paper to online. This is because the prime objective of COBie lies in substituting the home-based exchange templates & point at the solutions with an additional building information management.
COBie includes:
A COBie BIM model includes the following for effectively transferring the information:   
📝 Categorization – COBie uses a categorization system, albeit no specifics are given. The project owner decides on the categorization scheme. Using a categorization system aids users in finding information that aids project owners.   
📝 Data Model – COBie is aligned with the Smart Building data model, indicating industry best practices. The COBie IFC data model facilitates the integration of construction and design technologies.   
📝 Setup — COBie offers customers a variety of distribution methods, including spreadsheet data transmission. The beauty of this format is that it allows you to participate in an open BIM project without knowing anything about the IFC data model or a specific BIM program. 
Structure of COBie Data Model:
COBie shares the structure of the building smart data model, featuring 3 main areas including Design, Build & Common. The design area constitutes the core of the information and comprises of the following information like:
Components – A vital part of an asset register
Kinds of Product Category
Spaces/Rooms
Zones/ Grouping of Space
Building Facilities
Equipment of Floors & Systems
The building information encompasses an occupation, resource & replacement and is an endeavor to assemble the non-standardized data found in the documents like maintenance strategies, operating guides and spare part lists. The shared things cover data to be linked to all items in the other categories, such as the contacts of the people involved in the project, documents about the delivered equipment, features including the method of tagging customized data to any item type and classification.
Advantages of implementing COBie in construction projects
Improved Data Management
As part of the building project cycle, an enormous amount of data is generated and transferred between parties. The information contains BOQs, RFIs, different safety licenses, paperwork from the planning department, and so forth. The list goes on indefinitely after that. COBie is a data management system that allows you to organize and manage your data in a common format.  
As a result, the most important advantage of COBie data collaboration is that it facilitates data administration in a uniform way.  
2. Enhanced Data Sharing
COBie facilitates the efficient exchange of information across facility management tools such as BIM authoring tools, construction management systems, and CAFM (Computer-Aided Facility Management) packages. Using the standard, facility management organizations can reduce the need to re-collect data and, as a result, reduce the number of errors across relevant data sets utilized for various purposes inside the business.  
3. Compilation of Information
Before upgrading to a new building maintenance software, managers may collect data using COBie standards to help them plan their projects. It is not essential to get a proprietary vendor spreadsheet in order to facilitate data collecting. Furthermore, it is not essential to pay the CMMS provider to map the spreadsheet software that was built in-house. Instead, the data gathering in COBie is done in a format that is widely accepted in the industry.  
4. Transfer of Information  
In the present condition of the construction business, COBie has shown to be the most effective technique of transferring construction data from one site to another. It exports construction information from BIM authoring tools and imports it into a CMMS resolution that is COBie-enabled, as described above. 
COBie as a Requirement:
The COBie standards are created as a reference for construction, design and product delivery. However, a simple reference to the COBie standard is not enough. Few specifications need to be given. Further the objects essential for maintenance should be included.
Some of the COBie specifications include:
Classification system to be used
Custom properties for every building item
Process of tracking relations to BIM models
Type of delivery process – continuous, data drop for each phase, change or as a part of the handover
Collection and coordination process
Stakeholders to be involved in the coordination process – be it owner, main contractor, BIM manager, Architect, etc.
Why choose Tejjy for COBie BIM services?
Tejjy Inc., is a premier design build for and a construction management firm, located in the USA. We are a certified women minority business enterprise on GSA schedule, serving the AEC industry since last 15 years. Our team of experts strive to facilitate the construction professionals with the best in class Construction Operations Building Information Exchange services. In order to ease the delivery of BIM COBie Data Drops in line with customer requirements, Tejjy's skilled team offers a comprehensive range of services to manage, validate and distribute COBie on your project, among other services.  
Our quality assured COBie services includes: – 
Integrating and implementing COBie parameters in BIM model.

 

Effective project data management and data transfer.

 
Other Relevant Articles –
3D Laser Scanning In Building Construction & Engineering
Future For 3D Laser Scanning Services In Construction