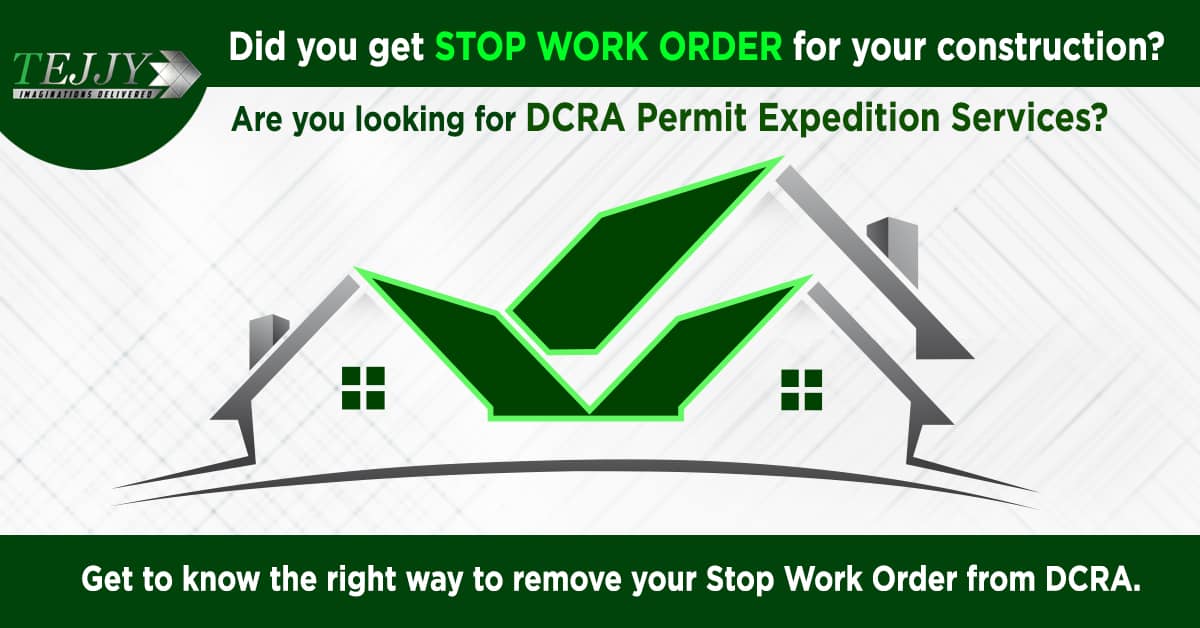 Are you stuck with your Stop Order from DCRA? Have you exceeded the scope of permits? Or have started without DCRA a permit?  Did you fail to notify your neighbors as per DC code as your construction affecting adjoining properties?
Whatever may be the cause, it's a matter of concern if you get a stop order. Illegal construction involves safety hazards. A DCRA STOP WORK ORDER means zero access to your house till it gets lifted and a hefty fine.
Get to know the right way to remove your Stop Work Order from DCRA
You should not remove the orange stop-work order placard.
Take time, complete your review request form for stop-work order compliance, and submit it to dcra.illegalconstruction2@dc.gov. You may also drop it to DCRA Office within 15 days of receiving your stop-work order.
Entitle single point contact to complete the process for avoiding delays. Nevertheless, you can add additional emails to be carbon copied on the correspondence.
You will receive email communication from the administrative reviewer within five business days of your submission. The message will arrive at the email address that you have submitted on the form, containing a complete checklist of the items needed to resolve your stop order. In case, you don't get the message within five days, check your spam folder.
The next step will be to review the specifications and reply to the message, mentioning the day you plan to come for submitting drawings, obtaining permits, or scheduling inspections if necessary. Immediate response is needed so that the administrative reviewer could temporarily lift the system hold for you.
Just once you complete all items on the checklist, communicate with Illegal Construction Inspections  https://dcra.dc.gov/crm. You may also call (202) 442-STOP (7867) for requesting a follow-up inspection, verifying compliance. Always mention your address and contact details. The inspector will inform the administrative reviewer whether your case is in compliance or not. However, you should not remove the stop-work order till approved by the administrative reviewer.
Consequently, you will get a Notice of Violation through the mail, imposing a penalty. You should follow the instructions and respond straight to the Office of Administrative Hearings about the fines.
Did you get a STOP WORK ORDER for your construction? Are you looking for DCRA Permit Expedition Services? Call us at 202-465-4830.
We at Tejjy know the right process to get your STOP Work Order Removed! We are permit facilitators and have experienced the process. Our experts handle all your paperwork coordinating between the city, and other jurisdiction, and local government bodies (DDOT, DC Water, DOEE). Our clear understanding of DCRA Permit Fees, DCRA Postcard Permit, DCRA Afterhours Permit, and project requirements specific to jurisdiction prevents delays in project approval.
Disclaimer: Please check the DC.gov website for the latest information.