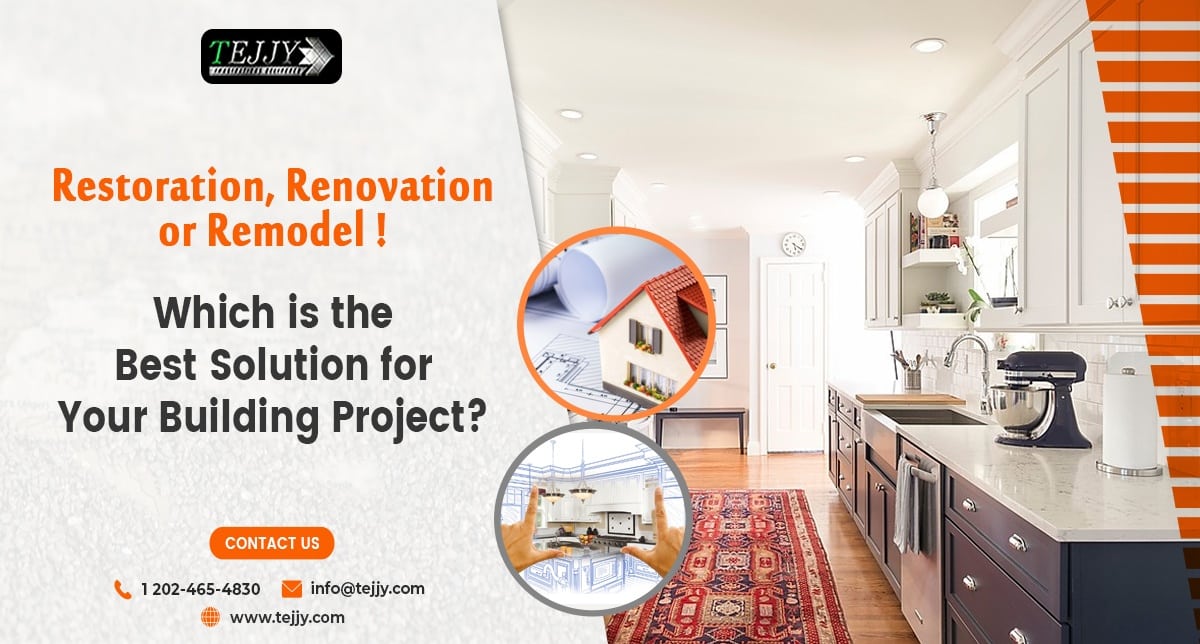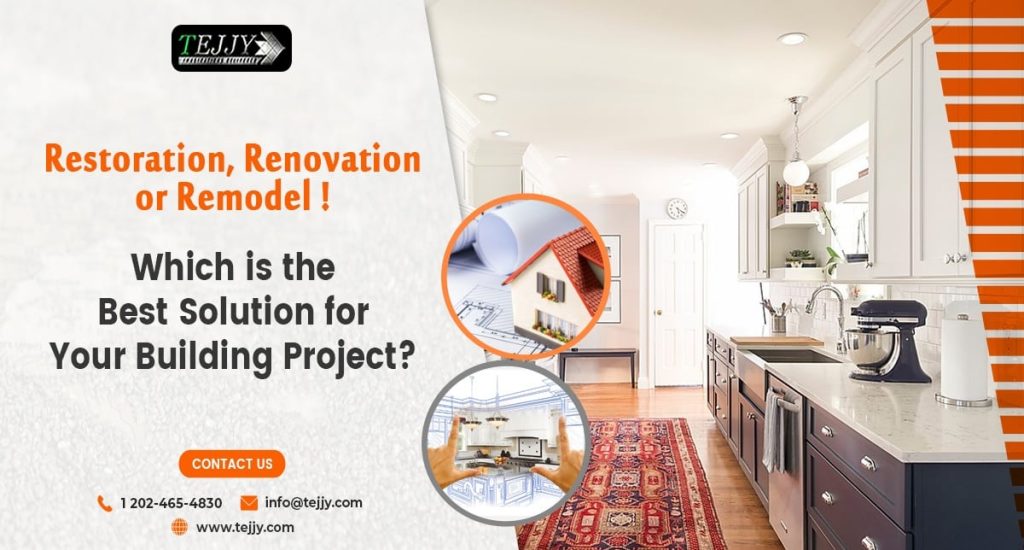 Worried about your building restoration, renovation or remodel? What do you think will be the best solution for your home improvement project? Before starting your building project, it's good to know the difference between restoration, remodeling, and renovation. This will help your building to opt for the right route and make the right project plan to know exactly what needs to be done.
What is Restoration for Home Improvement?
Restoration is the technique, which returns the construction to its original state.Historic buildings are the common sites for restoration projects,though modern buildings undertake the restoration. Restoration projects normally encompass:
Hole Repair in Walls
Fixing Old Fixtures
Replacement of Old Fixtures with Replicas of the Original
Old Carpet Removal
Wood Floor Refinishing
Starting from an environmental standpoint, restoration uses fewer resources and energy. Further, restoration can be cost-effective if the house has a robust foundation as it entails minimal repairs. If the aim is to make construction look like the original structure, the restoration will surely be the right solution for you. Nevertheless, you may have to undertake some renovations & remodeling as some parts of the buildings cannot be fully restored.
What is Renovation for Building?
Renovation is the method of renovating a building or structure by fixing what's presented beforehand and in some cases by adding some new mechanisms. The technique of renovation inclines to be cheaper than remodeling. It could be a cost-effective solution than restoration based on the project.
Usually, renovations are executed along with restorations. For instance, somebody may want to restore their bathrooms. However, to make it a bit modern, they can add a shower to the tub, which would make it a renovation project.
What is Remodeling Solution for Home Improvement?
Remodeling comprises altering an entire room or building. The modes operandi of Remodeling tends to be an elaborate process compared to restoration or renovation, as it involves making modifications to a building structure. Some of the instances of remodeling include:
Expansion of the Building sq. ft.
Gutting, Elimination, or Additionof Walls
Raising of Ceilings
Addition of Plumbing Lines
Addition of Heating or Cooling Ducts
Remodels ensure the utmost cost of all the three alternatives and require the maximum materials and time for completion. Remodeling a building entails a lot of work. You should remodel if the major components of your building are missing or need to function properly. Before remodeling, you should make a cost-estimate to ensure that you have a sufficient budget for the project.
Remodel vs. Renovation for Building
A renovation entails fixing up a room without altering its use, whereas remodeling deals with renovating the whole purpose of the building space. The differences between remodeling& renovation can bring a change in how worthy will it be for your project investment.
While selecting between a renovation and a remodel, consider the following factors like the Price, Time, Project Scope & Customization:
Price: Irrespective of what you choose to do with your home, remodeling costs more than a renovation as it involves intricate construction with electrical & plumbing work. You may also have to get permits for a complete remodeling project,increasing your bill.
Time: A trivial cosmetic touch-ups can be done quickly but remodeling entails a considerably long time as the planning & construction of your remodeling take several months. Bathrooms and living spaces usually take around 3 months to complete after the planning, whereas kitchen remodeling may take up to 5 months.
Scope of Project: Renovation projects emphasize the presence of your home or commercial building, whereas remodeling transforms its whole function.Using building renovation, you can install new applications&fittings and upgrade your building technology. Conversely, a remodeling lets you transform your space completely when cosmetic changes aren't sufficient to fix the problem.
Customized Options: Renovations can bestow a modern look to your building, adding several functional elements to your building. However, that cannot change the structure. If you like to open the room by ripping a wall or entirely transforming the space, you should opt for a complete remodeling.
How to Select the Right Option for Building Project?
Be it a commercial or an architectural project that you'd like to transform, but not sure of what to opt for, ask a few questions to yourself about your budget, how much change you want and whether you prefer the current room design or not?
What is your budget?
A complete home Restoration Renovation or Remodel normally costs 7% to 10% of the building value. In case you're remodeling a room in a $500,000 commercial building, you can expect to pay within $35,000 to $50,000. However, if you can't put aside so much money, a renovation or a simple restoration could be the best way.
How many modifications do you want?
A restoration provides you the opportunity to make some simple fixes to improve your room's appearance and functionality. Do you want to make your building look modern or update some elements to make it more practical? In that case, a renovation project can give you what you need. Or, if you like to return to a completely different room once the construction is completed, you'll seek a complete remodeling.
Want to Retain the Current Room Design?
Renovations as well as restorations can transform the entire look and feel of your space. Nevertheless, if you don't like the room's complete layout and want to demolish a wall, extend something or move the washbasin to the other end of your room, you have to spend some extra bucks for remodeling.
If you understand the difference between restoration, renovation, or remodel, you will get an idea of which route to opt for and whether it's time to make a fresh plan for your building. Choose an expert architectural design services firm in Washington DC and effectively utilize space to design a room or floor for your residential or commercial building projects. Proficiency in design and a process-based methodology adopted by the Tejjy Inc. team improves the ROI of AEC clients, providing visualization support with seamless design coordination & accurate estimation with BIM services.