Implement 3D BIM Modeling Solution for innovative construction project deliverables. 
Experienced Revit BIM Modeling Services facilitate  Architectural, Structural, Concrete, and MEPFP (mechanical, electrical, plumbing, fire protection) consultants. BIM engineers at Tejjy Inc adopt 3d modeling services support design build services. digitized realistic models for AEC (Architectural, Engineering, Construction) professionals.
Our 3D Building Information Modeling services along with 3D Rendering and animation walkthrough in Washington DC, Baltimore, MD, NJ and Virginia enable architects, engineers, and designers to be more creative and experimental with their custom-tailored designs. Our 3D BIM Modeling services support project stakeholders, including contractors, surveyors, manufacturers, consultants, and suppliers to identify potential problems at initial stages before they become actual issues on the construction sites through the delivery of informative 3D BIM Models.
Reasons for Outsourcing BIM Services to Us
Flawless designing of images,sketches,concept and shop drawings through 3D Modeling.

Improved Interior and Exterior work through 3D Architectural Visualization adopting V-Ray and Revit.

Photorealistic renderings through 3ds Max

Applying colours , images and textures along with carving and texturing details.

Timely project delivery conforming to regional and international design standards

Dedicated resources Offshore/Onshore for BIM

Technology infrastructure with authorizations of the leading software and local building standards

Photoshop adopted for full scale 3D rendering

Optimized solutions for every construction project

Strict confidentiality of design and client privacy
Call us at 202-465-4830 or email us at info@tejjy.com to discuss with us your project idea or requirements.
Consult For 3D Modeling Services
BIM Software we adopt:
| | | | |
| --- | --- | --- | --- |
| Autodesk Revit | 3DS Max | Autodesk | Navisworks |
| BIM 360 Glue | AutoCAD | AutoCAD Plant  3D | Tekla |
| Autodesk AutoCAD | Solidworks | Autodesk Fusion 360 | Autodesk Inventor |
| Sketchup | Rhinoceros | Creo | Solid Edge |
Tejjy Inc. is a competent 3D BIM modeling solution provider facilitating construction companies to visualize schematic structures before construction and make optimized project planning.
Our 3D BIM Modeling Components
We provide AEC professionals insight to plan efficiently, design, construct, and manage buildings and infrastructure through BIM – an intelligent 3D model input based process.
We feed necessary information as inputs into the Intelligent BIM Model to make it work intelligently. Here are some of the data:
Site Plan includes Subsurface Investigation, Soil Treatment, Pile Load, Pressure Grouted Piles, Storm Drainage, Asphalt Paving, Concrete Paving, Water Services
Concrete – Support columns, Elevator Shafts, Stairways
Masonry – Concrete Units, Reinforced CMU at exterior infill walls
Metals – Structural Steel, Metal Connectors, Fabricators, Reinforced Grating
Thermal Protection – Membrane Waterproofing, Coatings, Building Insulation, Pre-finished Metal Spanish Tile, Roofing, Sheet Metal, Roof Curbs, Roof Hatches, Sealants
Doors & Windows – Metal Door Frames, Wood Doors, Sectional Overhead Doors, Storefronts & Windows, Finish Hardware, Glazing
Finishes – Stud Framing System, Acoustical Tile, Wall Board System, Special Coatings, Painting
Equipment – Safety Anchors, Kitchen Appliances, Refrigerator with Ice Maker, Self-Cleaning Oven Washer & Dryer, Ice Maker at Wet Bar
Furnishing – All Cabinets
Conveying Equipment – Traction Elevators, Geared, Machine Room
Plumbing – Water and Sanitary Systems as per Plumbing Codes
HVAC – AC units with an efficiency rating
Electrical – Intelligent Addressable Fire Detection & Alarm System
Reinforcement Detailing: Size, Placement, Bar Shapes and Covers of reinforcing bars, Pouring Sequence)
BIM Modeling Solutions
Using 3D BIM Modeling, we collaborate with designers in architecture, mechanical, engineering, and construction industries for forecasting future capabilities in the manufacturing process by enhancing productivity. Our visual model enables modifications at the initial design phase resulting in streamlined workflow absorbed by increased profitability.
Our highly trained professionals at Tejjy Inc are proficient in delivering accurate and quality optimized deliverables at a reduced cost. We transform conceptual design and layout in a visualized 3d model, reflecting the detailed engineering analysis for strengthening the capabilities of a building.
We generate coordinated BIM models to check possible interference among building systems. Our models help construction companies to visualize schematic structures before construction and get better project planning. We detect clashes for eliminating clashes before installation.
Comprehensive BIM Services of Tejjy Inc
Developing 3D BIM models for healthcare, infrastructure, and entertainment projects

Architectural and Structural BIM services for design coordination in Revit

Clash detection and resolution with complete clash reports using Navisworks

Construction scheduling and building simulations with 4D BIM technology

Cost estimation and Bill of Materials with BIM 5D modeling

Content creation with BIM for Architectural and Structural projects

Revit library creation for ACS (Architectural, Concrete, Steel) and MEP (Mechanical, Electrical, and Plumbing) equipment
Our Proficiency in Working with LOD (Level of Detailing)
Our experts work with design teams for developing 3D BIM models with essential details as per LOD standards ranging from LOD 100 to LOD 500. We create 3D models with a higher level of detailing to assist project managers in making informed decisions and expediting Modeling by accessing Revit Families.
Technologies We Adopt
Tejjy Inc – one of the competent BIM, Architectural and Engineering, Permit Expediting, Construction Management & Structural Design Firms in Washington DC, Baltimore, MD and Virginia implements latest technologies to revolutionize AEC business execution.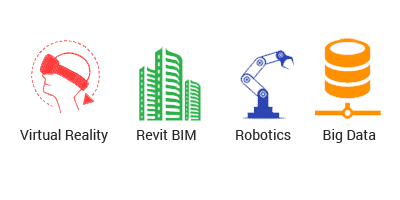 Tejjy Inc. is a comprehensive BIM Service provider in USA delivering Revit Drafting and BIM Modeling Solutions in USA to all types of buildings, including residential, commercial, mixed-use, industrial, educational, healthcare, and infrastructural facilities.
Want to visualize your construction project in 3D BIM and get the best result? Contact Tejjy Inc. to get professional 3D BIM Modeling services from experienced professionals.
Our Proficiencies