What is BIM Modeling?
BIM modeling is the process of creating a data rich and a clash coordinated representation of a physical object or a structure, digitally. The BIM model is represented in a three-dimensional interface for enhanced visualization of the construction project.
Tejjy Inc, a Women Minority Business Enterprise (MBE/DBE/WBE) on GSA Schedule, is a premier BIM service provider in USA. With over 15 years of expertise amongst BIM companies, we strive to provide a box full of superior Building Information Modeling services to our valued clientele. We have successfully completed over 2500+ projects for residential, commercial, federal, education, hospitality, healthcare sector. Our  Revit modeling integrated project delivery focuses on quality-assured deliverables from planning to the handover stage.
As global leaders, our tailor-made BIM Execution Plan (BEP) for general contractors & design firms facilitates streamlined workflow pattern for construction projects. The VDC BIM integrated services help to bridge the gap between concept and constructability adhering to the standards & procedures.
Our Revit modeling services facilitates digital constructability model services. Building Information Modeling facilitates integration of Revit BIM models of various disciplines, such as Architecture, Structural and MEP, in a single data model. Outsourcing BIM services ensures model validation and data integrity verification.
Tejjy has worked on some of the most prestigious projects, including the Archer Hotel, the DC Court House, the Niagara Restoration, and Wegmans Supermarket to mention a few.
Explore Our Architectural, Structural & MEP BIM Services :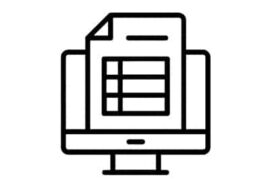 The Benefits of 3D BIM Modeling Services
BIM Design has completely changed the perspective of AEC designing and detailing. Transformation from CAD to become has improved design management, construction documentation , constructability review, facility management & increase in the productivity.  Implementation of BIM benefits the construction sector in several ways –
3D Revit BIM models provides enhanced construction design with detailed data integration in a coordinated 3D model.
Better building material logistics, site progress tracking and resource allocation with 4D BIM in construction.
Overall project cost efficacy and accurate quantity take-off is achieved through integration of 5D BIM in the 3D model.
Construction professionals from various disciplines can work and access the data in a collaborative virtual environment, for better transparency.
Reality capture technology aids better facility management and asset management.
An inter & intradisciplinary clash detections and resolutions helps in better coordination and assures risk mitigated environment.
Enhanced visualization with VDC BIM ensures better animation walkthrough and clash coordinated models during the pre-construction stage.
BIM Execution Plan and Implementation streamlines the construction work flow.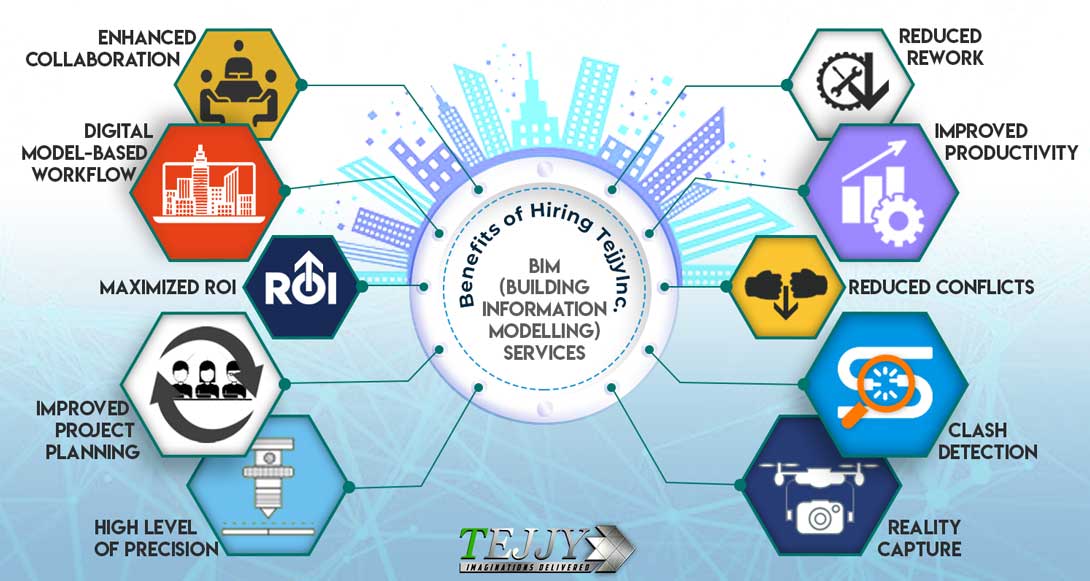 How our Team can Help with BIM Services?
Our 3D laser scanning services facilitates precise as-built drawings to ensure perfect digital twinning for restoration of historical buildings and renovation of all types of civil structures.
Tejjy ensures best-in-class BIM services delivered on time at cost effective rates.
Our team of expert BIM architects to helps our clients with extensive BIM services as per their project's requirements.
Tejjy's certified BIM engineers are proficient at designing clash free 3D BIM models using Building Information Modeling software such as Autodesk Revit and Navisworks.
Revit BIM models, of required Level Of Details from LOD 100 to LOD 500, are provided to the clients, based on the complexity of the structure.
We provide BIM models with enhanced project scheduling (4D), detailed cost estimation & quantity take-off (5D), sustainability (6D) and Facility & maintenance of a building (7D).
How do BIM assists general contractors (GC) to win more business?
Every owner in construction business may not be an expert technically. Sometimes it is difficult for them to read and interpret the 2D drawings. In that case, A BIM-based presentation can help build credibility during the bidding process. It also helps the owners to easily view the technical aspects of the project and its specifications through the BIM model. It somehow helps to win the BID, making the GCs stand apart. 
What is the approximate costing of a BIM model?
One of the frequently asked question is the cost of BIM model. There is no fixed cost anyone can tell. The cost of BIM mainly depends on factors such as project size, complexity of the project, type of project and the service providers. Due to the above stated factors, it is difficult to quote a particular amount for it. 
What are the major challenges in implementing BIM on construction projects?
It is difficult to implement BIM in construction projects at first, but once it is implemented, the BIM approach has numerous advantages, particularly in terms of productivity. Despite its advantages, there are a few challenges while implementing BIM, such as – initial cost, lack of awareness, lack of in-house expert team, etc. 
LOD 100 - 500 Explained | Level Of Development
BIM Models with LOD 100 – 500
Tejjy structural BIM modelers, steel detailers, structural engineers transform schematic design, construction documents into 3D models. Our engineers adopt BIM LOD 100 through 500 for detailed structural BIM modeling services. Tejjy engineers deliver customized parametric Revit BIM families for residential, commercial, and industrial structures.
LOD 100 – Conceptual Design
The 3D model facilitates parameters like area, height, location, volume. LOD 100 conceptual model holds approximate model element information.
LOD 200 -Schematic Design
The model facilitates elements like shape, location, quantities, size, and even non-geometric information. LOD 200 model information is approximate.
LOD 300 – Detailed Design
The 3D model defines accurate modeling and shop drawing with LOD 300. The modeling elements hold nongraphical information also.
LOD 350 – Construction Documentation
It includes written and graphical building element definition. LOD 350 specifies building element and their interfaces with other systems.
LOD 400 – Fabrication & Assembly
Modeling information with BIM LOD 400 facilitates detailed fabrication, assembly, installation details. Model elements include specific quantity, size, shape, location.
LOD 500 – As-Built Models
BIM LOD 500 includes operational and maintenance detailed information. The modeling information includes shape, location, size, and quantity. The model element can even hold non-graphical information.
Is integration of cost management with BIM helpful for construction projects? How?
Definitely yes. Integration of cost management with BIM adds up a whole new dimension to the BIM model of the project. It is the 5th dimension of Building Information Modeling. Cost management facilitates the construction project with nearly accurate cost estimation and quantity take-off of the structure. Accurate cost management helps in optimizing the overall cost of the construction project.