BIM Service Provider in USA
Our BIM Modeling Services
BIM Models with LOD 100 - 500
Tejjy structural BIM modelers, steel detailers, structural engineers transform schematic design, construction documents into a 3D models. Our engineers adopt BIM LOD 100 through 500 for detailed structural BIM modeling services. Tejjy engineers deliver customized parametric Revit BIM families for residential, commercial, and industrial structures.
LOD 100 – Conceptual Design
The 3D model facilitates parameters like area, height, location, volume. LOD 100 conceptual model holds approximate model element information.
LOD 200 -Schematic Design
The model facilitates elements like shape, location, quantities, size, and even non-geometric information. LOD 200 model information is approximate.
LOD 300 – Detailed Design
The 3D model defines accurate modeling and shop drawing with LOD 300. The modeling elements hold nongraphical information also.
LOD 350 – Construction Documentation
It includes written and graphical building element definition. LOD 350 specifies building element and their interfaces with other systems.
LOD 400 – Fabrication & Assembly
Modeling information with BIM LOD 400 facilitates detailed fabrication, assembly, installation details. Model elements include specific quantity, size, shape, location.
LOD 500 – As-Built Models
BIM LOD 500 includes operational and maintenance detailed information. The modeling information includes shape, location, size, and quantity. The model element can even hold non-graphical information.
Why Choose Tejjy Inc. as BIM 3D Model Services in DC, Baltimore, MD, VA?
Top BIM modeling service providers in Baltimore, MD, Washington DC, and Virginia for construction visualization, 3D BIM modeling, and complete construction control solution from conception to the final stage.
Call us  202-465-4830 or email us at info@tejjy.com to discuss your requirement about Building Information Modeling, Architectural and Engineering Service, Construction Management, Permit Expeditor, MEP ( Mechanical, Electrical, and Plumbing), CAD (Computer-Aided Design draft) in MD, Washington DC, Virginia, Baltimore, USA.
Tejjy Inc. provides MEP BIM services for mechanical, electrical and plumbing systems of a building, ensuring smooth performance at any stage of the construction lifecycle. Experienced BIM engineers create BIM models, reviewing constructability issues for quantity takeoff/cost estimation/BBS and construction schedule. MEP drawings are produced from the BIM model to enable complete coordination amongst mechanical, electrical, and plumbing services with various cutaways, elevations, and sections. Revit design and fabrication models are integrated into Navisworks for improved project collaboration, avoiding the cost of rework from the existence of clashes.
Our Allied Services
Building Designs with BIM and VDC
Why CAD TO BIM 3D Model Transformation ?
Seamless Collaboration in Real time

Tejjy 3D Model streamlines communication for improved decision-making. Using point cloud modeling our coordinators facilitate an As-built model for remodeling.  As has tools like BIM Virtual Reality 360, we assure seamless Building Information Modeling collaboration across the project.

Accurate Cost Estimation

Cost added to BIM 3D model generates 5D BIM Cost Estimation. Using Autodesk Revit and BIM 360 Docs, we automate the time-consuming task of quantifying costs, allowing construction professionals to focus on other important aspects.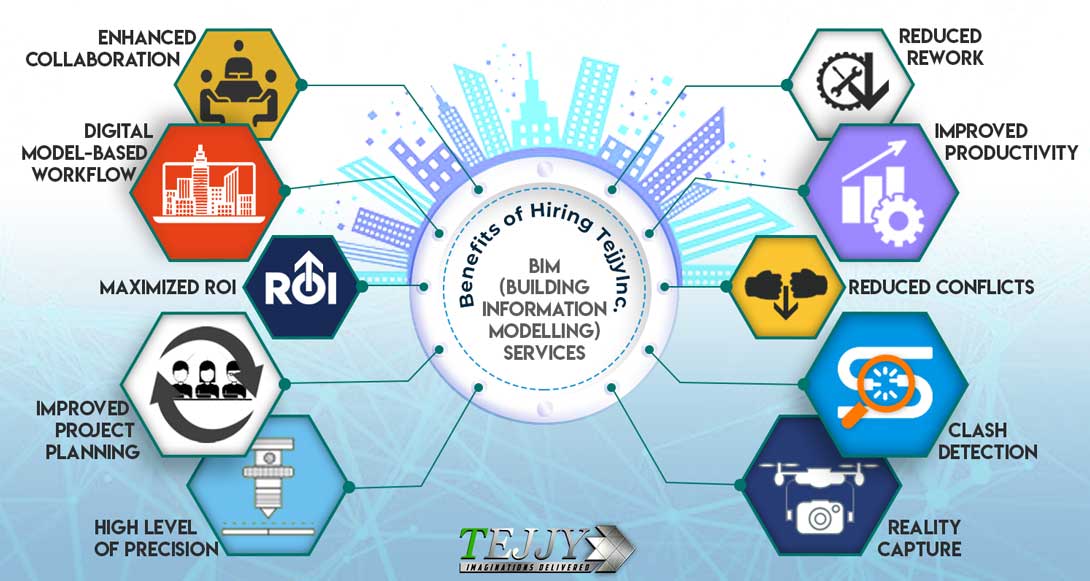 3D Visualization at Pre-construction Stage

Using Building Information Modeling, we provide support service to AEC professionals in visualizing projects during the pre-construction stage. With 3D BIM visualizations and 4D simulation tools, we allow construction clients to experience the space and make necessary changes before construction to reduce expensive changes later.

Improved Coordination & Conflict Resolution

We use BIM 360 Glue for early clash detection. Clash coordination drawings and model at pre-construction reduces rework. Amongst best BIM companies Tejjy makes optimized construction planning with BEP.

Safer Construction

BIM Modeling Companies uses 4D through Naviswork, to improve construction safety. 4D Scheduling helps project managers avoid risks through visualizing and planning site logistics beforehand. Through visual risk analysis, Tejjy BIM Engineers ensure project safety.
Detailed Design Drawings

We facilitate detailed design drawings using a 3D Model. Being experienced BIM cons Tejjy delivers Shop drawings, As-built drawings, Construction Drawings, Coordination drawings. Our detailed design drawings have installation information. Tejjy facilitates increased use of prefabrication and modular construction technology.

Complete Project Management 

Through Detailed Quantity Take-Off, Accurate Shop Drawing Creation, and 3D BIM visualization, we enable project visualization, constructability review, construction scheduling, and project monitoring. Using Autodesk's BIM 360 Ops, we help contractors to revolutionize the building handover process.

Outsource BIM services:

Tejjy BIM Consultants have been successfully delivering BEP BIM Execution Plan for the residential and commercial industry. Our team of skilled coordinators, modelers, MEP engineers, architects strategically works on cost estimation techniques. We cater to the need of increasing project stakeholders who seek real-time collaboration and a single document repository. BIM 360 Docs, mitigates risk and ensures information accessibility in real-time for successful project execution.