What are the Advantages of MEP Shop Drawings?
MEP (mechanical, electrical and plumbing) components constitute the stepping stone to successful construction and MEP shop drawings facilitate in designing building components accurately. Here, we would discuss the advantages of MEP shop drawings. Irrespective of whether it's a commercial, residential or infrastructural project, MEP components are significant in every construction project. In other words, building MEP drawings form the backbone of construction. Without the right mechanical shop drawings, buildings won't get proper heating and ventilation, air conditioning, and stable escalators.
Industry Study on MEP Market
As per industry study, the MEP market is anticipated to grow at a Compound Growth Rate of 16% between 2020 – 2024. In North America, it is projected to stand at about 37.39 billion USD. The industry segments benefiting most from MEP BIM coordination drawings include governmental, residential and commercial and mixed-use.  BIM MEP service drawings are constantly benefiting consultants and contractors throughout the design-build stage.
What is MEP Shop Drawing?
MEP shop drawings are created in a Building Information Model, by integrating architectural, structural, mechanical, electrical, plumbing and civil shop drawings of a project. These drawing support fabrication, installation, assembly as well as maintenance of electrical components within a building. BIM modelers create MEP shop drawings for adding solidarity to architectural construction documentation. Building contractors and BIM engineers refer to these drawing sets for obtaining accurate specifications and detecting design errors, before the beginning of the construction process, thus saving time, money, as well as labor costs. Each building with an exclusive MEP drawing set is derived through a careful evaluation of the building design documents.
Let's explore the three components of MEP: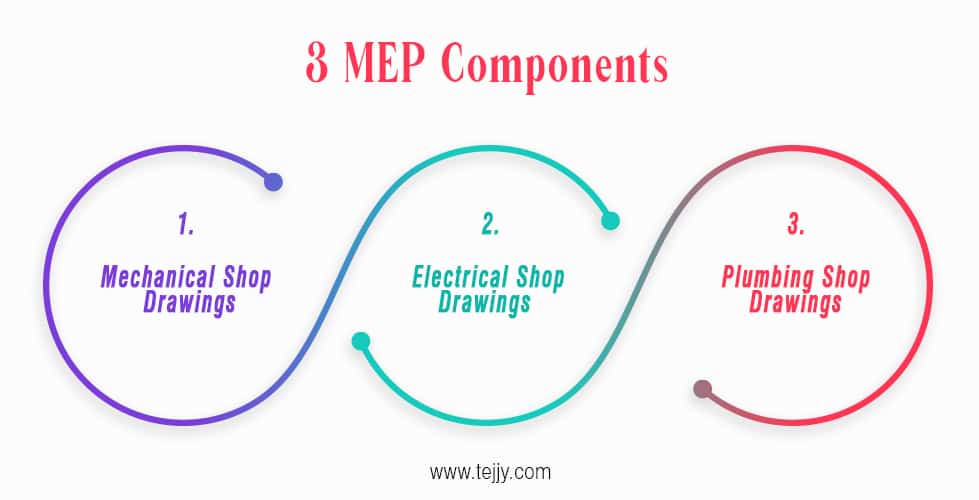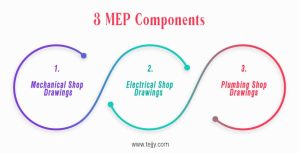 Mechanical Shop Drawing – Mechanical shop drawings determine HVAC (Heating, Ventilation& Air Conditioning) systems and their locations. The HVAC shop drawings also form a part of the mechanical shop drawings, representing specifications for installing and fabricating ducts, customized piping, and other air-handling units. These drawings represent transportation systems like lifts, escalators, infrastructural as well as industrial components.
Electrical Shop Drawings – The electrical systems within a building encompasses power supply, distribution, access, control and security systems, information and communication as well as interior and exterior lighting. Sometimes, there is an overlapping of electrical and mechanical components. Through comprehensive electrical shop drawings, building contractors evaluate accurate electrical layoutsfor smooth installation.
Plumbing Shop Drawings – Comprehensive plumbing shop drawings represent plumbing elements inside a building, such as piping, drainage system, garbage disposals, etc. These specify fluid as well as an air transport for heating & cooling, potable & non-potable water supply, fuel gas piping, as well as waste removal. High-quality BIM MEP drawings ensure consistency within the component dimensions and retain the ability to address potential flaws.
What are the Advantages of MEP Shop Drawings?
Accurate building design representation & assembly
 Mechanical, Electrical and Plumbing shop drawings have created the outline of final product assembly, with dimensions, accessories, cable and piping connections. Owing to this, comprehensive engineering assembly drawings are created from the BIM model,  enabling the fabricators as well as the building contractors to obtain a clear picture of what is to be constructed. Further, if the project wants to use the same component several times, then the same MEP shop drawing is referred for instructions on manufacturing.
Built-in documentation for quick reference
 If HVAC pipelines get damaged, building contractors can instantly refer to their mechanical drawings and specify the exact location for starting repairing work. Hence, it's clear that BIM shop drawings are able to resolve problems, arising during construction workflow. Licensing authorities also use MEP shop drawing to make an effective plan and grant permits and licenses for a new construction project. Even in cases where a delivered component is damaged or gets missing, a contractor reverts to the original drawing set and place an order for a substitute.
Accurate cost estimation
 AEC clients want to get an accurate cost estimation, so that the project costs do not exceed the estimated budget. A drastic increase in the cost is often feared by construction professionals. Hence, it's crucial to keep a separate tab on costs in the manufacturing business – especially for the MEP components. 5D BIM helps to determine the cost of the building components, types of material, as well as subsequent assembly and installation. This prevents waste and overstocking. In case, your MEP building design is not accurate, you could place orders with BIM Modeling and avoid wasting time, during manufacturing, reassembling, and re-installation.
Product standardization
 MEP shop drawings help to standardize your building process, ensuring that the products match industry standards. This enhances your chance of seeking licenses and building permits. If you're not sure about the standards to be followed, you could ask BIM engineers for designing MEP drawings, conforming to the AEC industry standards.
Ease accessibility and training
 Modern BIM technology has provided a lot of freedom to its users, enabling smooth collaboration amongst project stakeholders. Cloud collaboration through MEP shop drawings helps to share your MEP sets with all AEC project stakeholders in your organization. Such a setup facilitates practical training for students and other people, who want to be a part of the AEC industry.
Brand building and promotion
 An accurate BIM shop drawing speaks for itself, enhancing brand value. If you add the logo of your organization to your documents, you can add value to your business. So, it's evident that good drawings lead to great construction, and great construction leads to your brand building!
So, what do you think? Do you want to get shop drawings for MEP services?  Appoint one of the reliable shop drawing service providers like Tejjy Inc  – a BIM modeling company in USA and bring a versatile experience to your next project. Contact the BIM engineering company in USA at 202-465-4830, or info@tejjy.com for discussing your construction project.