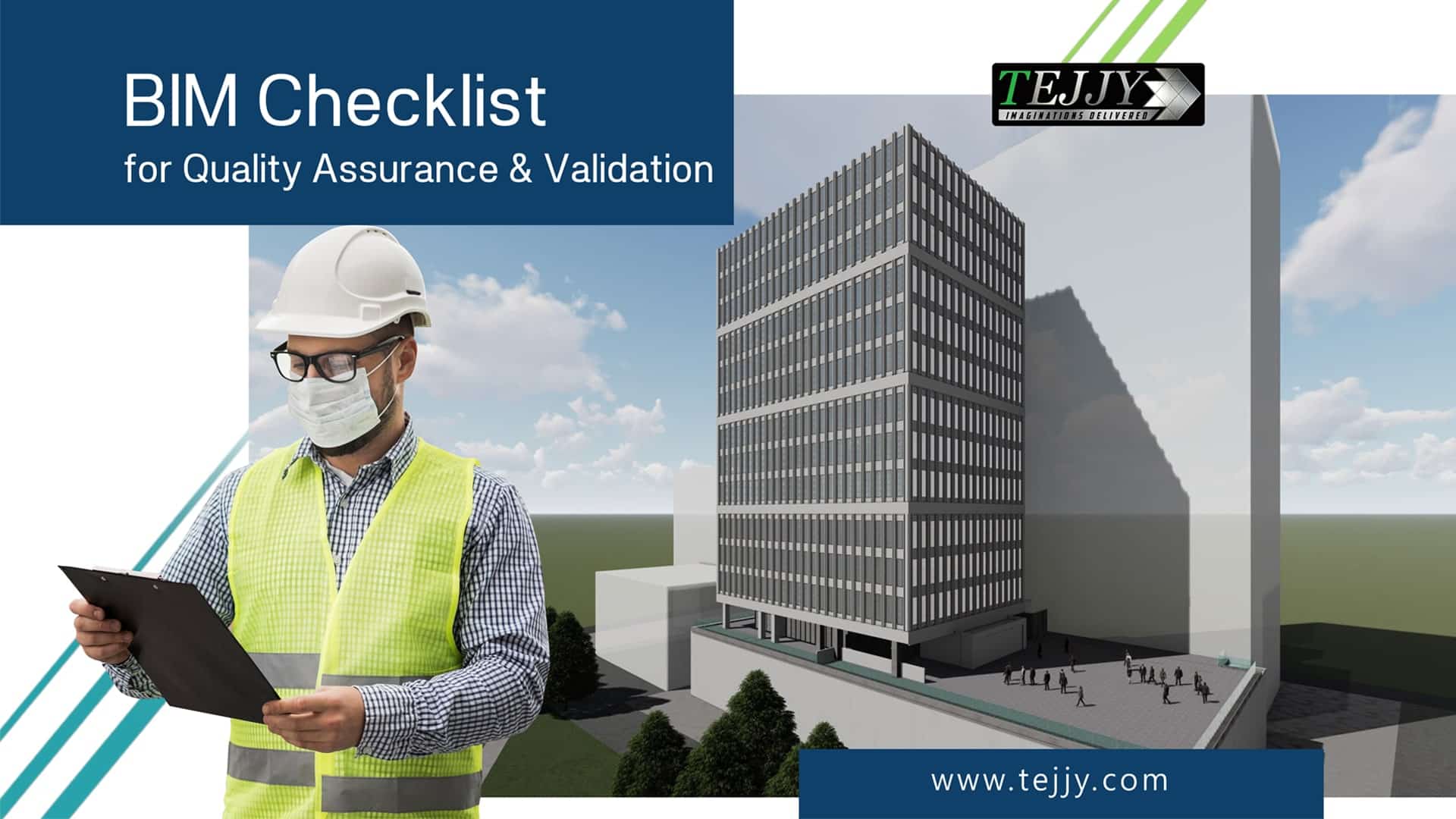 Quality Assurance (QA) is done after every BIM modeling project for each system and is used to eliminate errors. BIM QA/QC (Quality Assurance/Quality Control) refers to the checking of the BIM model if various BIM standards have complied. The 3D BIM model is inspected for clashes, improper naming, and other inconsistencies. The output you get after BIM QA/QC process is a clean ready-to-use BIM model without any inconsistencies, with all systems coordinated. 
The BIM QA/QC checklist is nothing more than a tool that will assist you in creating an organized process, helping you to maintain repetitious activities, fostering a good design habit within the project team, and assisting team members in memorizing task sequences in a Quality Assurance process, among other things. 
For your convenience, we have provided you with a simplified BIM QA/QC checklist that you can use to streamline your BIM QA/QC process. Depending on your project, the checklist may alter slightly from the sample below. Always remember not to passively follow someone else's checklist, and to tailor your BIM QA/QC processes to the specifics of your project rather than the other way around. 
📌

BIM Checklist :- QA/QC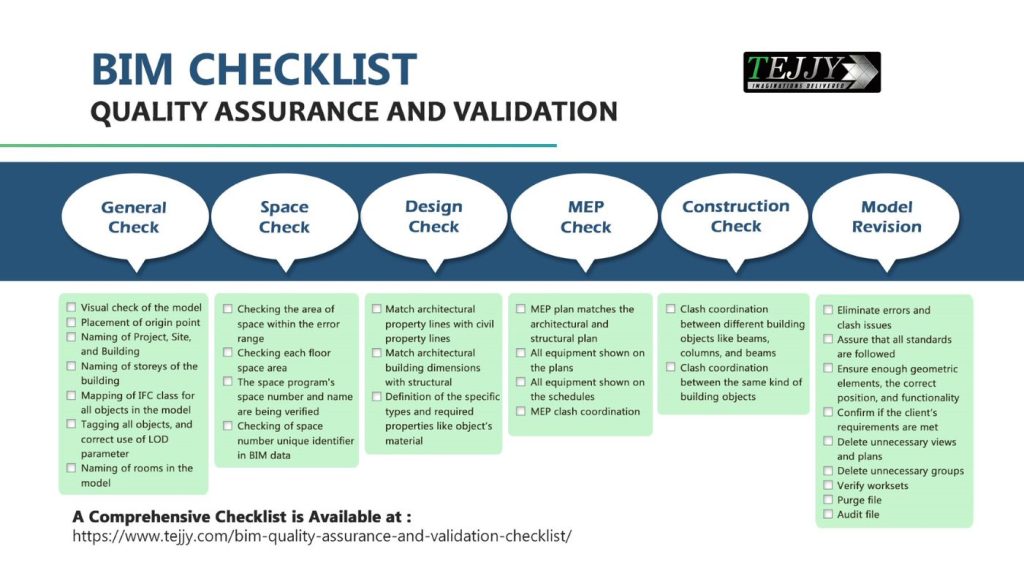 📌 General Check 
Visual check of the model

 

Placement of origin point

 

Naming of Project, Site, and Building

 

Naming of storeys of the building

 

Mapping of IFC class for all objects in the model

 

Tagging all objects, and correct use of LOD parameter

 

Naming of rooms in the model

 
📌 Space Check 
Checking the area of space within the error range

 

Checking each floor space area

 

The space program's space number and name are being verified

 

Checking of space number unique identifier in BIM data

 
📌 Design Check 
Match architectural property lines with civil property lines

 

Match architectural building dimensions with structural

 

Definition of the specific types and required properties like object's material

 
📌 MEP Check 
MEP plan matches the architectural and structural plan

 

All equipment shown on the plans

 

All equipment shown on the schedules

 

MEP clash coordination

 
📌 Construction Check 
Clash coordination between different building objects like beams, columns, and beams

 

Clash coordination between the same kind of building objects

 
📌 Model Revision 
Eliminate errors and clash issues

 

Assure that all standards are followed

 

Ensure enough geometric elements, the correct position, and functionality

 

Confirm if the client's requirements are met

 

Delete unnecessary views and plans

 

Delete unnecessary groups

 

Verify work sets 

 

Purge file

 

Audit file

 
BIM Checklist :-  Download the PDF 
BIM QA/QC Process: How does Quality Assurance / Quality Control (QA/QC) work?
General Check

 
The general definitions of the 3D BIM model are confirmed by the general quality check. The requirements include adequate accuracy and naming of components. 
2. Space Check 
Space check criteria include reviewing space components, names, areas, and clashes between spaces in the BIM for the building's space programming. 
3. Design Check 
Design check criteria are related to the checking of BIM data quality generated in the architectural design process. 
4. MEP Check 
The necessary model requirements for the MEP (Mechanical, Electrical, and Plumbing) are checked for clashes and if they are represented in drawings and schedules. 
5. Construction Check 
Construction check criteria are used to assess the structural quality of BIM data. Clash checking between construction objects like columns, beams, slabs, etc. is one of these requirements. 
6. Model Revision 
When checking the quality of a 3D model, a checklist is used. Revit section views can be used to check for any deviations in the design. In this way, clash detection and coordination between trades are simplified and can be used to measure discrepancies and the 3D BIM model is revised accordingly. 
📌

BIM QA/QC using Solibri Model Checker (SMC) Software
Solibri Model Checker (SMC) is software that assesses BIM models to check their quality and to find any defects. SMC simplifies and expedites the process of BIM QA/QC. Running a building's 3D BIM model through SMC before construction helps in exposing hidden flaws and weaknesses in the design. SMC selects the components and verifies that the BIM model complies with the applicable building codes and organizational best practices. 
📌Benefits of BIM QA/QC
Design Model Validation:

By ensuring that the 3D BIM model is perfect and can be referenced while construction makes the QA/QC analysis an easy task.

 

Risk Mitigation:

The future risk associated with a 3D BIM Model which is not quality verified including unforeseen design clashes can be fixed beforehand in the model.

 

Cost Control:

Accurate clash free 3D BIM models limit the wastage of materials and thus save the cost of materials.

 
Saves Company Reputation:

Errors in the BIM model can affect the company's reputation. Doing QA/QC of the BIM model before providing it for construction is important.

 
Conclusion
Building Information Modeling (BIM) is now inevitable in the architecture, engineering, and construction (AEC) industry. Using BIM Modeling, it is possible to integrate Revit BIM models from a wide range of disciplines into a single data model. Examples of such disciplines include architecture, structural engineering, and MEP engineering. By using a checklist for BIM Quality Assurance and Quality Control a clash free and coordinated BIM model can be created which can be used for the building construction process. Construction contractors employ the exact data provided by these models to create the structure, hence Quality Assurance is critical within the AEC business. Cost, scheduling, and even company reputation all be impacted by project errors. 
Would you like to implement BIM in your building designing and construction process? To know about our BIM services, get in touch with Tejjy Inc. We are one of the best BIM service providers in USA. We have BIM engineers, and architects having 15+ years of experience in the construction industry who are proficient with BIM best practices. Discuss your project today with the BIM consultants of Tejjy Inc., and plan your BIM execution. Our company has completed several design-build projects effectively as a BIM service provider. As a BIM automation company, we have worked with a wide range of AEC firms, including those in the residential, commercial, industrial, and educational sectors. 
Get in Touch With Us 👇🏻👇🏻
If you are interested in finding out more about how Tejjy Inc. can help you please get in touch with us by filling in the contact form 202-465-4830, or by emailing info@tejjy.com