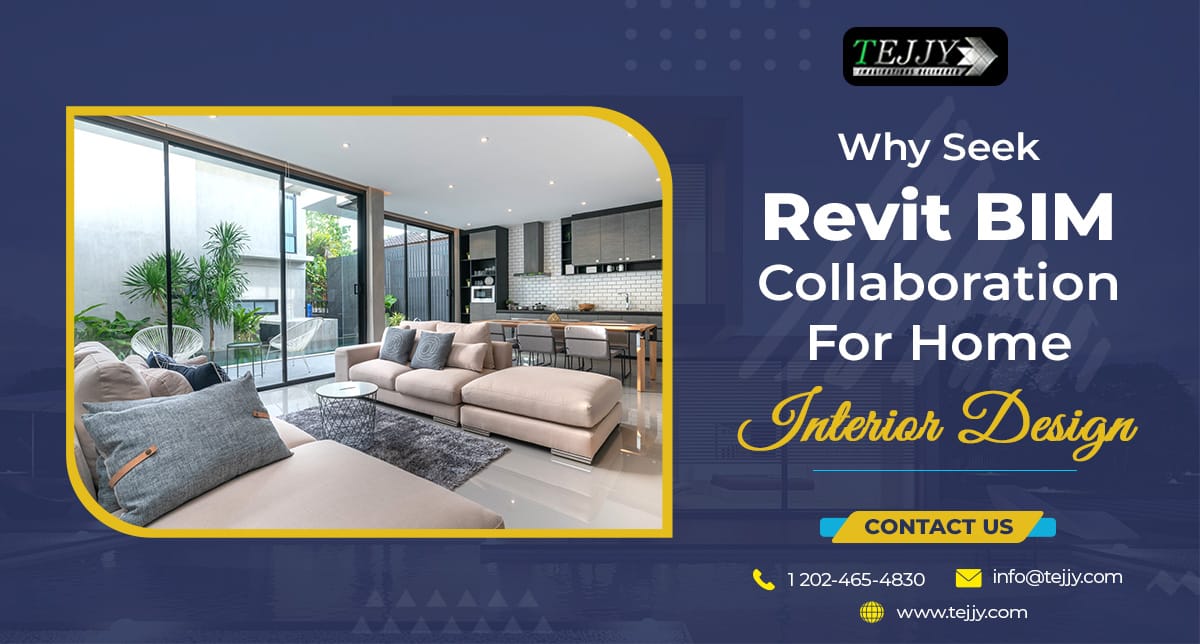 Are you working as a home improvement, interior design expert? Do you know how Building Information Modeling (BIM) implementation technology is bringing change to home interior design? Well, you need to stay updated with the latest technology trends for understanding how your clients want to visualize products in a virtual space. Today, all construction specialists, including manufacturers, architects, designers and engineers, have started realizing the benefits of BIM as their customers for Home Remodeler Washington DC want to interact with their products in a BIM-enabled virtual set-up.
Now, let's delve into the details of BIM for Home Interior Design.
What is BIM & How it Relates to Interior Designing?
BIM is a collaborative procedure implemented by the AEC (Architectural, Engineering & Construction) professionals for effective planning & visualization of a building. Revit constitutes to be a BIM software application that facilitates the work process of the AEC experts. In several cases, the interior designers are required to work with the manufacturers for creating a virtual space before envisaging the physical product. To take an instance, an interior designer can easily create a model of a chair using Revit software application before their clients can sit on it.
BIM conveys a new realism for the interior designers to collaborate concurrently with various other disciplines on projects. As BIM is a significant aspect of the large scale building projects, the interior designers are using this collaborative technique for the past few years.
How Revit BIM Facilitates Home Interior Designers?
Effective 3D Visualization of Interior Design:
Revit BIM helps interior home designers to create and visualize interior space in 3D. The competence to shift between 2D and 3D views enables the designers on practical levels. Clash detection and mitigation through BIM empower the interior designers to evade errors when two or more objects lay in the same area. 3D designing through BIM also facilitates object placement into space automatically, like engaging a physical object in a room. Proficient Revit designers use 3D Revit views for producing rendered images for customers, supporting the designers in influencing, and discussing their ideas for the allotted space layout within the building. The designers are also able to showcase their furniture, making it crucial for creating an accurate Revit representation of their products.
Real-time Data Management:
Several 3D design tools are available in the market that the interior designers can use without any charge. However, the real power of BIM emanates in the competence to design in 3D, together with data management for space planning of the home interior. Revit BIM models for home interior design acts as tiny computer programs allotting data and opportunities for product manufacturing. 3D BIM also encompasses valuable data supportive of LEED requirements for buildings.
Data Planning for Material Quantity Extraction:
Using the Revit schedule, the interior designers can extract and use BIM data throughout their projects, delivering an interface to the designers for comparison to Microsoft Excel. The designers can take the help of Revit BIM schedules for viewing and editing information in several ways. To take an example, they can create Room Datasheets from blueprints for a list of products, added to the design. By incorporating non-graphic information within Revit, the home interior designers can assess the exact amount associated with the surfaces and material quantities with ease.
Virtual Design Collaboration:
Home Interior designers associated with the building projects are visualizing and collaborating in a virtual 3D BIM model for working on various other disciplines concurrently. BIM technology permits manifold disciplines to work for a building encompassing all AEC project stakeholders. Revit software application helps home interior designers to capture and manage the design with several options like space layout and material collection, in a single model, while collaborating with co-workers in other disciplines.
Enhanced Design Accuracy:
Using Revit BIM, home interior designers can get fewer change orders in design and Requests for Information from the contractor. Revit never allows you to be deceitful with statistics as it's a 3D software application. Home interior designers have started appreciating the software application for its accuracy and reliability. Building Information Modeling facilitates every object to appear as it is, and if anything is incorrect, it gets emphasized beforehand and fixed instantly.
What's your thought about Home Improvement, interior design, renovation & remodeling? To know more about BIM for Home remodeler Washington DC, consult Tejjy Inc. – a Building Information Modeling, Construction Management, Permit Expedition, Engineering & Architectural Service Company in Washington DC, USA.