Scan to BIM Services | Reverse Engineering | Plant 3D
Delivering Accurate Scan to BIM services from Point Cloud Data
Building scan or surface scan in construction is a non-destructive reality capture technique. The modern laser scanning services use photodetectors, Global Positioning System( GPS) , advanced sensors, Inertial measurement units, receiver electronics to calculate accurate coordinates of structure surfaces and floor plan. LiDAR scanner for construction are also high-quality scanning service for surveying. LiDAR building scan uses laser scan and shadowing technique for creating maps called LiDAR mapping. This remote sensing technique is used to examine earth, assess ground surface information, create digital twin of object with detailed geospatial information.
What is 3D Laser Scanning ?
Present day 3D scanning digitally captures the exact shape and size of the building structure surface, floorplan using laser beam. 3D laser scanning companies record reflected 3D coordinates called point cloud data. The scanned coordinates are transformed into 3D model using point cloud modeling softwares.
The Scan to BIM Companies are delivering accurate and high quality laser scanning services with precision.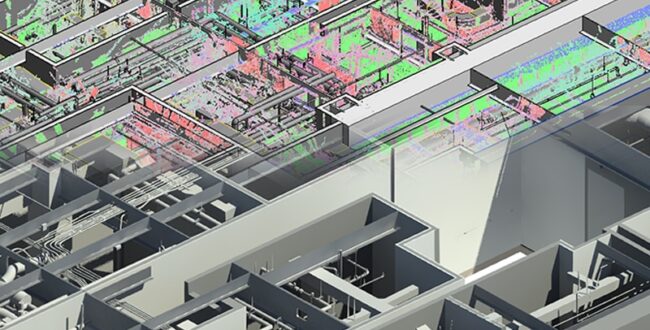 Our Scan to BIM Services Includes:
BIM clash detection for renovation, refurbishment  and home addition.
Facility Management
Building Maintenance and surveillance
Architectural modeling of walls with exterior & interior, windows, doors and cabinets.
Structural modeling  with columns, beams, framing, foundation, annotations and truss families
MEP-FP Modeling with panels, junction boxes, ducts, pipes, air terminals and fire sprinklers.
Point cloud to Revit MEP design coordination for clash detection in Navisworks software.
3D Model with required LOD 100 to LOD 500
Point Cloud to Mesh, As-built, 3D Model with latest construction softwares.
Tejjy , has profound experience in facilitating Scan Building Services to Laser Scanning companies , Design Build Firms, Architectural and Engineering Companies, Construction Companies, General Contractors , Surveyors.
2D Scanning VS  3D Scanning Services:
2D scanning creates a raster image. Basically its 2D document scanning where the image of floor plan or blue print is scanned. Incase of 3D Scanning and modeling it is a digital transformation. The building is scanned and scanned point cloud data facilitates 3D model. Point cloud modeling through BIM facilitates Laser Scan As-built drawings for renovation or demolition process.

3D Scanning Service Process For Scan to BIM Modeling
Light from a scanning system is bounced off onto the surface and reflected back to the sensors. Now, the sensors calculate the time taken by light  to complete its journey. This time measurement known as "time of flight" helps us to calculate how far the surface is located. The measured distance hit by laser beam is  used to calculate coordinate for a small section of the surface. With seconds of single scan, millions of 3D coordinates are collected by laser scanner.  3D coordinates are in form of point cloud data. Then point cloud processing software transforms the detailed point cloud data into 3D model.
Benefits of 3D Laser Scanning
Improved accuracy and Quality with Reduced Errors.
Streamline productivity with reduced rework.
Improved Planning between new design elements and existing designs with the cloud database.
Remote sensing ability ensures risk management.
Scan data with BIM to compare stages of construction.
Reduced Cost reduction increases project profitability.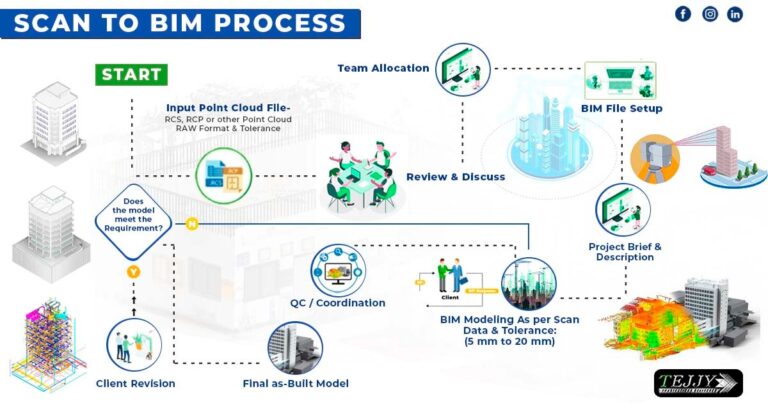 Benefit Of Point Cloud Scan to BIM Services :
As-built model creation for refurbishment & renovation with laser scan to BIM services
Enhancing intelligent BIM modeling in Revit through accurate point cloud data to clients
Converting laser scan raw data to 3D BIM model to run simulation & drawing creation
Accurate 3D BIM model creation in Revit for building, electrical & plumbing systems
High quality, affordable laser scan to BIM modeling for architectural, structural & MEP services
Extracting information from 3d scan to BIM Model for cost analysis, matching design standards
Connect with our Allied Services
Our Projects
Benefit of Revit for BIM Model in Scan to BIM Process
•  Scan to BIM Revit Services facilitates 2D plans, sections, elevations.
•  Multiple level creation of project modeling ensuring uniformity with all LOD( Level of Detailing) specifications .
•  Revit point cloud tools can be exported to CAD or BIM for As- Built drawing model easily .
•  LiDAR building scan helps in capturing detailed measurements of an entire existing building.
•  Informative As-built models, 2D and 3D model can be created by Scan to BIM companies with Point cloud to Revit BIM modeling .
•  BIM engineers enable facilities management through comprehensive data capture for 3D model creation, asset management and inspection.