Laser Scan/ Point Cloud Data/ Scan To BIM
Delivering Accurate Scan to BIM services from Point Cloud Data
Get Quality Assured Revit Model From Point Cloud Modeling
3D scanners measure point cloud data as set of vector points. That, our experienced point cloud scan to BIM Modeling team convert data to accurate parametric Revit models. These 3D models are created with Revit Families using Point Cloud Data as reference. Benefit of Revit BIM Model is to create a multiple level of project modeling ensuring uniformity with all specifications . Revit point cloud tools can be exported to CAD or BIM for As- Built drawing model. Scan to BIM revit services even facilitates 2D plans, sections, elevations. Being experienced point cloud to Revit BIM modeling professionals , we create informative as-built 3D BIM models and 2D drawings. We use lidar building scan for capturing detailed measurements of an entire building. Our BIM engineers enable facilities management through comprehensive data capture for 3D model creation, asset management and inspection.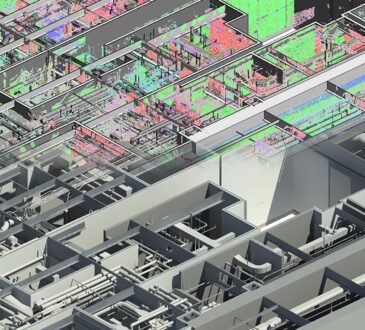 Tejjy , As Scan to BIM Modeling service provider has profound experience in serving to Laser Scanning companies , Design Build Firms, Architectural and Engineering Companies, Construction Companies, General Contractors , Surveyors. Our Point Cloud Scan to BIM services include parametric BIM 3D modeling, As- Built Model, 2D CAD Model for architectural, structural, and MEP elements for commercial, residential and educational projects.
Our intelligent model describes building data of pipes, walls, slabs, roof planes even including facade and landscapes. As Built models facilitate clients to analyze existing building before renovation or demolition process.
How Scan to BIM Modeling Works?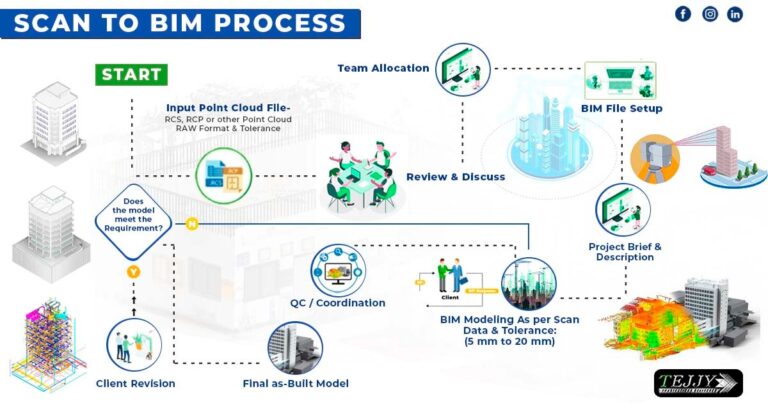 Our Laser Scanning services and modeling works for better customer satisfaction. Client requires to submit: Point Cloud scan or Laser Scanned data of building , Photographs of the sites, design drawings (if available) drafting guidelines with Revit version to be adopted. Being best Scan to BIM Companies we deliver LOD 100 – LOD 500 3D Model, As-Built Drawings, documentation, view plans. The benefit of Scan to BIM services is detailed Revit model from Point Cloud Data, 2D As-built drawings with annotations, dimensions and layering. 3D Revit model facilitates MEP design validation, construction planning, interference checks, and construction demolition of an existing building with quantity take-off and budget estimation.
Our Scan Construction services includes four stages of construction documentation.  Based on the requirement scan to bim revit documentation is created. Stage 1 — Floor plans, Stage2 — Exterior elevation, roof plans, Stage3 — Sections, Stage4 — Site layout plans.

Are you searching for point cloud to Mesh Modeling services!
Being best Scan to BIM Companies(Point Cloud Modeling Service Provider) we adopt best laser scanning softwares Recap 360, fusion, Autodesk for accurate laser scan to BIM services. 3D models at LOD 100 to 500 for construction clients. Our point cloud to BIM services work with:
BIM clash detection for renovation, refurbishment  and home addition.
Facility Management
Building Maintenance and survelliance
Architectural modeling of walls with exterior & interior, windows, doors and cabinets.
Structural modeling  with columns, beams, framing, foundation, annotations and truss families
MEP-FP Modeling with panels, junction boxes, ducts, pipes, air terminals and fire sprinklers.
Point cloud to Revit MEP design coordination for clash detection in Navisworks software.
3D Model with required LOD 100 to LOD 500
Point Cloud to Mesh, As-built, 3D Model with latest construction softwares.
Benefit Of Point Cloud Scan to BIM Services :
As-built model creation for refurbishment & renovation with laser scan to BIM services
Enhancing intelligent BIM modeling in Revit through accurate point cloud data to clients
Converting laser scan raw data to 3D BIM model to run simulation & drawing creation
Accurate 3D BIM model creation in Revit for building, electrical & plumbing systems
High quality, affordable laser scan to BIM modeling for architectural, structural & MEP services
Extracting information from 3d scan to BIM Model for cost analysis, matching design standards
Connect with our Allied Services