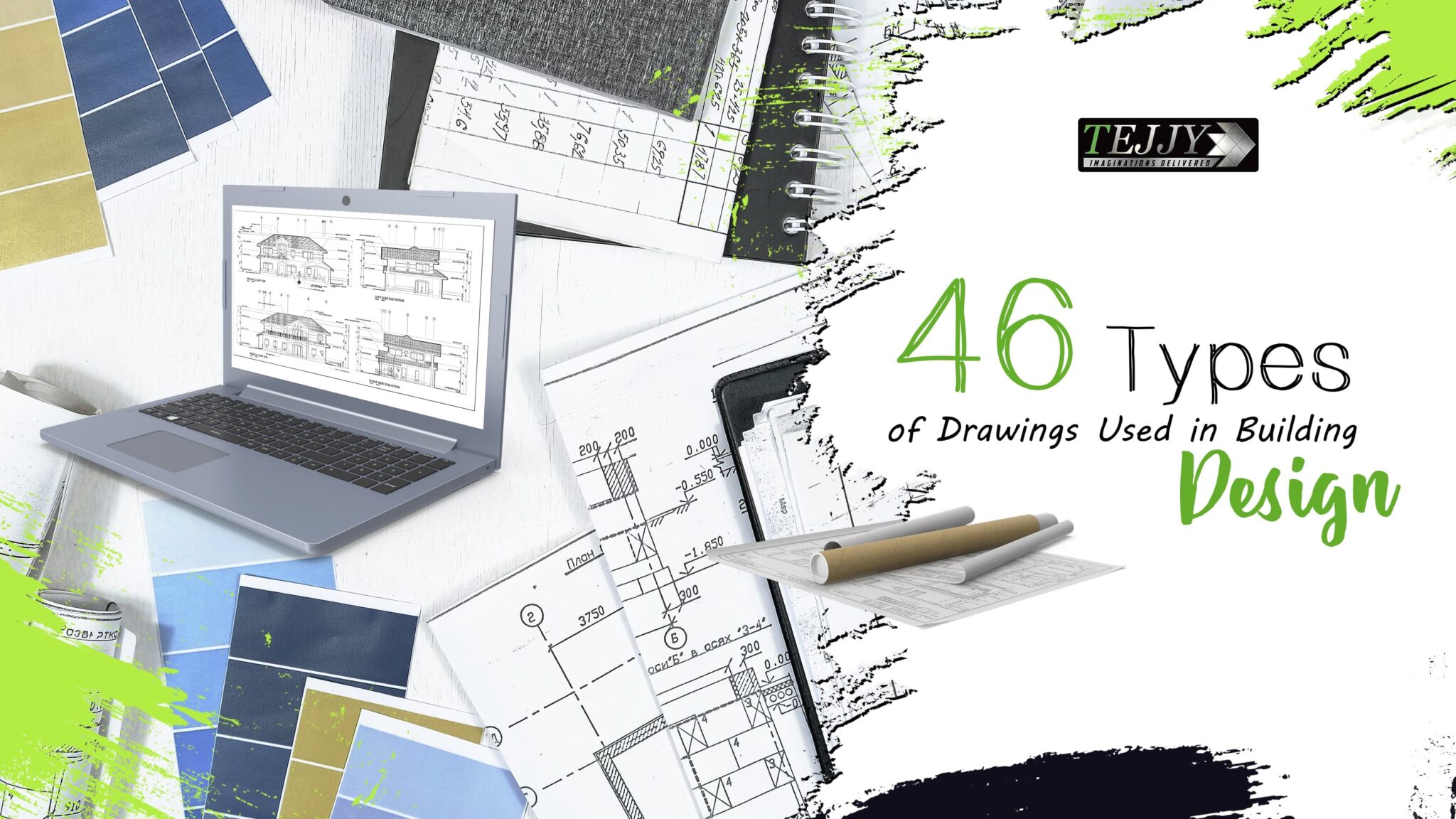 A Comprehensive Guide- 46 Types of Drawings Used in Building Design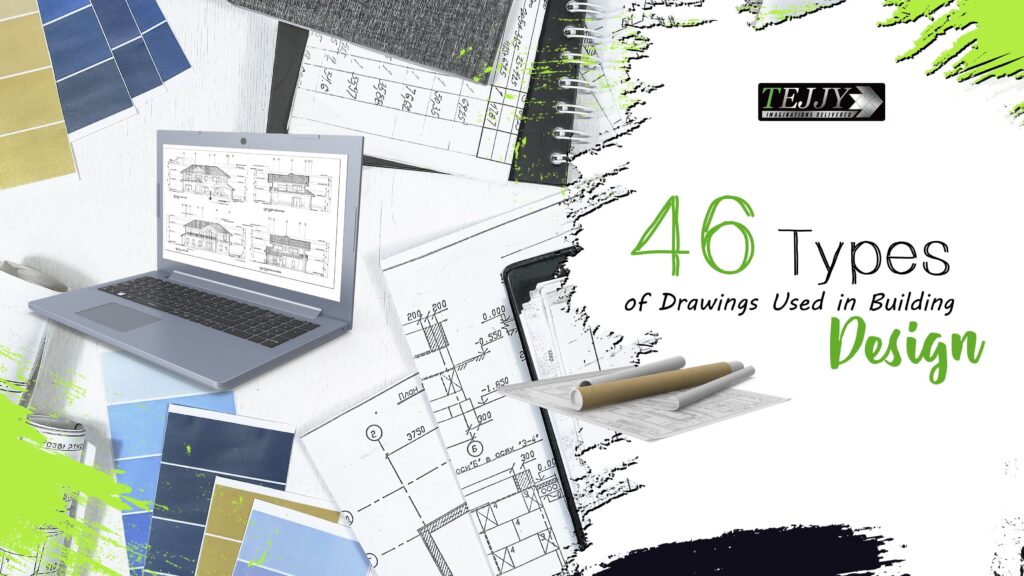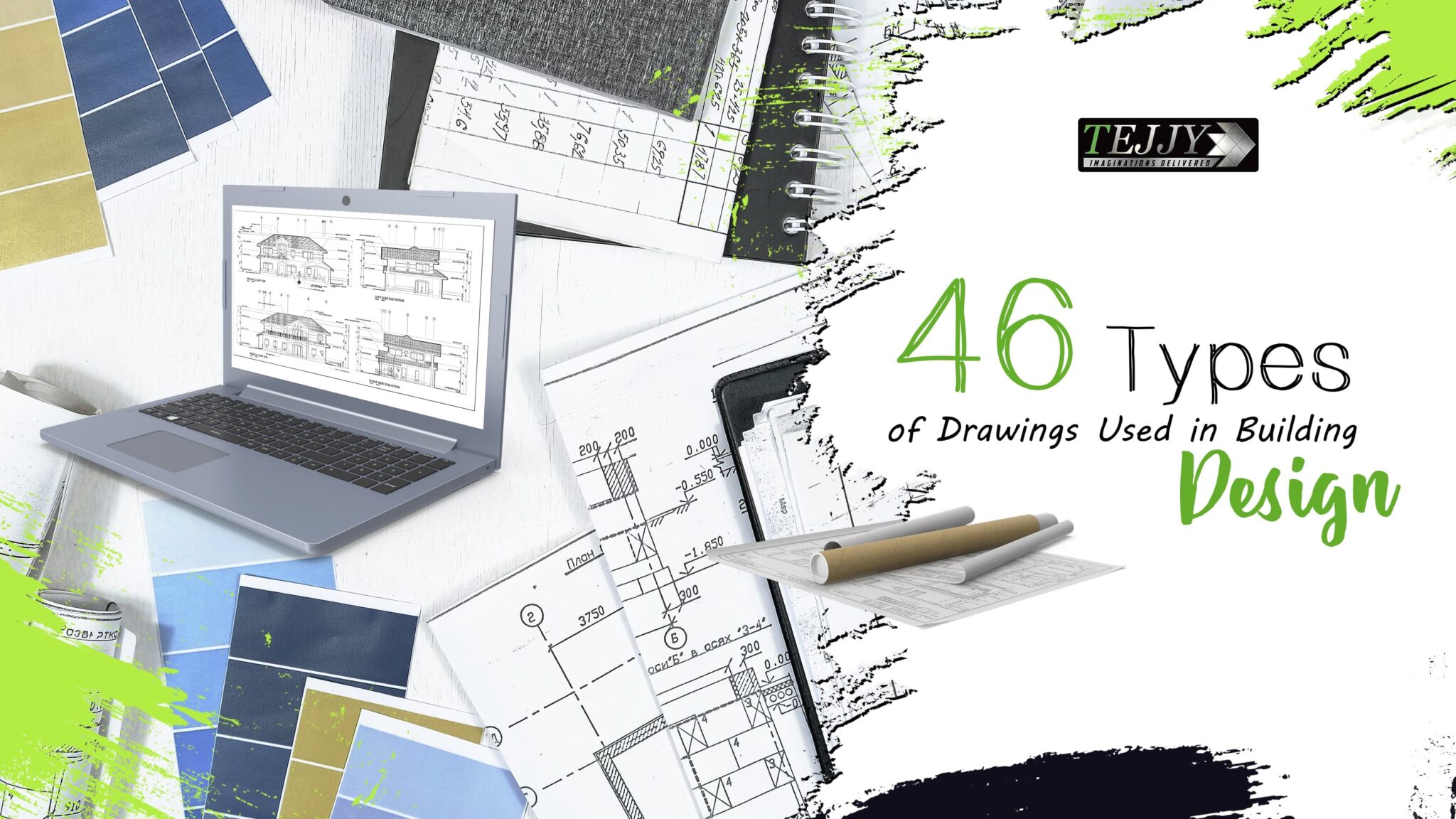 It is critical to create a construction plan before starting the project. It gives a thorough overview of the structure. With this in mind, many types of construction drawings are now employed for this purpose. These drawings are required for project clearance in addition to presenting technical details in a legible way. They serve as a benchmark for the construction process and ensure that the building codes are followed. 
These construction drawings can be regarded to provide an outlet for architects to communicate their ideas and concepts about any building.
The majority of the trade-wise construction drawings are segregated into different types of building drawings:  
📝 Architectural Drawings 
📝 Structural Drawings 
📝 Electrical & Plumbing Drawings 
📝 HVAC Drawings 
📝 Firefighter Drawings 
📝 Miscellaneous Drawings 
📝

Types of Architectural Drawings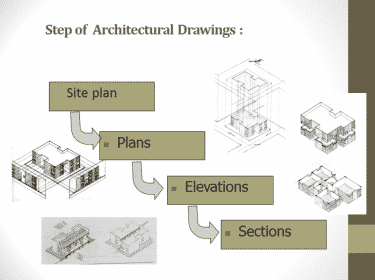 Architectural drawing plan are technical representations of a building created before the construction process begins. Scales, Lines, and projections are used to create them. The following are examples of architecture building drawings: 
1.  Site Plan:
A Site Plan is an aerial image of the construction site that shows the main building along with additional constructions. Construction building drawings for construction improvements and determining the scope of construction activities are only a few of the many uses of the Site plan drawing. It also aids in the identification of the building's topography, such as roads, pavements, and so on. 
2. Floor Plan:
This is a more detailed version of the room layout. 2D & 3D floor plan are created regardless of whether they will be used in the construction of a house, a shop, or a commercial project. Understanding the proportions and various types of installments are among the applications. This aids in gaining an understanding of how the limited room space should be utilized. 
3. Cross Section:
Cross sections allow the architect to identify different components of a building from a vertical perspective. This two-dimensional illustration is excellent for providing an overview of a building's visible and hidden components. Wall cross-sections are another sort of cross-section that can be used to view both sides of a wall. 
4. Elevation:
Elevations assist an architect in determining the building's facing. Elevation drawing for architecture facilitates the information of the direction of sun and wind in relation to the building. They also specify the building height, as well as the external and internal markings, which include the doors and window measurements. 
5. Landscape:
The landscape plan is an aerial view of the entire area where the building will be constructed. It includes all specified spaces for trees, parks, pools, street lighting, and other amenities. Landscape plans are more commonly employed to portray the building's external beauty. You can also include walks, roads, parking lots, pavements, and other features. 
6. Finishing Drawing:
The finishing drawing and the elevation drawings have a strong link because they both describes the smallest features of a project. You can incorporate floor patterns, false ceiling type and shape, paint color's, plaster, textures, and other details in various types of finishing designs. They are necessary for the aesthetic value of structure. 

7. Reflected Ceiling Drawing:
A reflected ceiling drawing represents how the ceiling should appear from the ground. The reflected ceiling plan may display elements like the aesthetic features of cornice, the ceiling-mounted light fixtures, the appearance of a visible column design.  
8. Working Plan:
For the contractors, the designers develop working drawing plans or construction drawings to help them define the scope of the project. The convenience of fabricating construction materials according to the overall design is one of the advantages of such a plan. A legend in the working drawings provides information about the various components. 
9. Section Drawings

:
As the name implies the section drawings illustrate the structure in sliced form. This type of construction drawing helps in identifying the principal structures in relation to the building's other structures. In addition, building section drawings show the types of materials that will be used for construction. 
10. General Note:
There are no drawings on the general note. It offers extensive information about the building. This covers the necessary information like by-laws, codes, mapping forms, length, construction type, abbreviations, legends, and other essential data. 
11. Excavation Drawing:
Excavation plan drawings are required to determine the length, depth, and width of the excavation for the construction. It explains the scope of the excavation, the excavation method, and the removal of dirt. Wall shafts, trenching, tunneling, and other techniques are used for excavation. 
12. As-

Built Drawings

:
The as built drawings show the comparison between finished constructed design and the original design. The variation takes place as Contractors adjust the construction pattern and design owing to unforeseen circumstances. The As-built drawings are created either during or after the construction process is completed. To help you with it, here is a checklist for Difference Between Shop Drawings And As Built Drawings

13. Line Plan:
These are single-line representations of a room structure. The lines are drawn exactly how the different room configurations will be. It includes the room sizes, as well as the location and labelling of the doors. A line plan is a diagram that shows how the entire room will be laid out. 
14. Shop Drawings:
Shop drawings are also a type of construction manual that explains how to install, fit, or make an object. Contractors and subcontractors prepare shop drawings the majority of the time. These designs can also be prepared by suppliers, manufacturers, and fabricators. The object's original design and specifications are ensured by shop drawings. To help you with it, here is a blog for MEP As Built Drawings
Read more about our Shop Drawing Services and As Built Drawings,  let us know how we can add value to your project.
15. Installation Drawings:
There are many different types of installations that can be added to a structure. The ventilation, heating, and cooling systems, for example, are critical. As a result, a plan to assist with all types of installation could be beneficial to the contractors and construction team. These kinds of drawings are particularly necessary from a management standpoint for the most sophisticated structures, such as data centers and control rooms. 
16. Location Drawings:
General arrangement drawings are also known as location drawings. They're designed to show off the overall composition of the project. A location drawing will include specifications of all parts and buildings that will be developed as part of that project. You might include elevations, projections, alternative plans, and sections under it. 
17. Location Plan:
The location plan covers a large area. This type of construction sketch facilitates architects for inspecting the entire region where the building will be constructed. They are also known as General Arrangement Drawings, because they showcase the objects as well as the relationship between the various stages of building development. 
18. Record Drawings:
The architect creates record drawings, which reflect on-site alterations reported by the contractor in the as-built drawings. They're frequently put together as a list of on-site alterations made for the owner in accordance with the owner-architect contract.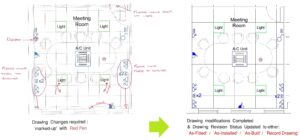 📝 Types of

Structural Drawing

s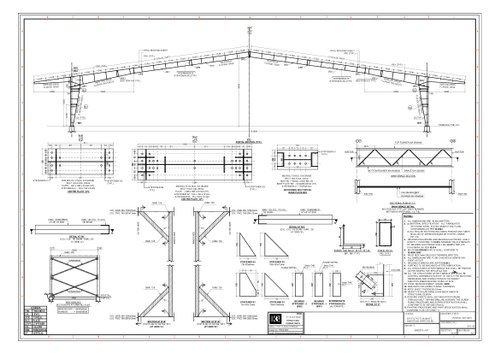 A structural drawing is a design or set of plans and details that shows how a building or other structure will be constructed. Licensed professional engineers typically generate structural drawings based on information provided by the complete set of architectural drawings and design sets. The following are examples of Structural drawings: 
19. Engineering Drawing:
Structural drawings, also known as engineering drawings, are focused on the structural aspects of buildings. These illustrations are part of the proposal materials and serve as a reference for the employees. 
20. Column Layout:
The design and pattern of the columns throughout the structure are reinforced by the column layout. This plan divides the building into floors and specifies the exact size and distance between each column. Column layout drawings make it much easier for contractors to understand the overall plan of the building. 
21. Plinth Beam Layout:
Plinth beam layout drawings are yet another type of beam structure that reinforces a building's support system. The plinth detail drawings demonstrate how the plinth beams are positioned, lengthened, and sectioned. The plinth beams designs are prepared floor by floor as well.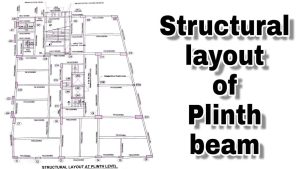 22. Lintel Beam Layout:
Lintel beams are a type of support structure that are built above the doors and windows. These are reinforced constructions that add strength to the area of the building above the doors and windows. The precise placements, dimensions, and quantity of lintel beams on each floor can all be found in these types of drawings. 
23. Roof Beam and Shuttering Layout:
A roof beam is used to reinforce the overall structure of a building. A roof beam is a triangular structure that supports the roof and is normally built on the top of the building. Roof beams are often built of wood, however steel or concrete can also be used. 
24. Roof Slab Layout:
In AutoCAD architecture software, the roof slab arrangement is more apparent. The primary purpose of roof slabs is to offer a complete account of the roof faces, floors, and other surfaces that require exact edge information.
25.

Block Plan:
A block plan is a representation of a larger region that is close to the main building that is being built. A block plan may incorporate neighbouring structures, boundaries, roadways, and other elements. Moreover, a block plan is displayed in scales, implying that it covers a large region. 
26. Framing Plans:
Beam layouts are comparable to framing plans. They provide details on the framework along with the sizes and locations of the beams. Builders benefit from framing plans because they can quickly understand and design the plans for the floor, roof, and other important structures of a building. 
27. Component Drawings:
The drawings provided by a manufacturer of product are referred to as component drawings. These plans represent all of the component drawings, provides you a thorough understanding of its markings and other sub-parts.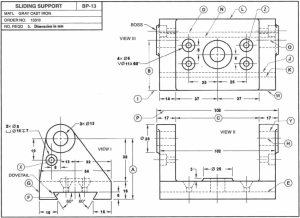 28. Concept Drawings:
Concept drawings are more likely to be the very initial first draft of a construction project. They are not extremely distinct or detailed. The concept drawings are rough building sketches and it's surroundings. They are more commonly utilized to give potential clients or stakeholders an overview of the building. 
29. Assembly Drawings:
These drawings are used in the construction sector to show the relationship between two structural components. It demonstrates how the multiple components of this construction come together. It has different types of design and patterns like sectional, elevation, and 3D views. 
30. Design Drawings:
The design drawings are very close to concept drawings. This implies they are also handy for retrieving fresh conversions for a specific project. They can also be used to propose design idea to stakeholders and then provide a basic notion to the design teams for their consideration. Design drawings can also be used as a comparison or a benchmark. 
31. Foundation Plan

:
Basement and ground floor plans are not the foundation plans. Any floor of a building can have a foundation plan. The objective of these plans is to communicate the sizes, dimensions, shapes, and every possible configuration. For a foundation plan, Footings are also an important part. 
Types of Electrical & Plumbing Drawings for Construction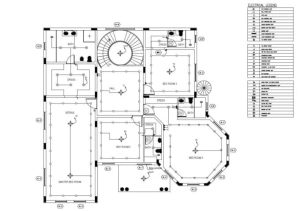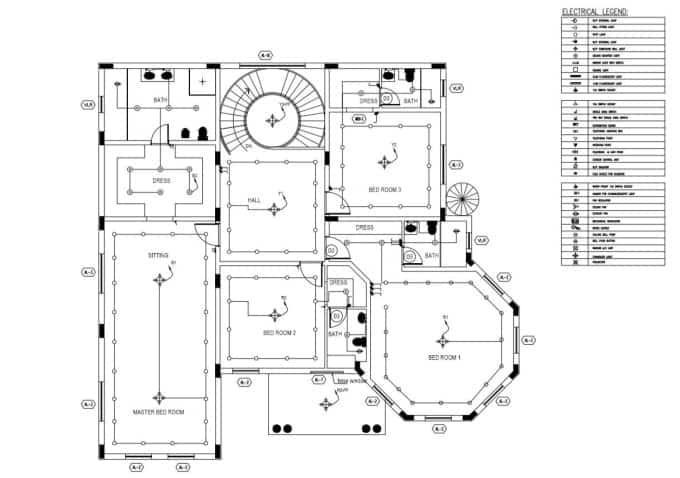 32. Electrical Drawings:
An electrical drawing is a detailed representation of the electrical connections, fixtures, outlets, lighting, fans, switches, and other components. These designs seem to be the pillar support to the electricians to help them comprehend the wire layout on the floor. An electrical drawing also identifies the information about the air conditioning or the heating systems and load capacity. 
33. Plumbing Drawing:
Like electrical drawings the plumbing construction plans represent the locations and markings of the plumbing components. This includes water pipes, water drainage systems, sanitary pipes, and everything else linked to the plumbing. The location of the taps and other water outlets on each floor may also be included.  
Read more about our Architectural Engineering Services and MEP BIM Services,  let us know how we can add value to your project.
34. Drainage Drawings:
Drainage diagrams represents how water flows into and out of a building structure. Maintaining good drainage on your construction project will help to keep future users of the building healthy. These diagrams indicate the precise placements and sizes of fixtures like pumps, drains, water tanks, and vents 
Types of HVAC and Firefighting Drawings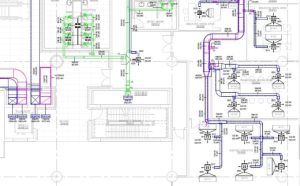 35. HVAC Drawing:
HVAC drawings, often known as mechanical drawings, include information on the ventilation and heating systems. They also cover the air conditioning layout and patterns to be built within the structure. The HVAC drawings provide a better understanding of these complicated systems and allow builders to organize their construction process properly. Also, you can check out here
Understanding The HVAC Systems Basics, Work & Types In 2022
36. Firefighting Drawing:
Firefighting plans are created prior to the construction. They plan out where the water outlets, fire hoses, points, and other items will be placed. They also lay out the fire prevention plan as well as the safety systems that to be installed. 
Miscellaneous Drawings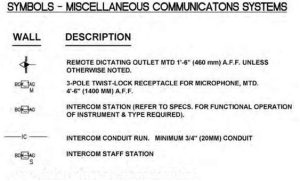 37. Detail Drawings

:
These are the plans of any geometric elements that has to be built. A multi-story complex building, a massive bridge, or even a tunnel can all be included in detail drawings. These drawings are more comprehensive and pay attention to the crucial points of any construction job. 
38. Perspective Drawings:
A perspective drawing emphasizes a spatial characteristic of a building while displaying its three-dimensional volumes. These are realistic digital visualization of the under-construction building. Aside from that, vanishing point viewpoints come in a variety of shapes and sizes. 
39. Production Drawings:
Production drawings are blueprints for the construction process that construction staffs and managers can follow. It includes tools, assembly, materials, dimensions, and other information in addition to the contents. The production documents indicate the procedure to meet the requirements. 
40. Scale Drawings:
larger objects cannot be drawn in their original size hence scale drawings are used to illustrate them. As a result, every architectural drawing is a form of scale drawing. For example, a location plan is scaled at 1:1000, a floor layout at 1:100, a site plan at 1:200, and so on. The propensity of the scale will increase as the size of the object under construction grows.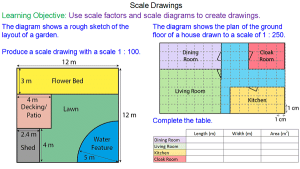 41. Technical Drawings:
In the context of a construction project, technical drawings also have a broad meaning. The primary goal of technical drawings is to represent the function of an object. These drawings are done for a practical purpose unlike artistic drawings. In this respect, practically any drawing created during preconstruction stage, construction stage, or after construction can be classified as a technical drawing. 
42. Submission Drawing:
Submission drawings are created using by-laws developed and implemented by a governing body. They include elevation drawings, detailed drawings, index plans and other sectional plans, which are delivered to the authorities for approval. 
43. Model:
Models are created when the drawings are completed. They are ready for the larger structure and can imagine how it will look when it is finished. Making models has the advantage of assisting architects in identifying problems like constructability issues, Clashes, coordination issues, etc. The elevation, design, and internal and external detailing are all visible in model. 
44. Environment Plans:
Some projects are designed to be built near rivers or streams. In such cases, the environmental plans reveal how erosion and sedimentation to be managed. Moreover, these drawings also elaborate chemical disposal methods and plant removal procedures. Further, it also has procedures and plans in place to mitigate the negative effects. 
45. Presentation Drawings:
Presentation drawings are created as part of exhibitions proposals, brochures and even books. Any type of drawing that has been addressed above can be included in this category. 
46. Survey Drawings:
Drawings represent structures, existing land, and buildings that have been measured. To establish exact measurements for building work, architects use an accurate set of survey drawings as a basis for their working drawings. Land surveyors are typically hired to measure and write up surveys. 
Conclusion:

 
Construction drawings represent the evolution of a building through the project life cycle from conceptual architectural structural details to construction even after construction. Some plans must be prepared during pre-construction planning while others are developed during the construction. Having these architecture design drawing for building in your hands has numerous advantages. They serve as a set of guidelines for all construction workers, supervisors, and builders.  
To discuss more about construction drawings feel free to contact us. We provide building construction drafting services and support you throughout the pre-construction, construction and post-construction stage.  
Get in Touch With Us
If you are interested in finding out more about how Tejjy Inc. can help you please get in touch with us by filling in the contact form here, or by emailing info@tejjy.com.