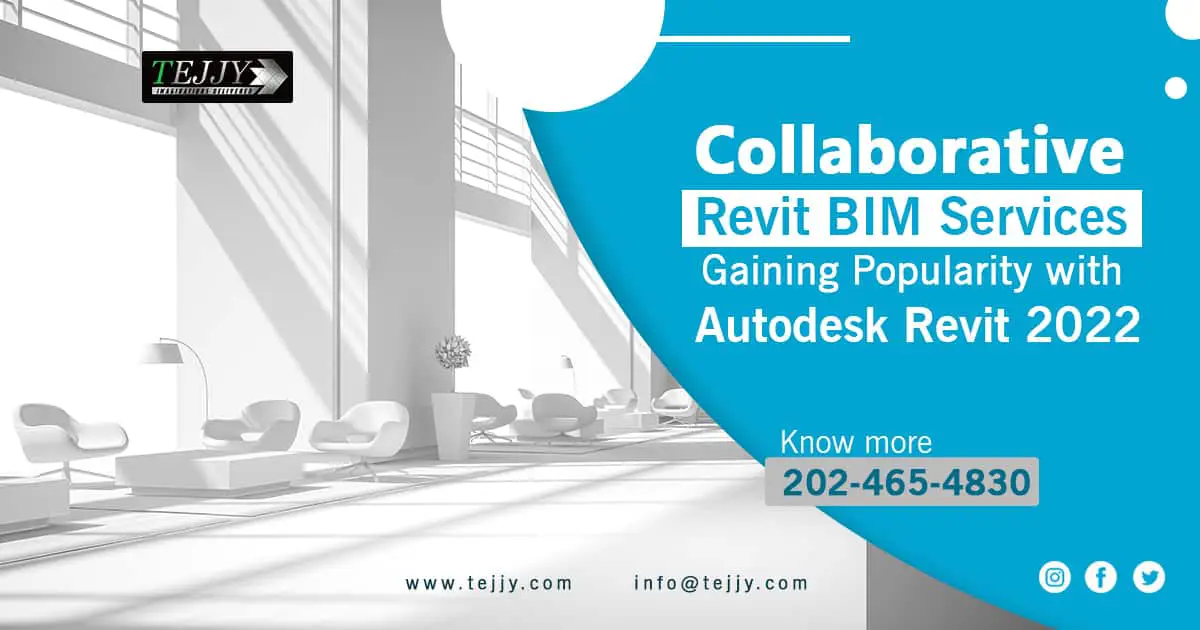 Autodesk Revit 2022 is expected to release in April 2022. Autodesk announced that the educational license would be available from March 2021, for Information Technology administrators and educators. The new version of the software is intended to enhance collaboration with Revit BIM services. It is anticipated that engineers working using Revit 2022 would provide improved open workflow solutions. Revit 2022 would enhance interoperability, increase efficiency and accuracy in the construction documentation procedure, considering various facets of architectural, structural, and MEP modeling. Further, Revit 2022 would emphasize the method of collaboration amongst the construction professionals working with Revit BIM services.
Let's take a look at the highlights of Autodesk Revit 2022 that would facilitate BIM companies in USA and across the world:
Enhanced interoperability for Revit BIM Services:
BIM firms that are providing

Revit Family Creation services

could easily work with Rhino and FormIt Pro by using Revit 2022. Thus, top BIM companies could make a round-trip workflow. 

BIM service providers in USA, building information modeling services in California, BIM companies in California and other BIM companies across the globe could import models directly into Revit through a linking feature.

BIM services USA could also incorporate Rhino modeling update into the current Revit 2022 work model. All updates of Revit modeling services could be made accessible to the project team members. 

Revit BIM services

in USA could transfer Revit 2022 models to FormIt and tweak them by using interoperable 3D Sketch. This would help to connect Revit 2022 to everyday tools.
Improved design and communication with Revit BIM Services:
Autodesk

Revit 2022 would upgrade the presentation of construction schedules, tags and annotations for executing precise authoring. 

BIM service providers could make efficient construction documentation of all the labels and specifications in drawings with Revit modeling. 
New tagging features of Revit 2022:
Text layers naming different parts of building drawings could also be oriented or rotated to fit the various drawing angles for uniform readability. 

Using 3D grids, Revit 2022 enables the display of structural grids in 3D models. 

Companies providing

Revit BIM services

allow the grid plane options for identifying structural building locations. 

Another new tagging feature is Group labeling. BIM modeling companies could easily make group annotations for identical elements present in the drawings. 

Whether the BIM companies are working on mechanical shop drawings, Revit steel shop drawings, or other building drawings, BIM modelers could make precise communication text with supportive multiple stakeholders. 

Multiple dimensioning is another advantage when multiple elements can be chosen and multiple dimensional standards can be exhibited side-by-side.

Companies offering

Revit BIM services

to the AEC professionals can undertake improved route analysis and comprehend physical circulation patterns. 

Path of Travel and Path Flow toolkit empower various options such as Multiple Paths, Spatial Grid, One Way Indicator, People Content, etc. Altogether, they facilitate visualizing the configurations of navigation.
Better construction documentation
Revit 2022 also encompasses new features of drawing parameters to make clear categorization of drawings and structural building properties.
Phased parameter of Revit BIM services in view filters
In the case of older parameters, phased properties are available to all elements. However, in Revit 2022, experts providing

Revit BIM services

could specify the property to be applied to elements.

To take instance, if BIM engineers want to apply green to an existing staircase, it could be enlisted as a distinct parameter. 

The older version is limited within the 'Existing', 'New', 'Demolished', and 'Temporary' building phases. Nevertheless, the new phase could be filtered as per construction documentation. If the companies providing

Revit BIM services

have to track changes over the years, it could be executed in 2022.

The new split schedule across sheets would let you split the schedules as per various categories. The option of 'Split and Place' enables

Revit BIM Services

to slice a part of the sheet and then place it to the different parts of the sheets.

 

The new sliced parts could also be amended for increasing as well as decreasing the number of rows and columns.

Schedules could be customized as per the material requirements or the space requirements in design. Applying them as filters display only the required parts like for instance bathroom accessories.

Revit 2021 allows the display of loadable families such as walls, roofs, etc. Autodesk 2022 Revit would display various customized family types as well as loadable ones like the staircase, railings, etc.
Flexible revision numbering in Revit BIM Services
Using Revit 2022, revision numbers, as well as alphabets, could be used independently. 

Alpha-numeric numbering options help BIM engineers to make custom-make new sequences in Revit 2022. 

This helps AEC projects to have a different set of drawings, for interiors and exteriors.
PDF Exporting Feature in Autodesk Revit 2022
Experts in

Revit BIM services

can export

documentation output into PDF formats with the desired number of files, properties, and viewports in the drawing space. 

Apart from the methods of tagging and labeling, the new feature enhances documentation efficiency in Revit MEP coordination.
Improved modeling with Revit BIM Services
Using Tapered and angular walls of Autodesk

Revit 2022, BIM consultants working with

Revit BIM Services

could successfully design and modify dimensional parameters, as per the essential shape for making amendments to the form instantly. 
The geometry of the tapered walls could be shaped according to the associated components on the walls, like the windows.
Improved re-bar modeling

is another new facet of Autodesk Revit 2022.  BIM engineers working with

Revit BIM Services

could now smoothly design and place Rebar elements into the structural BIM model, in columns, beams and slabs. 
Revit BIM Services

professionals could successfully model the reinforcement with accurate re-bar diameters. This enables engineers in avoiding Rebar clashes. 
The structural representation of

Revit BIM services

in LOD 100, LOD 200, LOD 300, LOD 400 and LOD 500 becomes faster and accurate.
Autodesk Revit 2022 facilitates reporting on the loads from the different building systems (like ceiling, HVAC,  etc.) and helps to decide on the various sizes of the system elements.
So, the new version of Autodesk Revit 2022 is expected to make a smooth construction workflow, facilitating all Architectural, Engineering and Construction professionals for flawless collaboration. To get all the advantages of Revit 2022, choose one of the best BIM automation firms providing Revit BIM Services in USA. Consult the BIM modeling company Tejjy Inc. at 202-465-4830 or info@tejjy.com and make the perfect planning of your construction space with 3D BIM.
Related Articles: