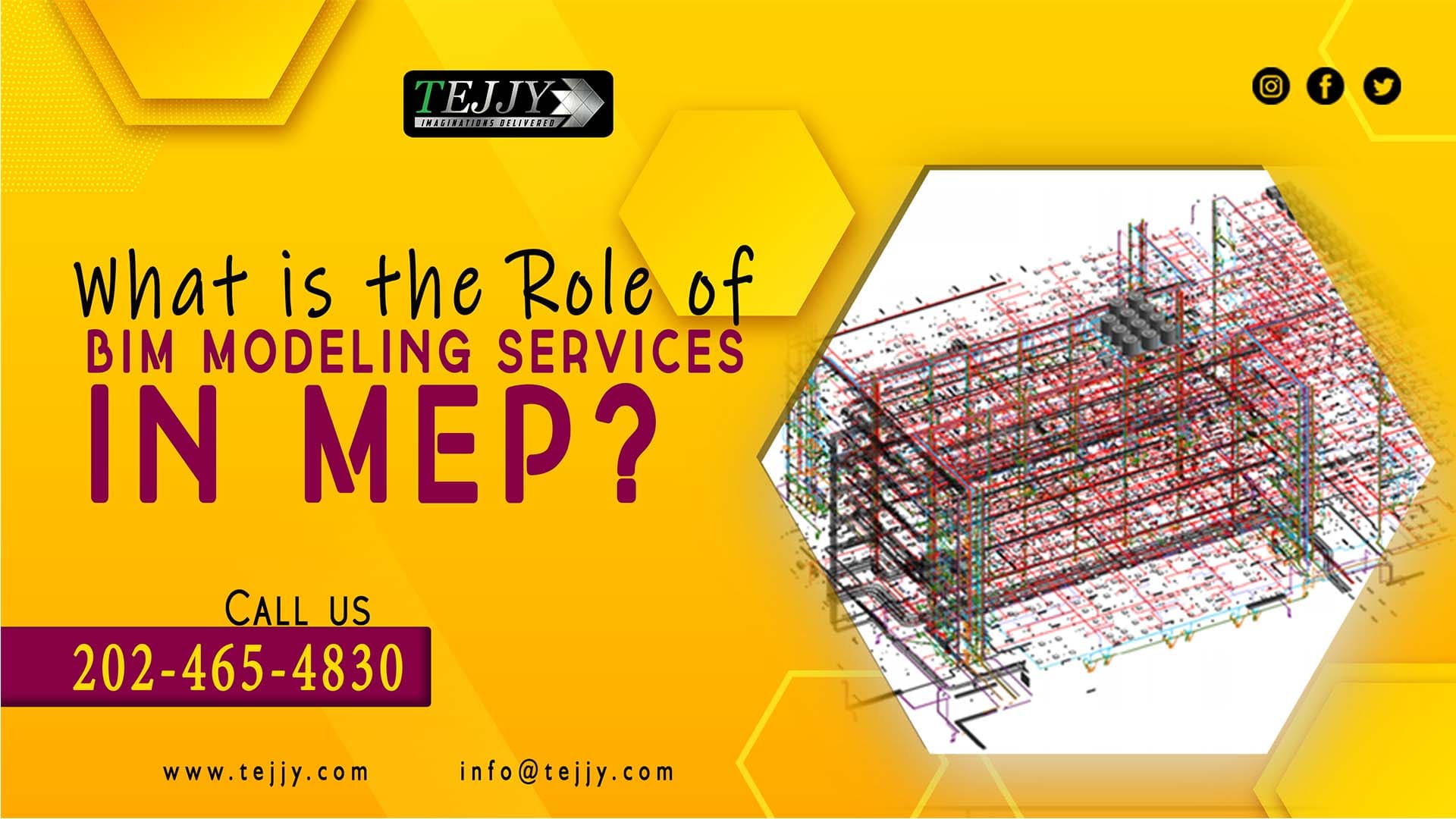 Top BIM service providers in USA are managing different aspects of product delivery exclusively for the building contractors. BIM consultants use intelligent 3D BIM models with various inputs such as Contract Documents, Design Documentation, Specification Sheet and Equipment Submittal for BIM MEP coordination.
Competent BIM engineers follow SMACNA standards and other local codes as applicable to new building construction or renovation. MEP consultants validate the design for constructability review, performance as well as maintenance at the pre-construction stage.
Accurate MEP BIM coordination helps to decrease RFIs responses and resolve clashes through re-routing ducts, modifying elevations and resizing ducts. As a result of which, the final MEP model becomes free of clashes and other design errors.
A strict quality control process is followed by BIM companies offering MEP BIM services for documenting client standards and preference. Implementing BIM MEP services facilitates proper MEP coordination and accurate MEP shop drawing creation, thus reducing rework.
Several MEP design-build projects produce comprehensive shop drawings for installation and spool drawings for pre-fabrication.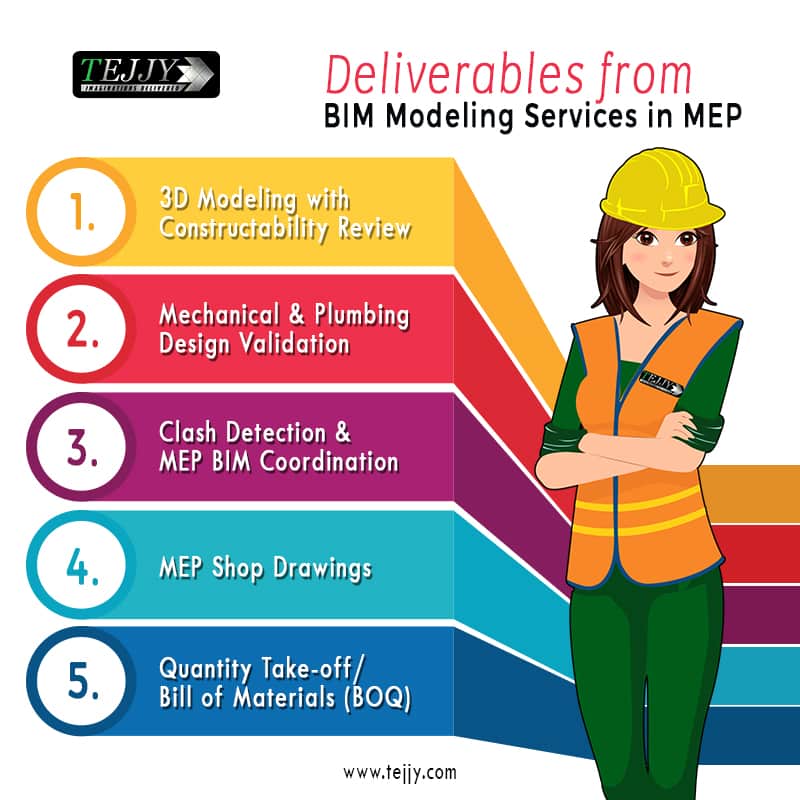 Let's take a look at the details of MEP BIM services?
What are MEP BIM Services?
MEP BIM Services involve a technique of creating an informative 3D model with mechanical, electrical and plumbing components of the building. MEP architecture of a building is essential in ensuring building performance at any stage of the product lifecycle.
What is MEP modeling?
MEP modeling or MEPF modeling includes the mechanical, electrical, plumbing and fire protection services to define the various spaces and zones in a building model. A perfect MEP model created through Revit BIM helps to minimize project delays, reduce project wastage and enhance cost savings for the construction.
What is Revit used for MEP?
Revit family constitutes to be the vital building block of MEP (mechanical, electrical and plumbing) designs. Revit MEP software facilitates in executing 3d modeling and MEP BIM Services, generating intelligent models for HVAC, Electrical and Plumbing services of a building.
What are the Deliverables from BIM Modeling Services in MEP?
1. 3D Modeling with Constructability Review
MEP BIM modelers create HVAC Sheet Metal Modeling for mechanical services. 3d HVAC model gets prepared by the BIM consultants, according to the specifications of the engineering documents through a range of inputs such as design and contract document (including IFC drawings, Construction Documentation set, etc.).
Then the model is coordinated with other architectural, structural and MEP services. Top MEP consultants augment the HVAC models with hangers, seismic restrainers as well as other information from various trades.
The final model helps in smooth MEP coordination, decreasing field installation time, cost and wastage. Further, from the MEP model, fabrication and spool drawings are created in Revit, Navisworks, etc. for accurate on-site prefabrication and modularization.
2. Mechanical & Plumbing Design Validation
The mechanical design validation process includes:
Heat Load Calculation
Routing for HVAC Systems
Static Pressure Calculations
Equipment Selection
Sizing & Routing for Water Systems
Pump Head Calculation
Plumbing Design Validation includes:
Pump Head & Storage Tank Calculations
Pipe Sizing
Routing for Water Supply Systems
Drainage System Layout Generation
Hot/Cold Water Distribution
Water Demand Calculation
Schedules of Fixtures
3. Clash detection & MEP BIM Coordination
MEP Consultants provide comprehensive clash detection facilitating building contractors to obtain all required information for detecting and resolving interference amongst building systems.
The coordination drawings provided by competent MEP engineers help to resolve issues during the pre-construction stage, saving construction cost and time. Some of the MEP Coordination drawings derived from the 3d BIM Model show work details of various services and clashes with structure, ceilings, frames, equipment, partition, MEP services, etc.
4. MEP Shop Drawings
 BIM engineers produce comprehensive MEP shop drawings with various elevations, dimensions and annotations.  Shop drawings and installation drawings derived from the 3D BIM model enable workshop fabrication and on-site installation.
Some of the MEP Shop Drawings include:
Installation Drawings – MEP BIM consultants produce installation drawings from the BIM model, including HVAC, piping, fire protection and medical gases. The drawings help the building contractors to plan, execute and install MEP services.
Many of the MEP plans are produced by referring to the architectural walls and structural columns for easy location of the mechanical members.
Block-out Drawings – Block-out drawings are preferred for understanding the significance of illustrations such as pouring concrete on-site.
These drawings are an important part of MEP services and are aligned to architectural grids. BIM modelers keep necessary clearance for block-out as per contract documents.
Sleeve Insert & Hanger Drawings – The MEP drawings also include the sleeve, insert and hanger drawings, produced from the BIM model to help the construction team in making the right MEP installation.
Spool Drawings – The spool drawings guide plumbers in understanding what they are encountering during off-site/on-site pre-fabrication.
Segmented spool drawings are created following the contractor's pr-fabricating standards.
Equipment Pad Layout – Equipment Pad Layouts help accurate installation of HVAC equipment from submittals in an apt location, coordinating accessibility.
5. Quantity Take-off/Bill of Materials (BOQ)
3D BIM model helps to produce accurate material quantities and update that automatically with changes. BIM MEP modelers create comprehensive material measurement in construction project about ducts, equipment, fittings, hangers, grills, diffusers, etc.
Quantity Take-Off reports get exported to a database for detailed analysis. MEP BIM Coordination experts use BOQ services for accurate 5d cost estimation, material procurement and for saving inventory costs.
MEP BIM modeling is a great support to design your MEP architecture. Consult one of the best MEP design engineers in USA working with Revit family and Navisworks and make your  MEP building workflow a success for years to come.
Contact Tejjy Inc. – one of the top MEP BIM Coordination firms in USA at 202-465-4830 or info@tejjy.com for your MEP BIM projects.