Professional Construction Project Management Services in Washington DC, Virginia (VA), MD and Baltimore, USA
Consult us to manage your construction throughout the building project lifecycle. Our experts assist for an effective solution.

Tejjy Inc. provides complete project lifecycle management for construction from the stage of initiation, planning, execution to closure. Integrated procedures are adopted to accomplish the design and construction of projects by identifying organization structure, on-site and environmental issues and establish communication protocol.
Our experts define the requirements and establish scope, budget, schedule, and quality for clients.
Need help with your dream construction project?
Contact Tejjy Inc. to get specialized construction project management services from our skilled professionals.
Why Choose Tejjy Inc. for Construction Project Management
Innovative application of project management techniques
Proactive decision-making during the early stages of planning & design
Consistent involvement throughout the project
An integrated approach to an overall plan for logistics & management of budget, expenditure & schedule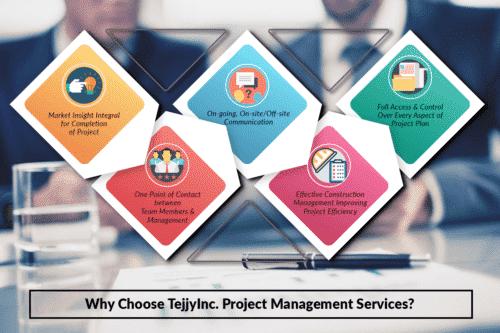 Tejjy Inc. Facilitate AEC Project Stakeholders
Tracking construction cost categories, preventing cost overruns
Deliver regular status updates for making informed decisions
Provide insight, cost optimization & value engineering using latest technology like BIM
Our Project Management Services at Different Phases
Project management role includes:
Project Planning & Management
Cost & Schedule Management
Scope & Quality Management
Safety Management & Sustainability
Pre-Construction/Design Phases
Scope delineation & management
Establishment & maintenance of communication processes
Budget & schedule development
Site selection support
Architect/engineer/specialty consultant selection advisory
Project-specific website development
Cost estimation & value investigation
Detecting phasing options & establishing milestones
Constructability & bid reviews
Procedures & logistics assessment
General circumstances & contract requirements advisory
Support to inspection sub-contractors
Bid phase management
Construction Phases
Project scheduling & monitoring
Oversight of cost control
On-site management
Management of coordination meetings
Contract administration
Inspection & quality assurance
Progress reporting
Documentation
Change order management
Item tracking & reporting
Problem anticipation & resolution
Contract closeout supervision
Commissioning
Technologies We Use
Tejjy Inc. implements the latest tools to revolutionize the way of AEC business. Our team of construction management professionals offers the best construction management services in Washington DC, Baltimore, MD & VA by using advanced technologies such as:
Virtual Design &Construction
Building Information Modeling (BIM)
Virtual Reality
Drone
Big Data
Robotics
Why Choose Tejjy Inc. for Construction Project Management Services in DC, Baltimore MD, and VA?
Construction Management solution provider in the USA for Project Planning and Management, Cost and Schedule Management, Scope and Quality Management, Safety Management and Sustainability for AEC professionals.
Want assistance with your construction project management?
Call us 202-465-4830 or email info@tejjy.com for your complete construction engineering, and management needs.
We would be happy to help with your construction management requirement from the stage of inception to the final built.
Tell Us Your Requirements: