Facility Operation Management & Maintenance
MBE/WBE Women Minority Certified Business Enterprise with ICC Code Council.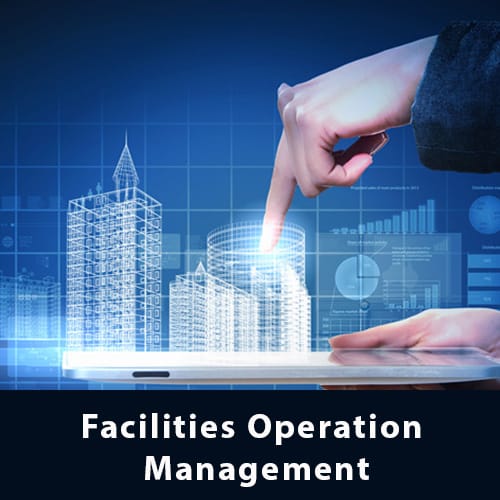 Building owners and facility operation and management services professionals are realizing the in-depth value of BIM and adopting it for reduced operational cost. Building Information Modeling streamlines the task for Architecture, Engineering, and Construction firms throughout the project life cycle elevating the profitability through its collaborative platform. Operations and Maintenance in Facility Management has also become a core part of the building structure which BIM handles swiftly.
During the project life cycle, Tejjy Inc. facilities Operations Management divisions in government, residential, healthcare, and commercial facility management services. Understanding the client requirement even for a complex structure, we provide experts, tools, materials for all the projects.
We effectively manage all aspects of their facilities portfolios involved in the project life-cycle. From schedule and scope to the cost alignment. Tejjy Inc.'s expertise handles all the projects without disruption to operations

BIM software applications and customized Revit libraries allow us to incorporate design build services effectively. It enhances multidisciplinary collaboration amongst BIM modelers, engineers, architects streamlining the work.
3D BIM Improves  Project Visualization, Rendering, Animation, and Walkthrough envision clear communication of Design Intent as Clash detection is possible at the early stage resulting in safe design and logistic suggestions through different LODs.
Laser Scanning, Ground Penetration Radar Conversion allows visualization of the conditions of the present model. It also helps in accurate field layout and environment analysis.
Prefabrication & Modularization is a cost and time-effective technique. It is a great support in MEP systems, Structural Steel detailing and Rebar.
4D BIM Model facilitates Project Stakeholders in Planning & Optimization, Construction Simulation & Validation for Payment Approval.
5D BIM Cost Estimation and Monitoring helps in real-time conceptual modeling with BOQ/Quantity Take-Off for sustainable construction solutions.
6D BIM Scheduling is Perfect for Equipment Deliverables, Feasibility Analysis & Accurate Energy Estimation. The technology provides a lifetime virtual model to access information for energy analysis simulation.
7D BIM Helps in Facility Management & Asset Management along with BIM integrated Operation & Maintenance along with BIM Technical Support & Maintenance Plan, File Hosting on Digital Exchange System, Accurate As-Built Services for Remodeling/Renovation & COBie Data Extraction.
8D BIM Facilitates in Site Accident Prevention through Delineating Hazards for BIM Modeling Elements, Safe Design Recommendations & Onsite Risk Management for Uncontrollable Hazards through Design Modifications.
VR 360 Enhances Situational Awareness through updates on potential hazards and allows automatic area calculation, reducing labor in fields, maintaining timeline, and helping builders to stay on task & track work.
Value Engineering through BIM caters to Risk Mitigation abiding by regulatory compliance management & space management. This facilitates Modular Design Approach, Improved Visualization & Seamless Construction Coordination.
To ensure that the building has a long life and keeps on delivering up to expectations, it needs to have a proper facility management function. Facility management professionals are assigned with maintaining and delivering various services like:
Space Management & Property Strategy
Building Administration & Maintenance
Managing Renovations and Refurbishments
Communications Infrastructure
Construction Testing & Inspections
Safety, Security & Environment
Business Continuity Scheduling
Contract Management
Importance of Facility Management
Advise businesses on deploying measures to improve cost effectiveness and efficiency of the facility
Source and oversee contracts and service providers for activities such as catering, parking, security, cleaning as well as technology.
Meet emergency requirements
Budget Management
Supervise staff who are located across different divisions/functions
Ensure that the basic facilities are well maintained to conduct maintenance on proactive basis
Meet the compliance & government regulations of the facilities
Oversee renovations, refurbishments and building projects
Predicting the upcoming needs of the facility
Maintenance Reports
Relocation Help
Connect with our Allied Services