CAD CONSTRUCTION DRAWINGS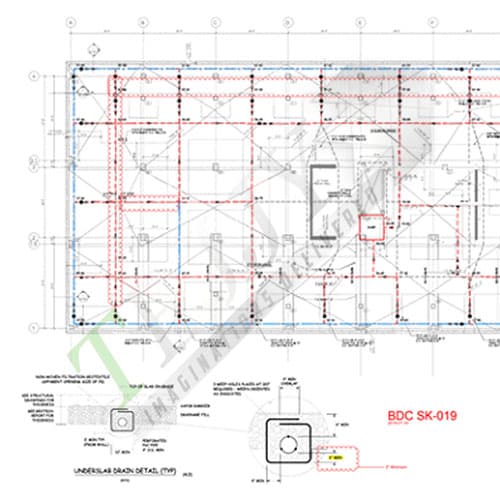 Tejjy Inc. is the right place for getting CAD Construction Drawings (CD) Set and Paper to Computer-Aided Design (CAD) Services. We specialize in various Construction Drawing conversions like 2D to 3D with accurate dimensions.
We make design and construction documents from raw schematic design. Our CAD experts focus on final document preparation as per client requirements. While preparing Redrafted Construction Drawing Set, we consider the details of the Site Plan, Floor Plan, Elevations, and Specifications from clients and produce an accurate CD set.
CAD (Computer-aided design) is mostly used for detailed engineering of 3D and 2D architectural services drawings. CAD professionals using CAD software applications for design creation often use vector-based graphics. The software application also helps to generate raster graphics, showing the overall appearance of the object designed. However, it involves more than just shapes. The CAD deliverables
convey information about materials, dimensions, processes, and tolerance as per application-specific conventions, as in the case of manual drafting of engineering drawings.
Our 2D Architectural CAD Services Include
Building Plan Re-drafting
Paper to CAD Conversion
MEP Drawings

Cover Sheet
Floor Plans
Interior, Exterior & Foundation Details
Elevations
Roof Framing Plan
Cross Sections
Structural Details
Electrical Plan
Tejjy Inc, Provide 2D 3D Architectural Services & catering to strive for excellence with innovation in MD, Washington DC, Baltimore, USA. Call us at 202-465-4830 or email us at info@tejjy.com to discuss with us your project idea or requirements.
Why outsource BIM Consulting services
Tejjy team take care of upgrading the current technology, staff training and helping companies during the transition period in which they move from existing workflow to BIM implementation.
BIM consulting services offered by Tejjy deliver valuable insights for engineers , architects , contractor for BIM implementation.
We are master experts in creating detailed drawings for mobilization of designs and project initiation.
BIM consulting companies like us work as an extended arm of construction companies and leverages the VDC capabilities of BIM to help engineers, architects and consultants to coordinate designs with every other discipline by conceptualizing three dimensional BIM models.
Connect with our Allied Services