Customized Revit BIM Family Creation Service Provider
Revit families are libraries of 3D Revit model templates of various objects like doors, windows, stairs, and so on. Revit families are a critical component of 3D BIM modeling since an MEP Revit model is created using various distinct Revit families. Being an experienced BIM company we at Tejjy Inc. provide customized Revit family creation services in USA to product designers, manufacturers as well as structural, architectural, and MEP (Mechanical, Electrical, Plumbing) company for Revit 3D model/3D BIM modeling.
Our Revit family creation services for 3D BIM modeling facilitate accurate Revit 3D models, saving time and overall cost of the construction project. The primary advantage of the Revit family is the consistency of data regardless of the modifications of Revit 3D models. Revit families that are customized to the client's specifications can be easily modified. Our modelers provide professional Revit BIM family creation services, which enable designers to modify an entire building object using parametric 3D BIM modeling.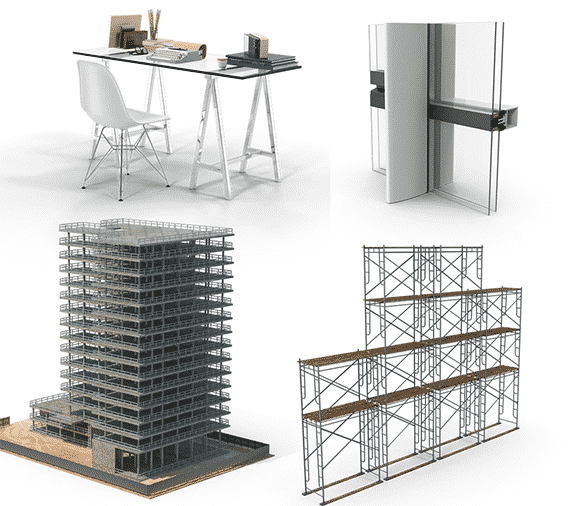 We Offer the Following Revit Family Creation Services
Architectural Revit Family Creation
Our skilled team of building information modelers is committed to creating high-quality parametric and non-parametric bespoke Revit families for architecture components such as furniture, windows, railings, and stairs that suit the requirements of your construction project. Revit family libraries assist BIM engineers and architects in creating error-free BIM models of architectural components and facilitating model updates as needed.
Architectural Revit family includes:-
Furniture
Foundation
Door
Window
Casework
Railing
Entourage
Ceiling
Stairs
Structural Revit Family Creation
Structural Revit families provide highly accurate structural building information models to structural designers and engineers. Effectively and separately embedding structural components, such as beams, columns, and walls, in a 3D BIM model can be a difficult undertaking for a BIM modeler. It necessitates extreme precision in order to develop the model in accordance with building standards and the client's requests.
Structural Revit family includes
Columns – circular columns, rectangular columns, concrete columns, timber columns, etc.
Beam Section – concrete beams
Structural Connections and joints – Mounting parts, Base plates, Gusset plates
Structural Steel sections – Z section, wide flanged Z section, C section, etc
Trusses – N-type truss, king post, queen post, etc.
Electrical Revit Family Creation
Electrical Revit families facilitate the easy construction of electrical BIM models/MEP Revit models. It allows the BIM modelers to accurately design the electrical BIM model using parametric and non-parametric Revit families. Our BIM modelers facilitate clients with a range of pre-loaded and customized electrical Revit families, as per their requirements.
Electrical Revit families include: –
Lights
Lighting fixtures
Electrical devices
Electrical equipment
Fire alarms
Mechanical Revit Family Creation
Our building information modelers are dedicated to creating mechanical Revit families tailored to your project's specifications. Using mechanical Revit family libraries, BIM engineers may generate an error-free mechanical/HVAC model or an MEP Revit model for a construction project. 
Mechanical Revit family includes 
Air conditioning ducts
Ventilation ducts
Water source heat pumps
VAV terminal units
Radiators and convectors
Heating systems
Pipe (Valve, Strainer, Hanger)
Duct Hanger
Plumbing Revit Family Creation
We develop bespoke Revit library solutions for building product manufacturers, engineers, and architects. Our BIM modelers create a variety of parametric and non-parametric plumbing family components for catalogs of product models and 3D BIM models.
Plumbing Revit family includes:
Sinks
Water closets
Pipes and piping systems
Bathroom fittings and accessories
Faucets
Drainage components
Pump
Valve
Fittings
Fire Fighting Revit Family Creation
Our team of certified building information modelers is committed to providing quality-assured parametric and non-parametric Revit families for firefighting services that meet the specifications of your construction project, and NFPA standards.
Fire fighting Revit family includes: 
Fire extinguishers
Fire alarms
Fire hose
Fire and smoke detectors
Benefits of Revit BIM Modeling Services
Revit family creation generates Revit 3D models for parametric and non-parametric dimensional capabilities to geometrical components. Accuracy and efficiency are facilitated in all the AEC projects with the Revit BIM services library. 
✔ Assured Quality and accurate modeling standards 
✔ The improved speed with reduced modeling time 
✔ Quantity Take-Off/ BOQ/Bill of Material in real-time 
✔ BIM LOD optimizes results 
✔ Improved and reusable library 
Connect with our Allied Services
FAQ
Experienced BIM engineers and project managers of our company facilitate the Architectural, Engineering, and Construction industry in the USA with innovative and professional Revit BIM services. Synergistic features of the Revit model family allow sustainable and environment-friendly building designs. Our proficient BIM modelers are well-versed with tools and building codes. We reduce manual work, elevating productivity and profitability through the MEP Revit model, making the swift transitions with assured quality and precision. System families, loadable families, and in-place families are used by our BIM consultants for the creation of Revit electrical families and Revit MEP families.
Revit BIM is a digitized software for implementation of Building Information Modeling methodology making the transition swift with assured quality and precision.
Accurate, efficient models are created with the Revit model family for Architecture, MEP, and Structural engineering. 4d scheduling, quick design changes, easy access to product and marketing are the benefits of Revit BIM Content Creation Services for Architectural, Structural & MEP (Mechanical, Electrical & Plumbing) in the USA. Tejjy BIM Content development team with the expertise of Building Information Modeling Family Creation use 3D Models for different types of buildings and manufacturing firms. Our BIM modelers provide parametric family creation using Revit software. These Revit solutions can be used for several projects. We ensure that Revit bim designs are formed as per 3d model and project requirements, creating the digital assets for AEC firms.