What is Clash Detection & Coordination?
Clash Detection services is the initial step in BIM coordination process. 
BIM Clash coordination is executed to coordinate the spaces and tolerances needed for placing the various services in a building. While designing, there are several models like architectural, structural, civil, and MEP services, and their interconnections sometimes result in conflicts in terms of space allocation.
 Through BIM clash detection service and MEP coordination,  conflicts can be resolved by effectively identifying the problem areas, inspecting and reporting about the services to the respective contractors and finally coming to a solution. Early clash detection removes the risk of error in the construction site, thus saving money and increasing productivity.
BIM Clash Detection | Clash Coordination Services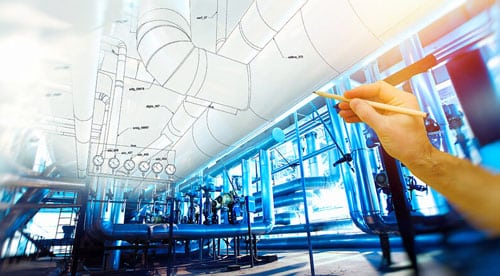 Tejjy Inc. is a BIM Service Provider with insight expertise on MEP Clash Detection services. We adopt clash detection software like Revit, MEP Fabrication & NavisWorks for error-free shop drawings and 3D model creation of AEC Projects. BIM Software Applications like Revit and NavisWorks help Tejjy Inc. to progress through MEP clash detection.
BIM facilitates various designs to collaborate on an information platform, enhancing work efficiency, reducing errors, validating aesthetic looks, and enhancing building performance.
Our MEP BIM Engineers  validate the IFC documents of the client for discrepancies and recalculate the data (ducts, fluid flow rate, pipes, etc.).

Tejjy Inc. raises RFIs, where the client's decision is necessary about missing data, conflicting data, constructability /aesthetic issues, maintenance issues, and accessibility issues.

Engineers ensure the passing of the pipes & ducts through the selected cut-outs in the walls and available dedicated spaces for services through designed routes with minimum impact on the existing services.

The BIM Modelers shift and change the service routes, considering the clearance required, and altering the pipes & ducts within suitable limits
Residential Building

Commercial Building

Train Stations|Airport

Hospitals

Hotel|Restaurants

Educational Institutions

Historical Monuments
Consult for 
Clash Detection| BIM Coordination Service 
Benefit of  Clash Detection| Coordination
Recognizes design issues before the beginning of construction process.

Collaborative platform for Architectural design firms, structural engineers, MEP experts, sub-contractors, contractors in real-time.

Real-time construction scheduling and tracking.

Construction cost is reduced with enhanced productivity. In Tejjy Inc, We Provide Different Types of Clash-Coordination Services like
Self-clash within Mechanical, Electrical, Plumbing and Fire-fighting services

The inter-services clash among the MEPF services

Clash with Architecture and Structural Services
Our commitment helps identify and rectify issues at an early stage, thus reducing maximum hassles and producing an error-free 3D prototype of the model.
Call us at 202-465-4830 or email us at info@tejjy.com to discuss with us your project idea or requirements.