4D BIM Construction Simulation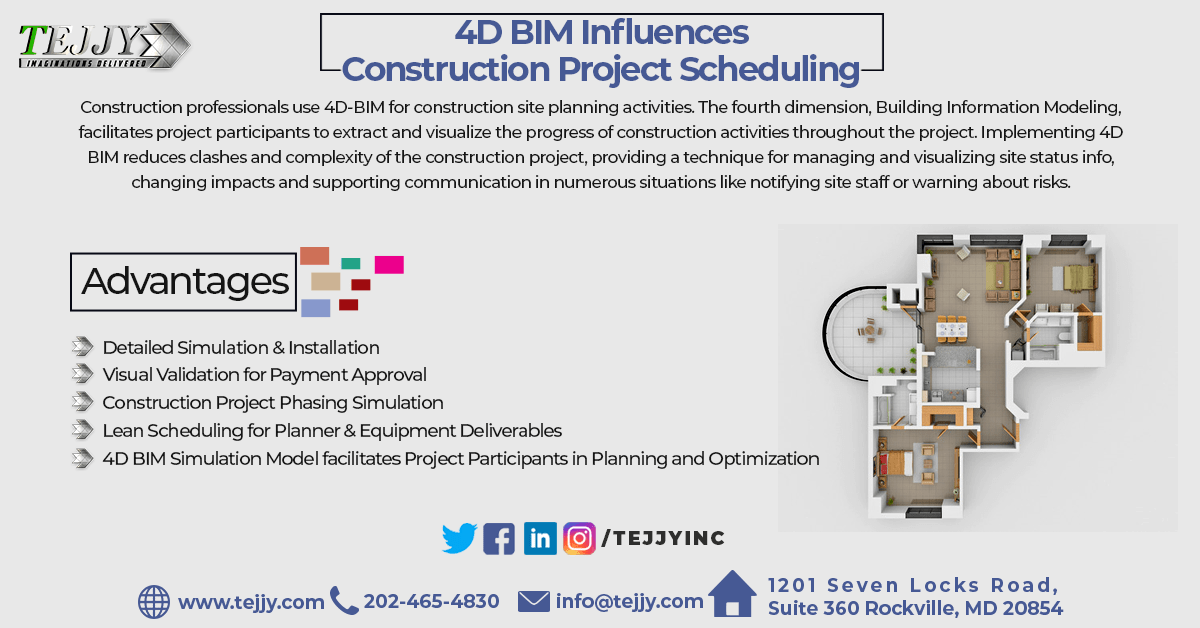 Measurement, Simulation & Scheduling, Planning with Time Tracking
4D Construction simulation streamlines work for project team involving architects, engineers, contractor, designer. The collaborative platform generated by 4D BIM Scheduling enables better envisioning of project objectives through improved construction planner.
Construction scheduling software like Autodesk Revit, Navisworks help to improve construction schedules, tracking material with efficiently managed supply chain.
Tejjy Inc. CPM construction schedules has been delivering services for commercial and residential sector.
Our BIM Modelers help construction planners simulate construction activities, detecting clash and interference, improving construction schedules, tracking materials, and managing the supply chain.
Tejjy Inc. 4D phasing is precisely detailing construction phase. As a communication tool 4D Construction Phasing allows better planning, coordination, accuracy of construction operations with reduced time delay and rework through its synchronized designing
Benefits of 4D BIM Scheduling Service
Construction Process Visualization

Improved Planning & Management

Effective Bidding Presentation

Streamlined Productivity

Reduced Error & Construction Cost

Proficient Construction Process Execution

Effective Utilization of Site Space

Problem Forecast before Construction

Better Understanding of Project Milestones

Space Conflict Resolution

Coordinated Construction Operations

Tracking Actual Project Progress
Our 4D BIM Construction Phasing Services:
4D Pre-Bidding:

Tejjy Inc. professionals develop the project sequence for stakeholders and investors based on cost and time involved in construction project lifecycle.

4D Demolition, Renovation & Expansion

Construction Management & Planning

4D Construction Video animation:

The entire construction project is animated and recorded in form of video
Call us at  202-465-4830 or email us at info@tejjy.com to discuss with us your project idea or requirements.