Tejjy Inc assists Structural Engineering Washington DC in developing their design from the schematic stage to the stage of construction. Our team interacts with engineers and designers to understand their design and provide value-added support.  Our Structural Building Model makes a crucial impact on the deigning activities of the Structural engineering services.
Structural Analysis
We provide accurate, reliable and cost-effective solutions through the performance of analysis based on overall systems. Our experts validate the design for constructability, performance, and maintenance of various structures like column size, openings in structure and beam depth. We make a comprehensive analysis of specific structural elements like columns, beams and floors for delivering the project in a risk-free environment.  
Our BIM Structural Analysis:
Testing Effects – We calculate Structural Load, Wind Load, and Live Load verifying compliance. We also perform comprehensive element analysis of columns, beams & floors for project delivery in a risk-free environment.
Design Validation – Our team validates the design for constructability, performance & maintenance of wood, steel & concrete elements like column size, structural openings, beam depths, and clashes. We also use BIM for detailing & prefabrication.
Calculation of Material Quantity – Our engineers perform Quantity Take-off, Estimation and Coordination through BIM.
Planning, Preparing & Schedule Update – We plan, prepare, and update schedule to improve Facility Design, Construction & Life-Cycle Performance. BIM helps us integrate procurement, document management, cost control, project management, energy performance and budget evaluation.
Structural Design
We follow various stages of Design Evolution like Schematic Design, Detailed Design and Construction Documentation: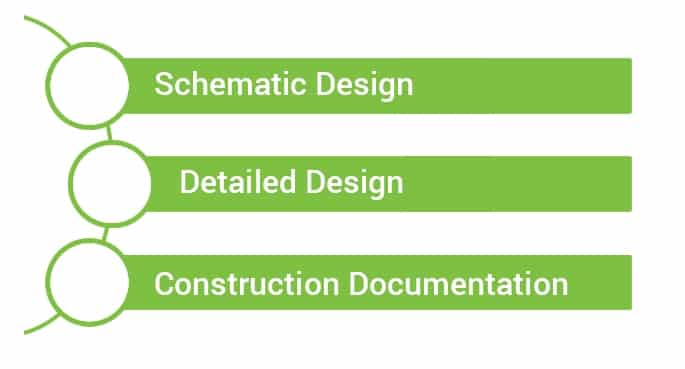 Schematic Design – In this initial stage of design, our professionals define the general project scope, including scale and relationships among building components. Our designers' sketches interpret the desired functional relationships among various activities, which get translated to the Revit Model. Here, the description is in terms of integrated ideas about what the proposed structure should behave and look. The Model helps us make initial studies like overall project phasing. We perform analysis based on the design build firm ,whole system and extract quantities based on specific elements.
Detailed Design – The stage follows the schematic design, where the design decisions are worked out in detail in the Revit model. We offer clients drafted to-scale drawings, showing how the project would look like after construction. We leverage the Model for generating Construction Documents and Shop Drawings and used for Clash & Cost Analysis.
Construction Documentation – This is like a bridge between design and physical building form. At this stage, we prepare the drawings and specifications for the construction of a building project. We include various elements in the Model that are accurate in shape, size, location, quantity, and orientation with complete fabrication and detailing. We perform Clash Detection, Sequencing & Cost Analysis at this level.
Call us at 202-465-4830 or email us at info@tejjy.com to discuss with us your project idea or requirements in Structural Engineering Washington DC.