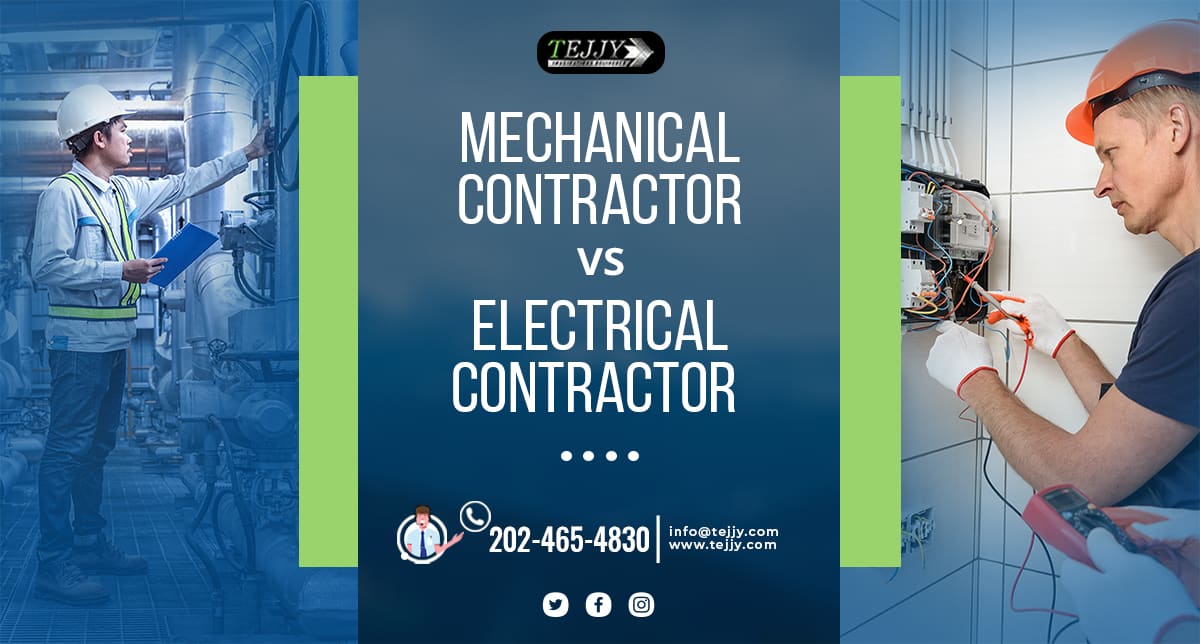 Opting for mechanical engineering is indeed a wise decision. According to U.S. Bureau of Labor Statistics, there is a strong job opportunity over the next era. The median pay stands at about $88,430 in 2019 (yearly). Unlike construction career fields, mechanical engineers have to work in offices, visiting job sites whenever equipment requires attention. Once the designing of the mechanical building components gets completed, mechanical contractors perform the mechanical shop drawings, installation as per plan and specifications of the mechanical engineering design. In contrast, electrical contractors accomplish specific electrical construction work associated with the design, installation, and maintenance of the electrical system. Electrical contractors ensure the fact that the electrical drawings systems work effectively, safely, and in an environmentally friendly manner. Before evaluating the difference between mechanical contractor and electrical contractor in accordance to BIM service providers in USA, let's check out the responsibilities of individual contractor.
Responsibilities of a Mechanical Contractor
Managing the Fundamentals of a Project
 Mechanical contractors ensure that the work is executed from the start to finish, through installation of a new refrigeration system or the maintenance of the plumbing system for a commercial facility. They interact with clients, monitor timelines and manage construction workflow as per the budget.
Handling Mechanical Systems
 Mechanical contractors are proficient at handling the mechanical systems of the building. They assemble the systems in advance with the support of BIM engineering company and install them on-site. They also supervise virtual teams through multiple locations, keeping the project on schedule with MEP BIM services, ensuring production within budget.
Dealing with On-Site Jobs
 Mechanical contractors also have to deal with unfinished tasks. They oversee staff, monitor the use of resources, and manage construction and maintenance. They also evaluate the risks and eliminate obstacles for project accomplishment.
Responsibilities of an Electrical Contractor
Electrical contractors are able to undertake various tasks, as per their specialty. They provide input into the constructability design and planning submission with a higher Level of Detail. Through an approved design and budget, the electrical contractors schedule their work and start construction, checking MEP drawings.
Working with Voice/Data/Video
The electrical contractors often have to work with low-voltage systems such as power controls, wireless networks, power backup, telecommunications, fiber optics and security systems.
Dealing with High Voltage Power Transmission
Electrical contractors also work outside with high-voltage power for transmission and distribution of lines at power plants or other locations. They ensure that electrical power gets transmitted to every home and building.
Many electrical contractors also work within a property, performing cabling, installation, repairing, rewiring, and maintenance within various buildings.
Many construction professionals want to know about Mechanical contractors VS Electrical contractors. The difference between a mechanical contractor and an electrical contractor is pertaining to their respective field of operations. Let's now find out the variance based on the perspectives of BIM service providers in the USA.
BIM Services for Mechanical Contractors
Competent BIM services provided by BIM engineering company comprise of 3D BIM modeling, clash detection and resolution, design validation, constructability review, 5D BIM quantity take-off, mechanical shop drawings, spool drawings, prefabrication, etc.
Mechanical Model Creation
 BIM engineering company creates a model of the HVAC system, with the details of hangers, trapeze, and seismic restrainers. The information is required for architectural services, structural engineering, and other utility sources. The final 3D BIM model is produced after resolving clashes by re-routing ductwork, modifying elevations, and re-sizing ducts. Detailed mechanical shop drawings are produced from the model for mechanical system installation, spool drawings are generated for prefabrication and other MEP drawings are created for field automation using GPS equipment.  Usually, SMACNA and other local codes as followed for MEP BIM services. Compressor, hot water pump, valve, etc. are some examples of mechanical models created by BIM service providers in the USA.
 BIM mechanical shop Drawings are produced as per project standards and they are beneficial to the contractors, suppliers, and manufacturers during construction. MEP BIM services are extremely useful for constructing complex structures. A competent BIM engineering company generates accurate sleeves, penetration, and hanger locations from the 3D BIM model before the onset of the construction work. MEP drawings are usually obtained directly from the coordinated BIM models and they are comprehensive enough for workshop fabrication and on-site construction. The popular BIM mechanical shop drawings encompass block-out drawings, equipment pad layouts, sleeve, inserts, and hanger drawings.
Quantity Take-off / Bill of Materials
 One of the primary benefits of 3D modeling for MEP BIM services includes the production of accurate quantity information. Bill of Materials obtained from 3D BIM models is detailed enough as per the client's requirement for procurement, fabrication, and installation.
BIM Services for Electrical Contractors
BIM service providers in the USA facilitate the electrical contractors through 3d electrical modeling, design validation, clash coordination, shop drawing creation, and quantity take-off or 5D BIM cost estimating services.
Electrical Model Creation
 Top BIM engineering company specializes in the construction of virtual 3D BIM electrical models of cable trays, light fixtures, conduits, fire alarms, and other electrical equipment as per MEP drawings. Comprehensive electrical room models are produced showing electrical connections amongst the panels and transformers. Design Validation is also provided for improving the efficacy of projects, saving construction costs. Some of the instances of the electrical BIM modeling include feeder conduit, electrical room, substation, and conduit rack.
Electrical Design Validation
 Validation of connected loads is produced from the 3D BIM model by producing the circuits in Revit MEP BIM services. The prerequisite of CB Rating of circuits is measured to design a well-organized wiring system. Voltage ratings are also verified by BIM engineering company for components and distribution system.
Electrical BIM shop drawings are created as per project standards from the BIM model before construction and are detailed enough for workshop fabrication. The MEP drawings are directly downloaded into GPS instruments for accurate layout creation. Some of the instances of electrical shop drawings encompass layouts of power, containment, lighting, specialty system, structured cabling system, and fire alarm.
 3D BIM model produces accurate quantities of all materials that are automatically updated with any change in the BIM model. Quantity Take-Off reports are formatted in Excel and exported to a database for comprehensive analysis. Top BIM service providers in USA generate quantities for a specific project area (4D/5D) for facilitating material procurement and saving inventory costs. Quantity Take-Off services can be obtained for conduits, hangers, light fittings, outlets and other electrical equipment like security devices, communication devices, etc.
To know more about mechanical contractor vs. electrical contractor, consult the best BIM engineering company – Tejjy Inc. at 202-465-4830 or info@tejjy.com.