3D Modeling services are making a significant impact on modern society. Professionals from various industry sectors are adopting the 3D visualization and rendering in their work process to gain substantial advantages and elevate the level of deliverables. As per the industry research, it is found that the size of Building Information Modeling (BIM) market is projected to grow from USD 4.9 billion in the year 2019 to USD 8.9 billion in the year 2024, at a compound annual growth rate of 12.7%. The major factors driving the growth of the BIM in USA market especially are increasing population and on-going urbanization. Software applications will account for a large amount of building information modeling market by 2024. Major players in the sectors include Autodesk, Bentley Systems, Nemetschek, Dassault Systèmes, Trimble and 20 other software companies. Another industry research conducted by a Technology and Telecommunication states that the 3D Display market revenue in North America to grow from 7.48 billion US dollar in 2012 to 51.2 billion US dollar in 2022.
Now, How 3D Modeling has become the main contributor? The modus operandi involves a digitized platform combining the use of advanced computer software application for creating a comprehensive 3D model. The process entails the use of combining polygons, spline curves, 3D shapes as well as NURBS (non-uniform rational B-splines). Initially, you can create a simple shape and progressively you can consider several other aspects like joints, movement path and so on. Furthermore, you can apply a texture to provide a realistic look to the model. You can get every detail in the 3D model. Several highly advanced software programs help to create the model such as Revit, 3DS Max, AutoCAD, Rhino, Blender, Cinema 4D and more.
Industries Enveloping 3D Modeling Services for Higher Success Rates
Now, let's focus on the industries that are using 3D modeling techniques frequently in their work process to improve productivity and efficiency.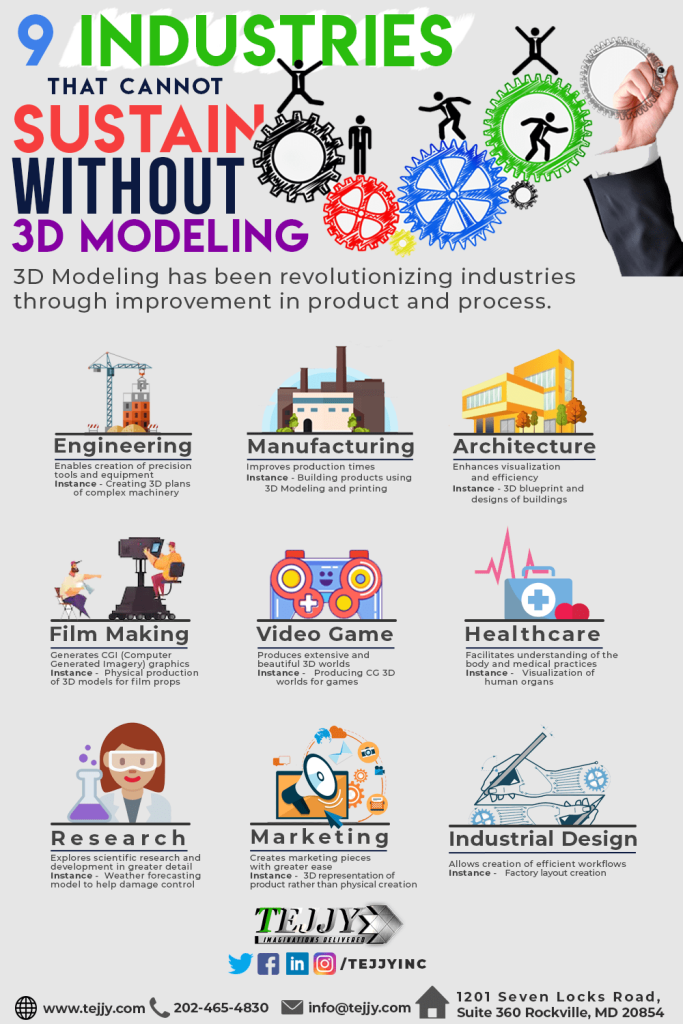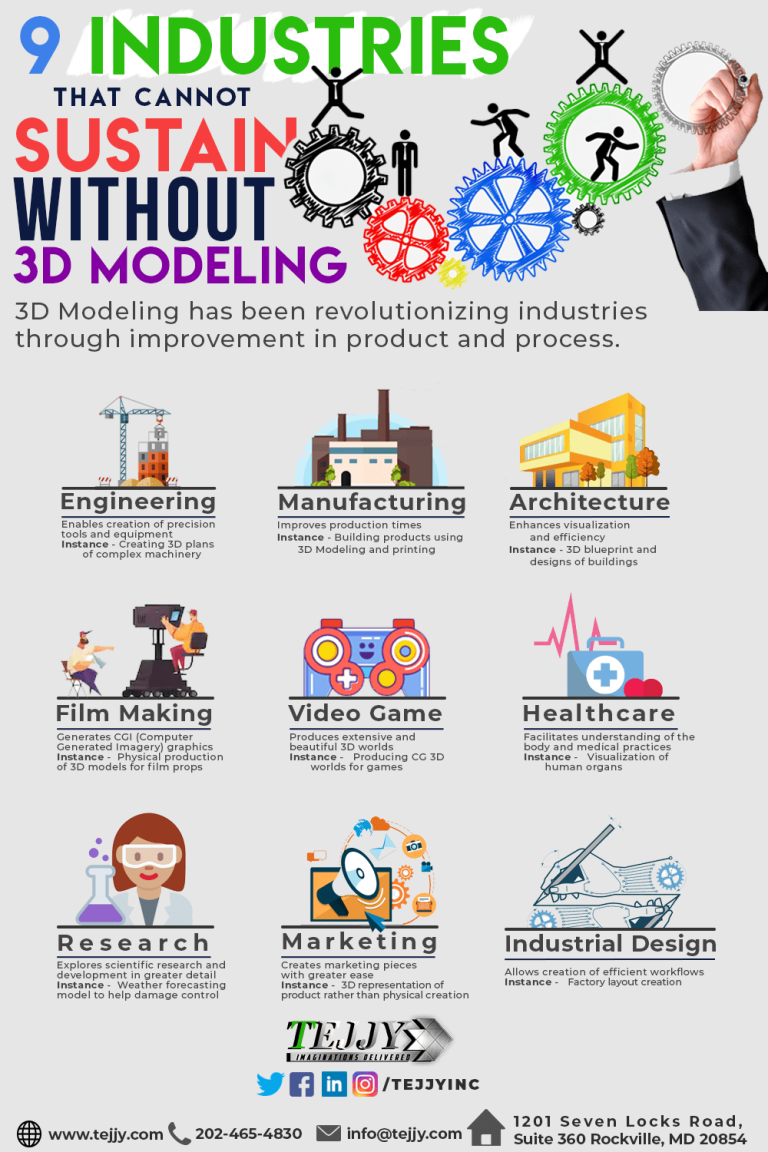 Engineering – 3D Modeling facilitates engineers to visualize their machinery as well as their processes in greater detail. 3D provides a platform for engineers to dig inside every corner of the machine like for instance using high-powered laser cutters to produce sheet-metal specifications to the smallest measurements. No longer, the engineers have to work with the pen and paper blueprints. This precise exploration of the machinery allows better operational efficiency. Consequently, this leads to minimize errors, wastage, and unnecessary expenses.
Manufacturing – The manufacturing industry is continuously progressing. You must have seen examples like the automation in the original factory lines of Henry T. Ford. Currently, the sector has shifted to an entirely new era of efficiency with 3D modeling and printing in the USA and across the globe. The techniques have given a new vision and horizon to the manufacturing industry. Design and print at a click. No imaginations are restricted to any boundary. The manufacturers can create an entire building with less wastage, enabling excellent creativity.
Architecture – No longer hours of continuous sitting to manage loads of building drawings and materials. Few clicks and your creativity can be seen in the form of complete structure, showing every facet of the building. Architecture industry visualization has been revolutionized by architectural 3d modeling services. The architects can now make building analysis with 3D BIM visualization and can show how visitors and building inhabitants will interact with a construction. They can experience building before it becomes real. Design visualization doesn't get hampered with the ability of the viewer to interpret 2D drawings mentally. Using Revit BIM software solution along with 3DS Max, the architects can visualize building performance before construction. They can thus explore, validate and convey building designs successfully, identifying constructability issues and saving time
Filmmaking – Creation of imaginary CGI (Computer Generated Imagery) graphics would just not be possible to make through physical production processes. The recent films like Marvel superhero series, Avengers: Infinity War would not have been possible without using 3D modeling techniques and CGI. No character like Groot or Iron Man would have been born in reality, neither any realization of the worlds and regions like Wakanda and Titan could have been visualized without 3D modeling, animation ,visualization and walkthrough implementation. After reaching this level of finess there is no turn back or runaway of the film industry from 3D softwares.
Video Game Design – The video game developers have created a virtual world of gaming. No longers are the arrow bow world. You enter the screen and are practically part of the game. They can even recreate the sea and waves and create natural particles like smoke, dust, and weather conditions. Recent games like God of War for the PS4 show the use of 3D by throwing the player into Norse Mythology, confronting gods and monsters. Kids, adults fascinated with the game world will accept no less than what is at present which is again impossible without 3D animation and modelling world.
Healthcare – No industry has lesser positive impacts of 3D modeling techniques. Health market is most beneficial and 3D is like a saviour for human kind. Visualizing the human organs to improve the understanding of the body and medical practices is a boon. Pharmaceutical industries have adopted this technique to create CGI versions of the body and look at anything like the circulatory system, neurons in the brain as well as the structure of the lungs. 3D modeling also helps in creating artificial organs and medical equipment. Researchers are using modeling programs for making new equipment designs like scalpels and forceps. The programs are combined with 3D printers and CAD machines for creating testing prototypes for better understanding.
Scientific Research – In climate models and projections, 3D modeling has transformed the way of analyzing and predicting the weather. Climatologists are using advanced modeling software applications for creating weather zones and simulations, showing weather patterns and predicting how dangerous natural occurrences like hurricanes and earthquakes will impact the earth. Scanning technology and 3D modeling are also used by scientists to map the planet like the caves to be explored.
Marketing – Marketing pervades in every aspect of modern lives. Billboards, television advertisements, flyers, and social media – almost everywhere marketing is creating a great impact in the world of business. 3D modeling is facilitating product marketing by creating fantastic product catalogs and advertising media and placing products seamlessly within any environment. Moreover, patterns, textures, shapes, and size can also be altered with a few clicks of a mouse, avoiding expensive marketing setups. AEC clients can win bids through marketing BIM presentations of high-grade 3D rendered images, 4D Construction Phasing, Site Logistics and 3D Walkthrough Animations. Construction phasing and walkthroughs can be included in animation, showcasing every angle of the constructed space to clients. 3D Walkthrough convinces the homeowners, designers, contractors, buyers, and investors, by allowing them to experience a realistic feel of the building size and layout and navigate construction on their own terms.
Industrial Design – 3D modeling has brought an unparalleled level of detail and efficiency to freelance industrial design which involves the creation of factory layouts, machinery, and production processes. Using 3D model creation, companies can instantly realize the whole facility layouts. A food packaging company using 3D technique can design the floor space of their factory with every detail including assembly lines, loading bays, and goods inward. As a result of which, there is improved efficiency through visualizing the entire factory, and identifying and eliminating potential bottlenecks in production. Productive and profitable facilities can also be created through this technique for the industrial design industry.
So, it's evident that 3D modeling has myriad uses, opening up new prospects and driving forward innovation and ingenuity. Tejjy Inc. – Construction management, engineering, 3D BIM Modeling Company in Washington DC, USA, boasts of expert engineers and BIM modelers who implement 3D BIM Modeling solutions for construction clients.
Connect with BIM experts at Tejjy Inc. for MEP, structural and architectural 3D modeling services serving Washington DC, Baltimore, Virginia and MD areas in USA and get the perfect way to execute your projects. Contact us at 202-465-4830 or info@tejjy.com for a free quote today.