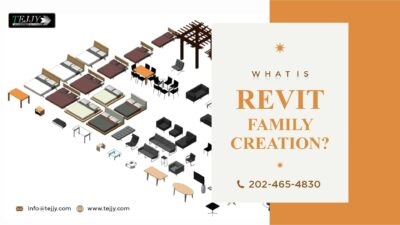 Revit constitutes to be an effective Architectural Design and Documentation software of Autodesk. Opting for Revit Libraries Services not only allows the creation of basic parametric families such as furniture and equipment. But also, the graphical quality of 3D BIM models can be improved.  Now, let's delve deep into the details of What is Revit Family Creation?
Before jumping onto Revit we need to understand What are Families? The fact of the matter is Family are just the components required to build your model. These can be walls, windows, doors etc. These components vary in physical dimensions as per the requirement of buildings. So, when you create a family in Revit as per the required specifications it is called customized Revit families. But Who is Revit? Revit is software created by Autodesk. Revit software comes with predefined families also. Leaving you with an option to either build from scratch or adapt from existing.
These days, BIM service providers in USA are working with parametric family creation in Revit. It comes with an underline warning. The fact of the matter, If components of Revit MEP family creation are not designed in a proper way, they reduce the speed of your PC performance, project presentation, and project output. Parametric family creation in Revit facilitates in obtaining the right balance between practicality and functionality and delivers a rAnd now a range of Revit components.
BIM consultants create a new family in Revit and ensure that your Revit components are created intelligently with the pragmatism to serve the drive. Parametric Revit content creation encompasses real-life product information or performance mockups, required for performing calculation analysis and construction simulations. To create Revit MEP family creation, the software embraces large objects to be modified in various ways. Parametric Revit electrical families help to control objects through formulas and assess client products proficiently before modeling.
Also Read – What Are the Benefits of Using Revit MEP?
⭐

How Revit Family Library Benefit the AEC Industry?

Revit content creation empowers all Architecture, Engineering, and Construction industries.   including architects, designers, engineers, builders, contractors, facility managers, and owners. All these construction professionals accurately communicate design objectives, investigate building performance and undertake cost estimation at the pre-construction stage. Owing to parametric family creation in Revit, architects could easily capture, assess designs and maintain coordinated building data throughout the construction project lifecycle.

To create a new family in Revit,  building components are engineered with reusable objects and amassed with related parameters and graphical representations. The families enable clients to seek for customized or manufacturer-specific content pertaining to Revit MEP family creation, door family creation in Revit and Revit electrical families.

Since Revit content creation constitutes to be the building block of the BIM Model,  stakeholders within the BIM lifecycle getting benefited from the software. The smart 3D representation of the virtual world integrates geometry and other technical product specifications to empower our project team members.
Architects and Engineers:
To create a new family Revit for architectural services, architects are delivering the best performance through making a virtual representation of building products through BIM. Starting from the stage of conceptual design development to construction documentation, architectural design firms know about individual building product specifications such as the color, cost, MEP details, and other information. Engineers using BIM Revit Model examine and interrogate within Revit and third-party software.
Builders and Contractors:
Builders and contractors evaluate 3D Revit BIM Model and construction documentation and organize individual building products. Since parametric family creation in Revit BIM model comprises all significant information, information about the technical specification, product manufacturer, and product installation could be straightaway extracted from it.
Facility Managers and Owners:
Revit content creation also endows the facility managers and owners by providing a virtual representation of the building. The owners and facility managers integrate 3D BIM Revit Model into an existing facility management software to get reduced operational, management, and space planning.
⭐

What are the Revit Family Components?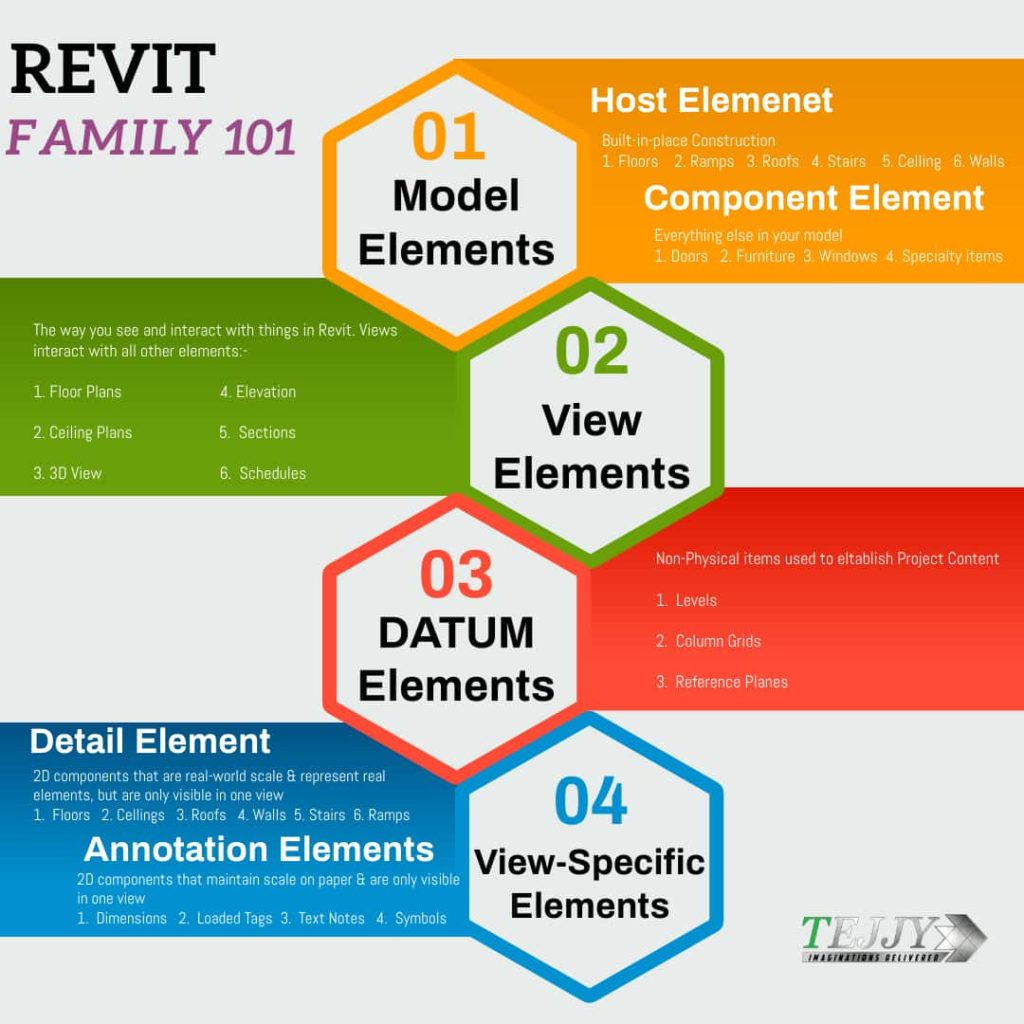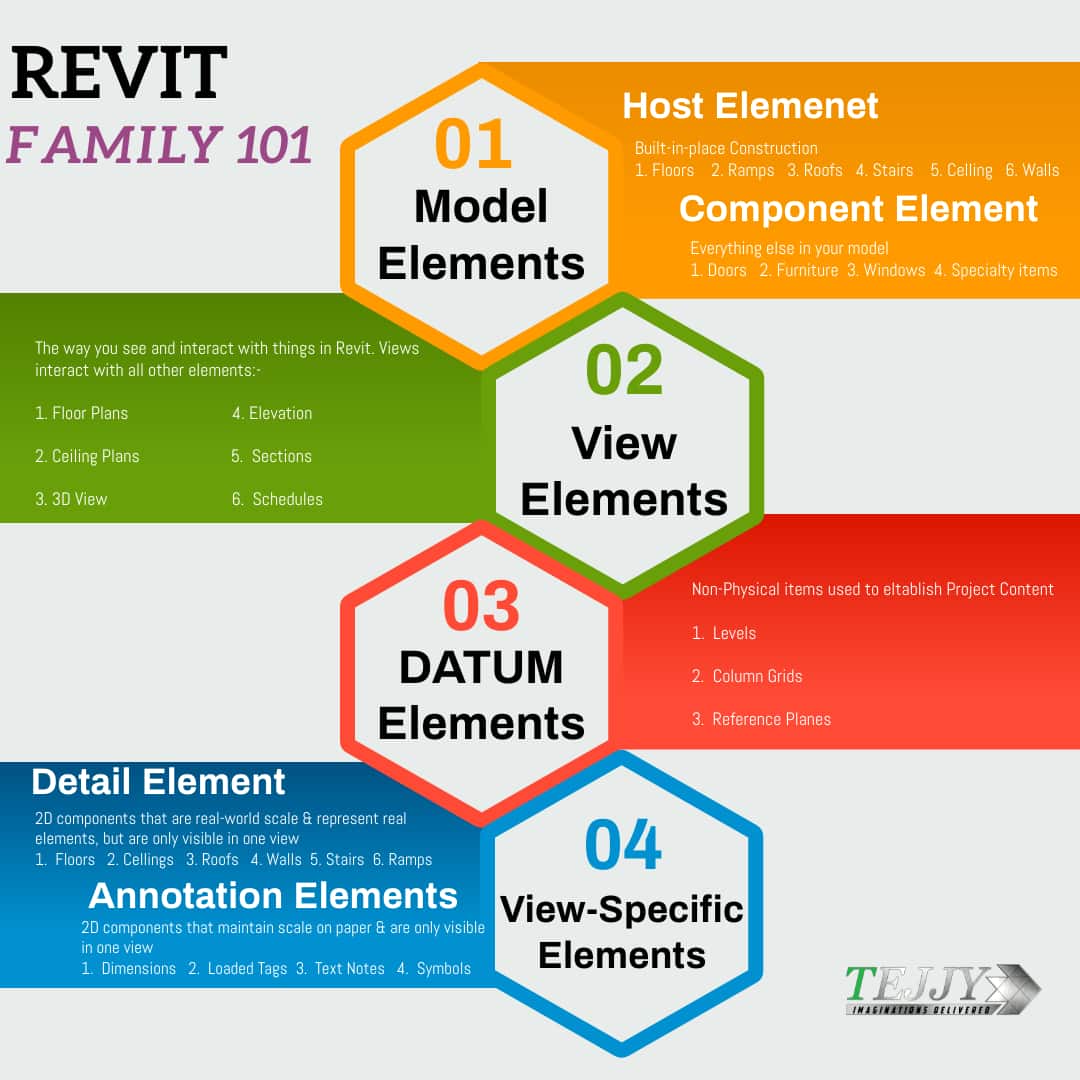 BIM is not only about creating a 3D building structure. The BIM model is only a cage without Revit. Inserting Revit Family components provides a fresh lease of life to the cage. To create new family Revit, several things are taken into consideration like the door family creation in Revit, windows, stairs, railings, cabinets, drawers, clocks, desk, etc. Accurate placement of Revit Family components creates a great impact on construction.
Some of the instances of BIM Revit Families Creation:
📌Architectural Revit Families Creation Components
Doors, windows, furniture, railings, casework
📌 Mechanical Revit Family Creation Components
HVAC, pipes, valves, strainers, duct hangers, air terminals
📌 HVAC Revit Family Creation Components
Fan coil units, fire dampers, diffusers, grilles, registers
📌Structural Revit Family Creation Components
Columns with steel sections, beams, foundations, structural connections, base plates, gusset plates & stiffeners
📌Plumbing Revit Families Creation Components
Pumps, Valves, Fixtures – washbasins, water closets, urinals, devices & fittings
📌 Firefighting Revit Families Creation Components
Sprinklers, valves, fittings, fire extinguishers, cabinets
⭐

How BIM Revit Families Supports Architectural Building Design?

Building Information Modeling aids higher sustainability and energy efficiency for architectural building design. Across the world, people are greatly influenced by sustainable green building designs. Revit architectural family creation facilitates architectural projects to effectively make housing plans, retail showrooms, commercial building complexes, offices, and many more. Proficient BIM Revit content creation team provides architectural family creation services working with various inputs like Auto CAD, scanned images, sketches, photos, and electronic files for making the architectural designs real and appealing.

Revit family supported architectural BIM services include quantity takeoffs, 3d modeling, clash coordination, and scan to BIM services. These services will facilitate architects to coordinate with team members in an improved way with enhanced efficiency. Using architectural Revit BIM services, architects are able to capture the complex market of the construction industry.
⭐

How BIM Revit Families Creation Facilitates MEP Engineers?

Revit MEP family creation is one of the key facets for MEP engineers. MEP BIM service providers in the USA create a new family in Revit to produce MEP design drawings from BIM 3D models with HVAC, plumbing, fire safety, and electrical details. As an effective information management platform, BIM reflects construction design changes in real-time. This mitigates clashes and keeps engineering teams on the same page. Using Revit MEP BIM services, designers, contractors, and MEP consultants produce the coordinated model, and design document with all elements of mechanical, electrical, HVAC, and fire protection systems. Further, 4D construction scheduling and 5D cost estimation are obtained through BIM Revit MEP families.
⭐ 

Revit BIM Model for Structural Engineers

Revit BIM supports structural engineers by providing specifications about the materials and resources. Structural Revit content creation allows accurate material and cost estimation with proper building geometry and geographic information. This will help you deliver a realistic building visualization with accurate building design specifications. For engineers, a clear standpoint on building lifespan can be calculated. Structural engineers with Revit family creation are able to easily visualize a building before the commencement of the building process.

To know more about Revit family's creation or create new family Revit, consult the BIM consultants of Tejjy Inc. at 202-465-4830 or info@tejjy.com. For improved speed and reduced modeling, time contact Tejjy BIM engineer. Being an experienced BIM service provider in the USA we facilitate clients to reduce manual work, maximizing productivity.