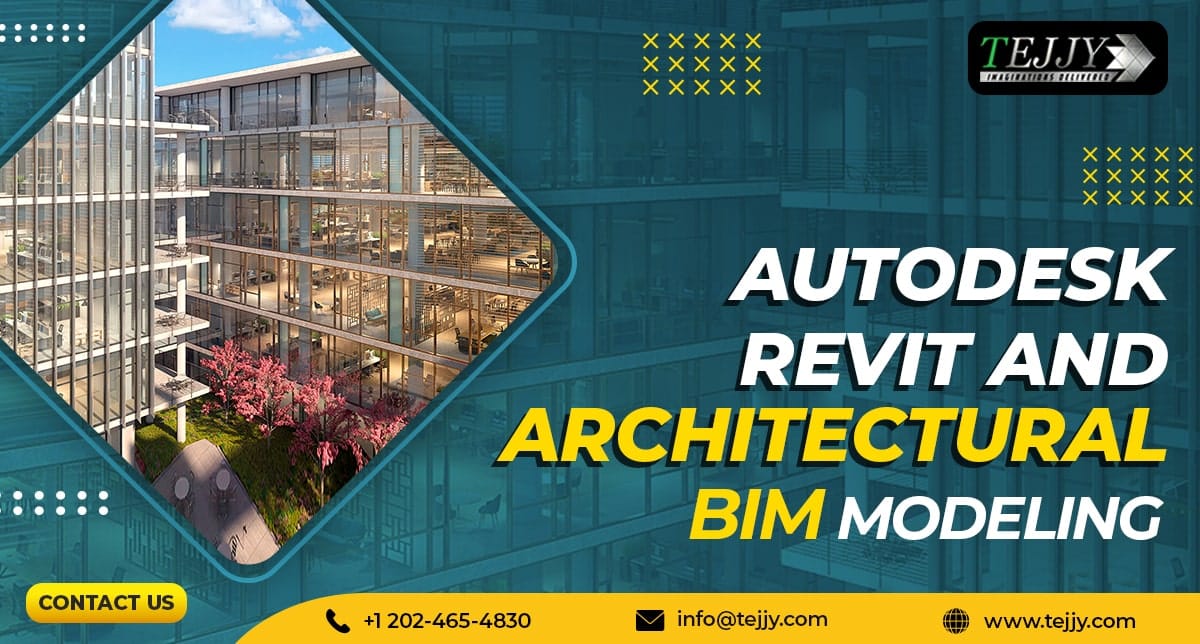 Today, architects are using Autodesk Revit BIM Software Solution for exploring, validating & conveying building designs. This helps them to detect constructability issues at the pre-construction stage, saving time. Envisaging how the residents & visitors will interact with a building entails a vital part of the design process – be it related to the casting of shadow on an adjacent area, brick facade matching with other buildings, overcrowded lobby area, or adequate daylight to monitoring to a passage.  All these can be accurately visualized with the help of Autodesk Revit BIM technology before the building design becomes real. BIM Modeling services provides the ability to visualize building performance before construction.
Benefits of Architectural BIM Modeling through Revit:
Coordination: Communication gets streamlined with 3D BIM visualization amongst all AEC project stakeholders for quick decision making during the design & the pre-construction stages.
Promotional Tool: Architectural 3D visualization through BIM empowers prospective investors, consumers & project owners to comprehend the layout & spatial interrelationships of a building project.
Productivity: Accurate and coordinated Construction Document Sets get produced from the 3D BIM modeling services, including all data, graphics, and schedules.
Conceptual Cost Estimation: Bill of Materials or Quantity take-offs can be obtained from the Architectural 3D BIM modeling which, when linked to the prevailing rates of materials & construction methods, can facilitate the project stakeholders for preparing cost estimates.
Integrated Building Materials: Real-life materials drive comprehensive plan, section, and elevation representations of building components for saving documentation time. The integrated Accurender, Ray Tracing & Real-Time Radiosity Engine for Revit uses similar materials, saving time & effort while producing visualizations.
Revit BIM Architectural Services
Architectural Design Development through Revit BIM: Architects use Revit BIM for developing their architectural design.  Team of BIM Engineers interacts with the architects for understanding the architectural design-intent and thus provides value-added support with the design evolution from the conceptual or the schematic stage to the construction stage. To execute the architectural drawings and creating an integrated architectural 3D Model, BIM Modelers work with Conceptual Drawings, Conceptual Models and Hand Sketches as inputs. 
3 Main Stages of Architectural Design Development in Revit BIM include:
Architectural Conceptual Design: Conceptual designing is the initial phase of architectural design, in which the architectural drawings or the solid models are the tools for providing an interpretation of the proposed system. The description gives an integrated idea and conceptualization of the behaviors of the proposed system so that it is comprehensible by the clients in their desired way. The design stage is related to the LOD 100 Revit Model, including the elements defined as Masses and used for preliminary studies, like Conceptual Design & Project Phasing.
In the Revit software platform, every design option belongs to a design option set, which is a method of structuring the design into clusters for assisting architectural workflow. For instance, an architectural project may have design options for an exterior façade, bathroom configuration and ceiling plan. Revit facilitates the architect to produce various sets for design options.
2. Architectural Detailed Design: This stage follows the conceptual or schematic design where the Autodesk Revit & Architectural BIM Modeling are executed in greater detail. The details get reflected in the model, matching with the LOD 300 Revit model. This provides the client with drafted to-scale drawings, exemplifying how the architectural project would appear after the construction gets over. LOD 300 models comprise of elements where the Generic Components get substituted with completely defined Assemblies. Analysis based on Specific Systems can be accomplished and Quantities based on Materials can be acquired. At LOD 300, the architectural model can be leveraged for Construction Documentation & Shop Drawings creation for Energy Performance, Clash & Cost.
3. Architectural Construction Documentation:
Construction Documentation acts as a bridge between building design & physical construction, encompassing the creation of drawings and specifications stating the comprehensive requirements of the building project. This corresponds to LOD 400 Revit Model with all information of the building including accurate elements in terms of size, shape, location, quantity & orientation with fabrication, assembly & detailed information. During this Level, the Model has non-geometric (3D) information such as the text, notes & 2D details making it to be a complete representation of all the projected building elements. Analysis can also be accomplished at this stage like Energy Performance, Clash Detection as well as Sequencing & Cost. Several sheets are produced at this level including:
Floor Plan, Room & Furniture Layouts
Building Sections, Partition Details & Interior Elevations
Door & Window Schedules
Floor Finish & Reflected Ceiling Plans
Landscape Plans & Details
Quantity Take-Off
Architectural Coordination with Other Building Services:
Coordination among various parts of a building is significant for the building design. The breaks between design disciplines are often a cause for change orders in the field of construction and can get eliminated through early coordination among trades including Architecture, Structure and MEP, thus closing design loopholes.
Interior Design for Architecture:
Architects also get the support of Revit BIM for interior design for renovation or new construction. Revit BIM assists the architects to continue the job of Construction Documentation with all detailed sections, creating the schedules of materials & fixtures.
Architectural Thermal Analysis of Buildings:
Identifying and benchmarking energy usage across buildings is a significant consideration for architects while designing. This ascertains the prospects for energy efficiency which in turn supports cost savings and enhanced building performance. With the advanced facets of Revit Thermal analysis, one can understand the position of the sun and how it changes to the building being designed throughout a day or different seasons in a year. This helps the architects in visualizing shadows and evaluating building performance in terms of natural light. Solar Study tool in Revit software platform helps the architects to analyze the lighting and heating requirements of the building.
Architectural BIM Visualization & Virtual Mock – The design verification process through Revit BIM enables the architect to ensure design as per client expectations. A virtual mock-up of building components with equipment is an operational device for performing this task.
Architectural Content Development through Revit BIM
Architects can transform drawings to BIM workflow with Content Development through Revit Families, containing all relevant information about technical specifications like product manufacturer; Omni Class Code, Title as well as Subcategories for helping clients identify the necessary component with ease. Some of the Examples of Autodesk Revit & Architectural BIM Modeling services include:
Cabinet, Drawer, Fixture, Furniture
Doors, Windows, Specialty Equipment
Stairs, Railings, Cart, Desk
Caseworks, Sheets, Watches
Accessories for Interior Decorations
To know more about Autodesk Revit & Architectural BIM Modeling, get in touch with the BIM Modeling services Experts of BIM Companies in DC, Tejjy Inc. at 202-465-4830 or info@tejjy.com.