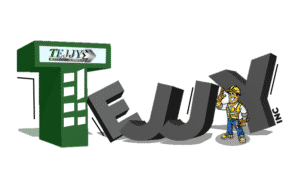 T —— Technology (Innovative).
The prime motto that drives Tejjy Inc is innovative technology adoption. Tejjy Inc continuously embraces technologies like Virtual Reality, 3D Printing, BIM, CAD, Drone, GIS Integration, at a breakneck pace to bring a paradigm shift in the construction sector. 
E ——- Engineering Excellence
Delivering construction projects with proper planning to commercial, residential and government industry.
J ——- Joggle For Better Designing.
Tejjy Inc is continually joggling to shape the design build projects, reducing cost, and delivering projects on time. 
J —— Joining(Collaboration).
Our team of experts collaborates coherently to integrate the pre-build and post-build stages of construction to envision your dream into reality.
Y —–Yield Maximum Value to a Project. 
Tejjy Inc. yields sustainable, built environments to maximize value for clients.  
The word Tejjy has been derived from the name of the Hindu Goddess. Vaishno Devi, who has another name Tejas.
We abide by the mission to combine the power of technology with the Construction Industry to overcome the challenges. 
What Do We Offer Our Clients?
Construction Management
 – Tejjy Inc. provides turnkey construction management solutions that are cost-effective and customized according to the needs of our clients. We offer construction management solutions from the preconstruction planning  to bidding and negotiation, construction document management throughout construction project lifecycle management.,initiation of the project to the final build stage. By leveraging advanced Construction techniques such as Virtual Design build like BIM, Drones, VR, Robotics, and Big Data we provide a cost-effective solution to our clients. Read more about Construction Management.
Building Information Modeling (BIM)
 – Tejjy Inc. implements BIM to help clients assemble projects in a virtual environment, identifying potential problems at the initial stage. Our skilled BIM experts facilitate project coordination, risk mitigation, logistics planning, and cost optimization through 3D BIM Visualization, Animation Walkthrough, and 3D Modeling. The digitized technique allows us to explore and work with cutting edge technologies through 3D BIM Modeling, 4D Construction Simulation, 5D Cost estimation and Monitoring, 6D for sustainable environment, 7D Facility Management,8D BIM. Reliability and Integrity being the core principles allows us to outshine in BIM Resource Hiring and Staffing in USA. Read more about Building Information Modeling and Design build services for MEP, Mechanical, Structural Steel
Engineering Services: 
 – Team of expert engineers at Tejjy Inc. creates real value for AEC Industry, by helping clients save costs, and avoid errors in Engineering Services. BIM Engineering Solutions acts as a tool to serve the customized client process and achieve targets with the flexibility to fit within the client workflow, escalating profitability and efficacy of the deliverables.  We improve value engineering services of your construction project managing constructability issue, MEP, Prefabrication & Modularization, Structural BIM Modeling. Read more about Engineering Services.
Permit Expediting Service
 – An experienced permit expediting company in the DC Metropolitan Area, Tejjy Inc. provides seamless DCRA permit approval for construction clients from planning to the acquisition of occupancy permits. Expert permit facilitators have extensive knowledge of building & zoning codes of the regulatory permitting process in Washington DC. Read more about Permit Expediting Service for Commercial,Residential new/remodel/renovation permit process.
 – Tejjy Inc. delivers comprehensive architectural drafting and designing services, architectural BIM services involving the creation of drawings and 3D models, visualization for all building structures. Architects, designer, engineers, BIM modelers, drafters, MEP experts work in a collaborative environment with detailed design analysis. Adoption of sotware applications like Revit, AutoCAD, SketchUp, Solidworks, & MicroStation for  architectural BIM services with designing support, permit expediting services. Read more about Residential & Commercial Architectural Services in US.
For further details about our services in construction management, building information modeling, computer-aided design build and draft please visit us at or call us at 202-465-4830 or drop a mail at info@tejjy.com.