Subcontracting Opportunity with Tejjy Inc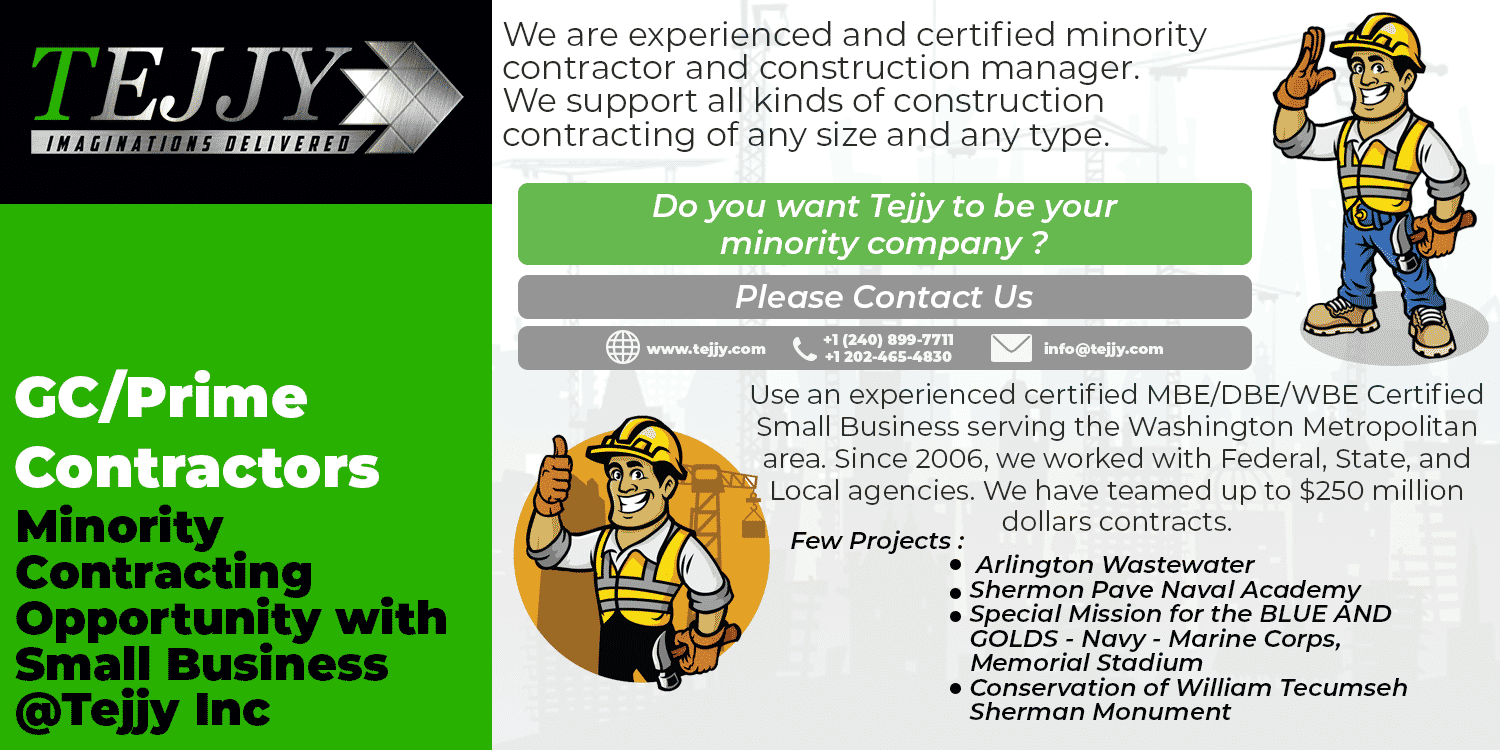 Tejjy Inc. believes in developing good relations with subcontractors, vendors, and suppliers. We are an experienced and certified contractor and construction manager. We support all kinds of construction subcontracting of any size and type. 
Do you want Tejjy Inc. to be your subcontracting company? 
Become a Subcontractor with us.
Team up with Tejjy Inc. Feel free to contact us.
Phone Number: 202-465-4830
Email Address: info@tejjy.com
Address: 1201 Seven Locks Road, Suite 360 Rockville, MD 20854
Why Choose Us?
We are an experienced certified MBE/DBE/WBE business serving the Washington Metropolitan area. 

Since our inception in 2006, we worked with Federal, State, and Local agencies.

We have teamed up to $250 million contracts.
Few Projects
Arlington Wastewater

Shermon Pave Naval Academy

Special Mission for the Blue & Golds, Navy-Marine Corps, Memorial Stadium

Conservation of William Tecumseh Shermon Monument
GEO BIM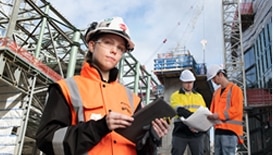 Geographic information is a crucial element of the decision-making process in construction. GIS enables all stakeholders involved in the construction project to be spatially aware. Using GIS, we can share various segments of construction lifecycle to our clients offered by GIS generated maps.We integrate, visualize, and analyze information about building and transportation infrastructure, with surrounding context including environmental, structural, demographic, and scientific data.
Benefits:
Better understanding the impact of decisions before & after construction
Improved Design in the Context of Real World Construction
Enhanced Efficiency to the entire construction lifecycle
Drone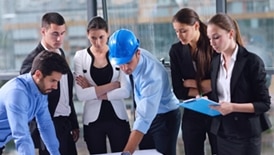 We are propelling innovations in the construction industry using Drone. The tool helps us improve communication and safety. We capture real-time field images with this technology to track building progress and offer real-time updates to our clients. Equipped with cameras, GPS units, thermal as well as infrared sensors, drones capture critical data on the building site.  We sent the information to a computer through drone software,
Let's take a quick look at the benefits of Drone.
Cost-Effective & Efficient Land Survey through well-informed estimates & decisions before breaking grounds
Marketing & Promotion, helping Potential Clients visualize the transformation of the land
Improving Safety of Construction Workers, preventing severe injuries& death
Showing Job Progress to Clients through videos and images
Monitoring Multiple Job Sites, without having to travel excessively
Construction Project Inspection avoiding needless distractions and potential delays
Monitoring Workers with unobstructed views of specific aspects of the site and general aerial shots
3D Printer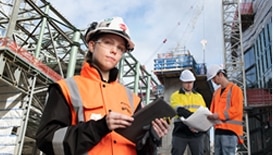 We use a 3D Printer to fabricate buildings and construction components. 3D printer helps us in making the prototype for complex geometrical elements. BIM facilitates more meaningful use of our 3D printing. Our professionals print the building in 3D to give a realistic feel to future construction.
Advantages:
Faster Construction
Increased Accuracy
Lower Labor Cost
Greater Integration of Function
Less Production of Waste
Risk Minimization
Virtual Reality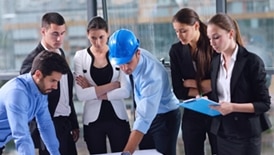 We use Virtual Reality to increase value for our clients and improve the predictability of project outcome. Our professionals deploy a wide array of new technologies like 3D printing, laser scanning, digital prefabrication, and 3D, 4D & 5D BIM to drive innovation and increase collaboration.
We use Virtual Reality for
Design Review
Walkthrough
Reviewing Coordinated Model with Team
Virtual Mock-up
Benefits
Quick Scale-Up in 3D
Streamlined Collaboration
Improved Customer Experience