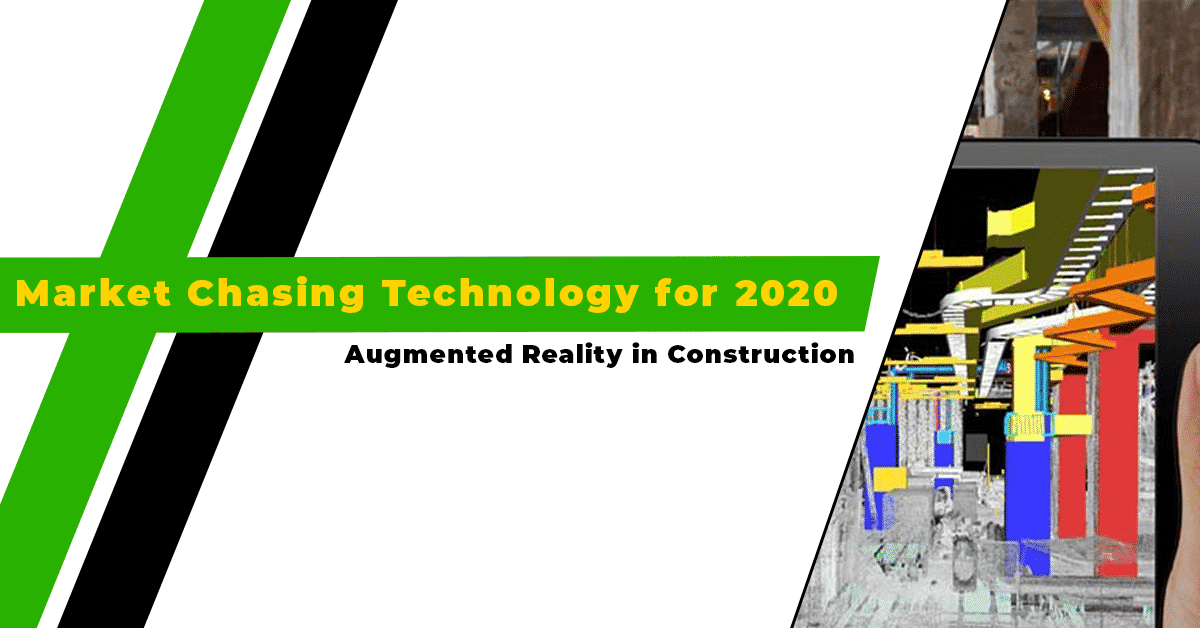 2019 is a breakthrough year for the construction industry. In the last year, the investment in construction technology has grown by 30% up to $1.05bn. The value of the construction sector is projected to go beyond $10 trn by 2020. But who would be the driving force for AEC services? 

Experienced architecture, engineering and construction companies are trying to grab the latest techniques for holding their ROI's high. So don't be left behind. Explore the unknown facts!!
BIM building information Modeling, VR Virtual Realty, Augmented reality AR , Robotics are few of the latest trending technique in construction.
What is AR Augmented Reality?
Using advanced camera and sensor, AR blends physical surroundings with computer-generated information, presenting in real-time. The technology has been used for several years in the video game and currently this "augmented" experience is creating waves in construction, providing opportunities to improve project lifecycle.
Blending digital and physical outlooks, augmented reality is assisting construction teams to become competent, precise, and confident in their projects. The AR global market is estimated to grow $90 billion by 2020. Instead of substituting workers on the field, AR can be used to improve the ways humans and digital machines collaborate.
As technology continues to grow, augmented reality will turn out to be a vital tool with the potential of transforming the future of the construction industry. Read on to learn about the applications of AR in 2020 and beyond.
Augmented Reality (AR) 
As per Construction World, though virtual reality has been a developing trend over the last few years, it will become outdated compared to augmented reality uses and benefits. AR presents the fact to visualize the real world through the camera lens. The technology will open new opportunities for the construction industry even if it comes with a cost. It'll revolutionize the project and the way of building things. Many consider that instead of using safety goggles, they will plan and plot sites before breaking ground.
How Augmented Reality works?
3D Model Creation, combining construction data
Users wear an AR device, orienting to their viewpoint
Building data presented digitally over physical surroundings in real-time
While virtual reality is strictly a digital experience, augmented reality pools real and digital into an immersive setting. AR projects 3D images on an individual's physical settings as they walk through with a mobile device.
Through GPS and cameras, AR presents actual data geospatially, updating and exhibiting the essential information as the user moves through the building space. Data like schedules, working specifics, and structural plans are easily accessible, letting users automate the construction process and make decisions on site.
Applications of AR in Construction
Augmented reality is used to improve efficiency, safety, streamline collaboration, manage costs, and boost the project. Let's check out the applications of Augmented Reality in construction.
1. Project Planning
Innovative developments in augmented reality help to produce 3D models directly on a 2D plan. Using 3D Modeling software and BIM (Building Information Modeling), 3D Modeling companies in the USA provide interactive models of building projects and present to clients at the onset of a project. The clients thus get a realistic project outcome and make desired changes before construction. Client involvement prevents expensive changes later.
AR help teams conduct walkthroughs of the complete project before execution, inspecting the structural details and components. The foresight prevents delays, reduces cost overruns, and identifies mistakes before surfacing.
2. Automated Measurements
Augmented reality helps to measure a space's physical properties, including the height, width, and depth. Construction companies can integrate the details into the models, letting them produce more accurate structures with a comprehensive view of how the project will appear. Accurate measurements in construction ensure efficacy in the project time with the exact requirement for the labor and materials.
Besides planning, augmented reality allows field workers to automate measurements on-site at the time of construction. Wearing an AR unit, workers can tap to make automatic measurements of the constructed components and compare them against the measurements detailed in the building models. Consequently, the workers can find inconsistency in the structures and correct the problems areas to avoid higher costs and delays in construction.
3. Project Revisions
Augmented reality helps the users to make modifications to building models directly on site. Through a headset or a mobile device, workforces can exhibit interior and exterior views of construction and make alterations to the virtual plans while keeping a view intact. For example, engineers can remove and relocate walls or other components or change the layout using just a few taps on an AR device.
AR helps construction professionals to troubleshoot mistakes in a virtual environment before making changes to the structure. As digital data is updated continuously, it eliminates the guesswork from any project change, thus streamlining the workflow and avoiding material waste.
4. On-Site Project Information
The ability to pool digital data and documentation with the physical view is a game-changer. Information like the places of pipes, outlets, walls, switches, and ventilation can be accessed directly on-site in layers which can be toggled on and off. Data recovery lets field workers to monitor a project against building plan efficiently and ensure successful completion. For example, a contractor using a headset can see the locations of the drill holes in the building plans to let them make the additions appropriately and moving the project.
AR allows users to virtually see the building progress against schedule, offering project management. 
5. Teamwork
Construction projects entail collaboration among several project teams, including, electricians, plumbers, designers, and managers, and more. An effective partnership confirms that a project gets completed on time as per the proposed budget.
Nevertheless, all stakeholders involved in a project are not always present on a job site. If any error crops up that needs to be addressed by all parties involved to review blueprints and make necessary changes. AR lets users take notes and share video views of an error or design issue and send information to remote teams in actual time. Both on-site and remote team members can consult with each other and work with the desired information, reducing the time and costs to make a decision. 
6. Safety Drill
Safety is a challenge in the construction industry. Safety programs take time and money and aren't always appropriately communicated to the workers. Using an AR headset, workers can be provided training on virtual drills, instruction, and safety scenarios. The direct learning improves awareness of safety, offers intuitive practice, and reduces training costs and interruption.
Augmented reality is also explored to make virtual models of equipment like cranes and lifts. Workers can use their headsets to practice operating heavy machinery in a safe and virtual set up, improving their learning and progress.
Benefits of AR Augmented Reality
Accomplishing a project on time & budget with the right plan 
Ensuring project accuracy from start to finish, preventing rework, saving building costs
Overall precision & efficiency lets construction companies increase confidence in projects
Improving client relations, creating long-term ROI
Road Ahead
Even though large construction firms have implemented AR, it will become more accessible in the future as technology reduces costs. Several companies are providing the technology on a per-project basis and with free trials, letting construction managers experiment with new technology and adapt to business. From removing errors to offering insight, augmented reality can effectively streamline the product lifecycle. 
Construction engineering and management companies are investing in innovative technology, like virtual reality, GEO BIM, Drones and 3D printer. Tejjy Inc is a Construction management company in Rockville, Maryland, MD, USA. 
Call us  202-465-4830 or email us at info@tejjy.com for your construction management, engineering, and Building Information Modeling (BIM) Services.